I think it's finally official. I cannot hide the fact that I am pregnant anymore. For weeks I've been looking at my belly wondering if anyone could tell that I had a baby in there and not just a big meal. It wasn't until one of the dads of a child in my class asked me if I was expecting. I looked at him and thought,
who told you?
Then I looked at my belly and realized that it was getting pretty noticeable.
One great thing about growing a baby is all the fun that you get to have to find new ways to style your new body. Pregnancy is not always cheap though. There are doctor bills, buying things for your new baby and for many of us….unpaid maternity leaves to save up for. This is why my goal has been to stay in my normal non-maternity clothes for as long as I possibly can. Maternity clothes can be expensive and I really don't want to spend a lot of money on clothing that can only be worn for such a short period of time. That's why I've been searching through my closet and trying out all my normal clothes to see what still fits and figure out how to wear them with my growing bump.
I recently went through and tried on all my dresses in my closet. I was just trying to get a feel for what I can still wear and what I will be able to wear in the upcoming months. I ended up having a great idea of how to wear some of my dresses in a new way. I decided to try styling a few of my shorter dresses as a shirt with a pair of blue jeans. I ended up coming up with a few super cute fall outfits.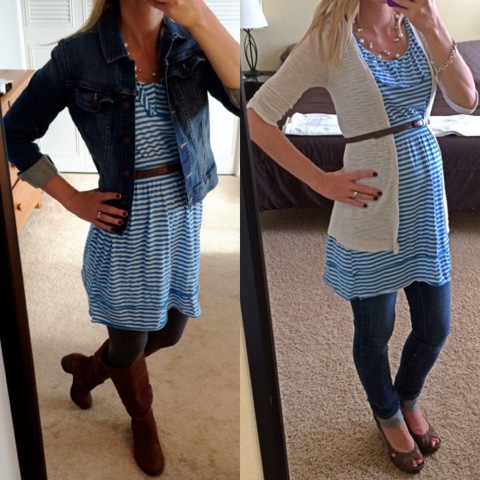 For my first look, I tried on this blue and white striped dress that I bought at Target a couple years ago for only $2. After I washed it a couple times, it was always a little short on me, so I usually wear it with leggings. When I tried it on with my blue jeans it made the perfect maternity top. I accessorized it with a white sweater and brown belt. I also wore my brown Steve Madden wedge shoes. I feel like wearing some kind of heal or wedge helps lengthen out my body a bit. (I'm going to try to wear heals through my entire pregnancy. I'll stop either when my feet swell up too much or I can't take the discomfort any longer.)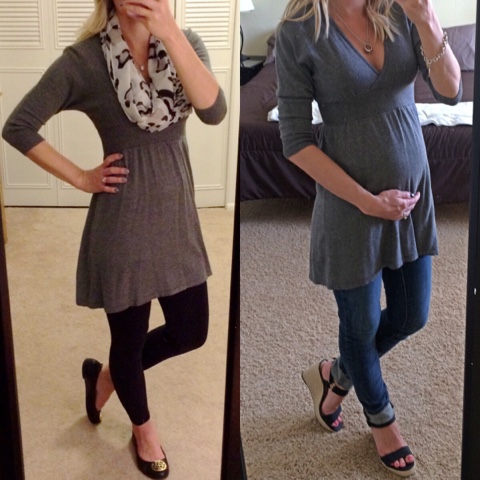 I bought this sweater dress years ago at Express on clearance after Christmas. It always looked cute with leggings, but when I tried it on with my jeans, I felt that is made a great maternity sweater with plenty of room to grow. Again, I wore a pair of wedge sandals to give me some height. I feel like this outfit will be great for the upcoming cooler months.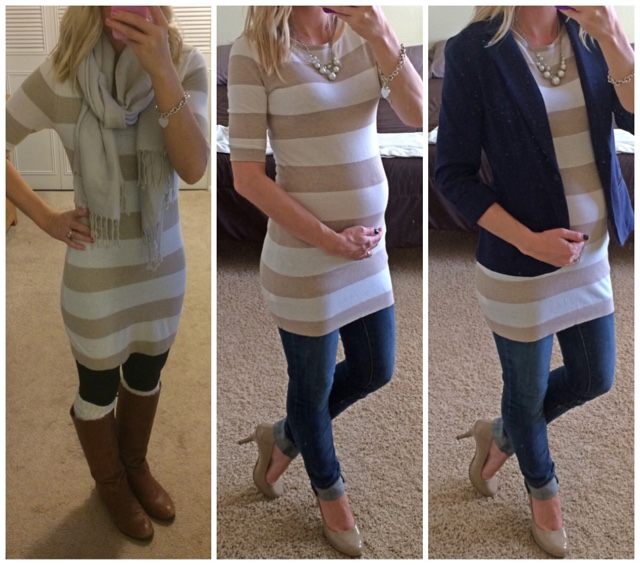 Last but not least, I tried on this sweater dress that I bought last year at TJ Maxx. It's a cute sweater dress to wear in the winter with boots, but I really like the look with my blue jeans. I thought it was cute on it's own, or I could layer it with my navy blazer.
I've got to say that I'm having fun finding ways to dress up my new baby bump. I'm sure eventually I'll have to invest in a few key maternity items, but for the most part I'm hoping to be able to wear my non- maternity clothes for as long as I can. I can't wait to share more maternity looks with you in the upcoming months!