It may not feel like it for most of the country, but summer is right around the corner. With this in mind, I've been searching for the perfect bathing suit. I've been in desperate need of a new bathing suit for a while now. Since I don't have a body like a Victoria Secret model, bathing suit shopping has never been fun for me. Yet I still love a great swimsuit. If you can find something that flatters your body, you'll feel great!
Now that I'm 30, not 21, I wanted to find a 2 piece that would be flattering and age-appropriate. I also wanted to find something affordable. Usually, I'd wait until late summer when bathing suits get marked down, but with 80-degree weather in the forecast for next week, I couldn't hold off that long.
Before I buy anything, I always go right to Pinterest to get an idea of what I want. Here are a few of my favorite bathing suit pins.
As you can see, I love a black bathing suit. Black is classic and flattering, plus it goes with everything. I like that I can mix and match my black tops and bottoms with other bathing suit tops and bottoms that I have in my drawers. This way I don't only get 1 new bathing suit, I get 3 new bathing suits. I also wanted a bottom that would cover my backside and acute top that also had decent coverage.
If money was no object, I'd probably buy all 4 of these bathing suits above, but since I can't really afford to buy even one of them, I had to look around for a suit in my price range. I always try to stick to a $30 budget for all my clothes, including my bathing suits.
I ended up finding a cute bathing suit last weekend at Target. They had a buy one get one 50% off sale going on. Target bathing suits usually run between $12.99-$24.99 per piece. Because of the sale, I was able to stick to my $30 budget.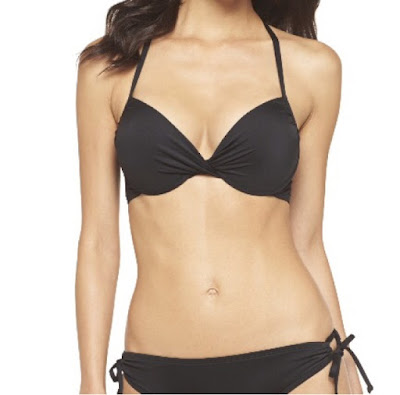 Push-up Halter Bikini Top (Here) Keyhole Side Tie Bikini Bottoms (Here)
This bathing suit is the perfect suit for the summer. I'll be able to keep my eyes open for some cute clearance tops and bottoms to mix it up and also some cute beach cover-ups. Target is still having their BOGO bathing suit sale, so I'd definitely check it out! They have a great selection and I've always had good luck with Target bathing suits. Happy Shopping and don't forget, summer will be here before you know it!