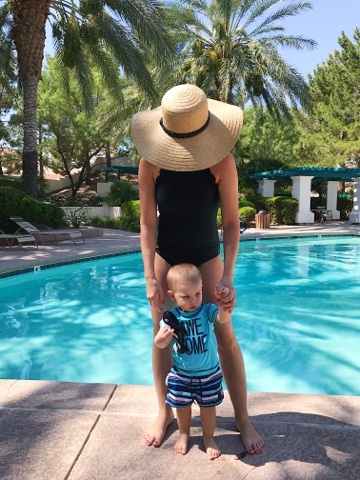 *This post contains affiliate links which means by clicking on and/or making a purchase through a link, I will receive a small commission. Thank you for your support.
I know that summer vacation is coming to an end for most people and fall fashion is on the brain, but here in Las Vegas we still have a few more months of summer weather left. That's why I felt like now would be a good time to talk about bathing suits. Unlike most people who typically buy bathing suits early in the season, I like to wait until August to do my bathing suit shopping. You can usually find some really great prices on bathing suits in late summer.
This summer, I spent a lot of time looking for the right bathing suit, for the right price. I wanted to find something different this summer that was a little more conservative than my other suits. I only own 2 piece bikini's, but now that I'm a mom, I wanted to find something that was a little more practical. I browsed all my favorite stores this summer, looking for a one-piece that I could easily wear while swimming with Jack, but also wouldn't make me look like an old lady, but I could not find anything.
After no luck in the stores, I decided I had to look online. I don't shop online very often, but sometimes it can be very convenient for a working mom. After searching for lots of online stores, I ended up going with Amazon. I always underestimate shopping on Amazon for clothes. We buy a lot of things from Amazon, but I always forget that you can buy almost anything there, including bathing suits. I found that Amazon had the best selection and the best prices.
I ended up buying2 bathing suits for under $30 for both. Today, I'm focusing on this
black scalloped halter one-piece bathing suit
. (I'll save the other bathing suit for a later post.) This suit was everything I was looking for in a one-piece. It's conservative, yet youthful. I love the scallop look and I went with black because it's always a safe color choice. I like how this bathing suit has a high neckline because that was a problem I was running into with my other bathing suits. Jack was always pulling at my top.
So far I'm happy with my purchase. It had been so long since I last wore a one-piece, that I forgot how much I liked them. Now I feel like I'm all ready to enjoy the rest of our pool season!
If you're looking for a new mom-friendly bathing suit, but you don't want to spend a lot of money, I've rounded up 12 great bathing suits for you. All of them are under $30! I wish that I could buy them all!
One || Two || Three || Four
Five || Six || Seven || Eight
Nine || Ten || Eleven || Twelve