To say that Sunday is my favorite day of the week would be an overstatement. I'm more of a Friday kind of girl, but I do have to say that I love Sunday. It's the perfect day in the week to sit back and reflect on life and be grateful for all the blessings you have.
Today, I've been relaxing and enjoying the very simple things in my life. (I'm also avoiding the fact that I have a bunch of observations and checkpoints due at the end of the week and I'm doing anything possible to distract myself from that, but that's beside the fact.)
I've officially been living in Las Vegas for 3 months now and I have to say that I love it here! I wasn't sure what to think at first about moving to sin city, but it's been a great experience. Kevin and I are both really happy with our lives here. Today I went to church, stopped at the grocery store and now I'm relaxing by the pool watching the palm trees blow in the breeze. It doesn't get much better than this. I basically live the same life I did in Detroit, only now I have palm trees 🙂 I have to say that I can definitely see a future here. It feels good to be settled for the moment and content with the life I have.
Here are just a couple pictures of why I love my new home.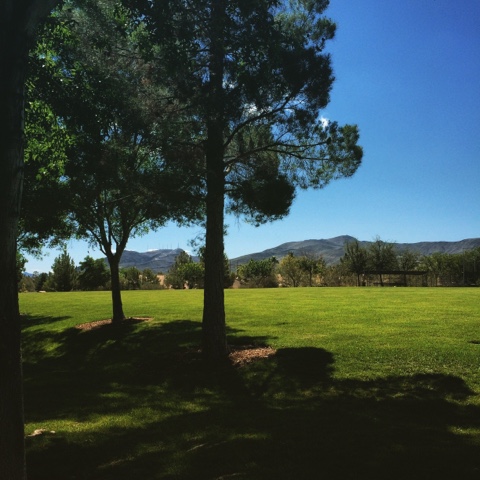 I love my Saturday morning walking route. The parks are so green here that I completely forget sometimes that I live in the middle of the desert.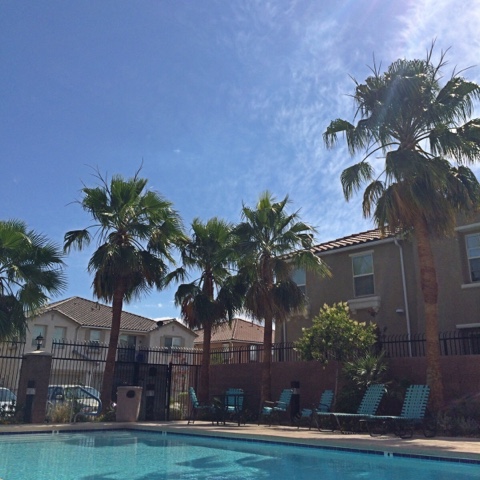 There is nothing better than a pool surrounded by palm trees.
What's your simple Sunday thought?