Happy Friday Eve! Here are a couple outfits that I put together last fall using my denim button-down shirt. I love this top because it's so great for layering in different ways. In the looks below, I wore this top with white pants and with a black skirt. These are both perfect work outfits if you have a business casual dress code.
Denim Button Down-
Target (
similar
)
Navy Blazer-
Target (
exact
)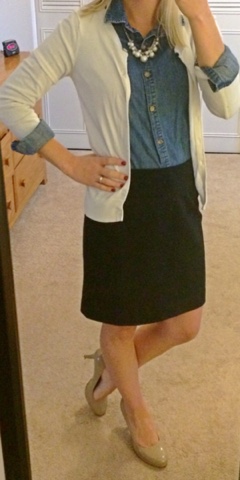 Sweater- Express bought at the Salvation Army
Skirt-
Ann Taylor hand me down from my mom
Hope you enjoyed my Throwback! Tomorrow is Friday, so why not close out the week with a cute work outfit? I'm sure it will make your day!