This past week was my professional development week at work. I always look forward to this week every year. It's not because I love sitting through the same boring trainings that I've sat through for the last 3 years. It's because I look forward to planning out my outfits for each day and wearing something fun and different than my normal work clothes. I have a lot of restrictions in the classroom working with the kids every day, so when I'm sitting at a training all day, I can wear some of the things that I'd like to get more use out of in my closet. This week I was able to wear wedge sandals, blazers, white pants and dresses that I typically wouldn't wear in the classroom.
Here's a look at my outfits from the past week.
*This post contains affiliate links which means by clicking on and/or making a purchase through a link I will receive a small commission. Thank you for your support.
I'm going to start with last Friday because it was our last day of school funfair for the kids. I wore my pink maxi dress with my denim blazer.

On Monday I wore my white pants with my burnt orange cardigan. I liked the color combo with the turquoise accessories and white pants. I also decided to wear my cognac wedges, because I never get the chance to wear any kind of heal in the classroom.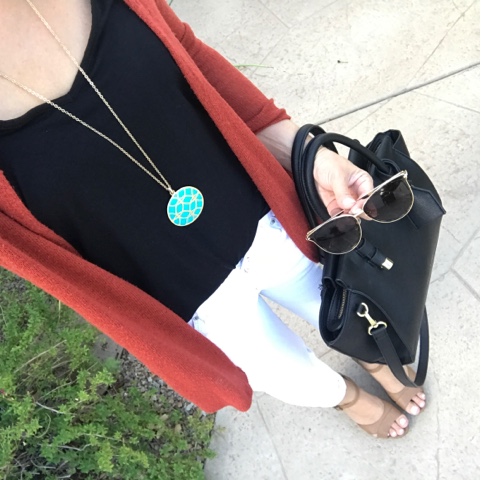 Top- Old Navy (similar) || Pants- Target (similar) || Cardigan- H&M (similar) || Purse- Last Call Neiman Marcus (exact) || Necklace- Nordstrom Rack (similar)
Tuesday was my favorite look. I found this swing tank top at Target in the clearance section last weekend for under $7! I have a similar tank in navy and it's one of my favorite tanks this summer. I wore it with my grey LC Lauren Conrad blazer that I love, but rarely get to wear.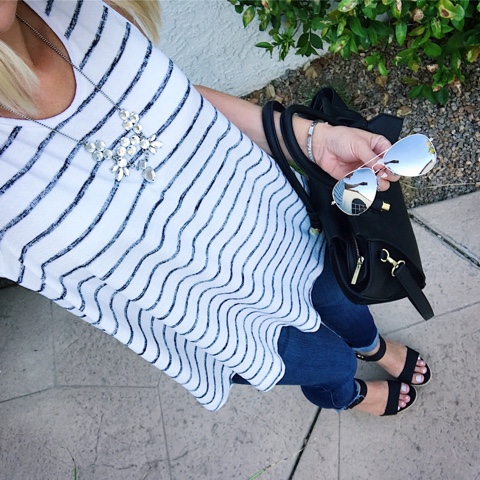 Top- Target (similar) || Jeans- Hollister- thrifted from the Good Will (similar) || Blazer- Kohl's (exact)|| Shoes- Target (similar) || Purse- Last Call (exact) || Necklace- Savers (similar)
Wednesday I went with a dress. I haven't worn this pink stripe t-shirt dress since I was pregnant and I've missed it. I always think it looks nice with my denim jacket.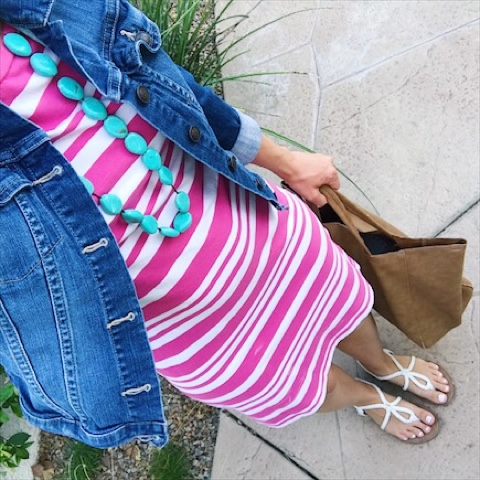 Dress- Old Navy (exact/ similar) || Jacket- Meijer (similar) || Shoes- Target (exact) || Necklace- Kohl's (similar)
Thursday was a repeat of my white pants and denim jacket. I wore my Gap navy and white stripe t-shirt with my lace up faux suede flats. I figure I never get a chance to wear my white pants, so I'd get good use out of them and wear them twice.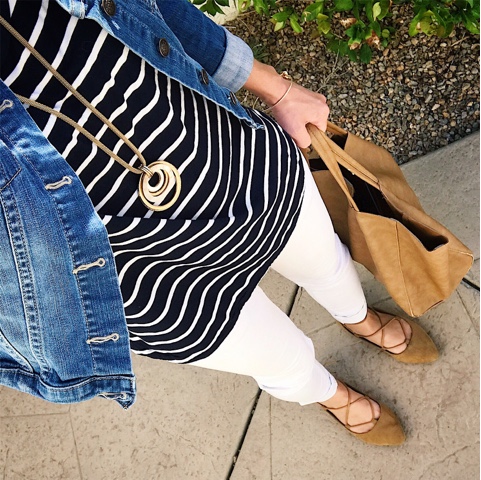 Top- Gap-thrifted from Goodwill (similar) || Pants- Target (similar) || Jacket- Meijer (similar) || Shoes- Ross (similar) || Purse- Savers (similar) || Necklace- Burlington Coat Factory (similar)

Those are my outfits from training. Next week I'll be in my classroom getting it ready for my new class. I hope all the teachers out there have great start to the new school year. I'm sure I'll be sharing more of my daily outfits on Instagram, so look for them there!