Lately, I've been a little homesick for the fall weather. I see pictures of all my friends back in the Midwest wearing all their cute fall clothes, and it makes me miss the season. The good thing is that even though we have a long summer here in Nevada, it cools down and we get almost 5 months of fall-like weather, which makes me happy.
Today when I woke up there were clouds in the sky and the air was a bit cooler. It made me feel like I was home. I decided to put on some jeans and put together a fallish looking outfit.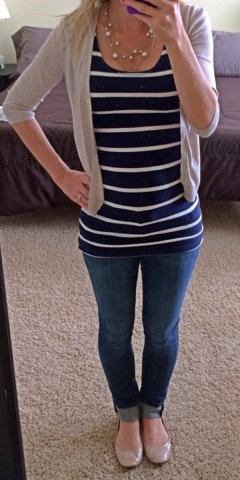 Shirt- Savers
Sweater- Old Navy
Jeans- Meijer
Shoes- Target
I thought I'd show off my baby bump as well with my outfit since it's an accessory I'll be carrying around for the next 4 1/2 months. The little guy is still pretty small, but I just hit the 20-week mark and so I'm sure there will be lots of growth in the next 20 weeks. My goal is to stay in my normal clothes for as long as I can. My jeans still fit, but I've been leaving the top button unbuttoned for comfort. For my tops, I try to wear stretchy and loose-fitting top. I did just buy a belly band at Target today. I figured it will help me with staying comfortable in my normal jeans.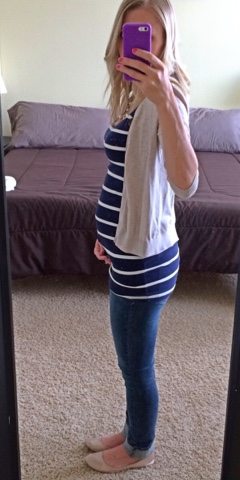 20-week baby bump
Have a great week!