I'm a little behind with my weekend outfit post, but that's okay. It's better late than never. I enjoyed a nice long weekend, celebrating Halloween and my first Nevada Day. Now that the weather has been so nice, Kevin and I have been getting out more on the weekends to explore the area.
Here are the outfits that I wore this weekend.
Friday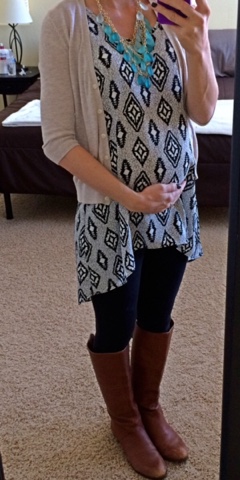 Top- Kohl's
Leggings- Kohl's
Necklace- Charming Charlie
Boots- DSW
Saturday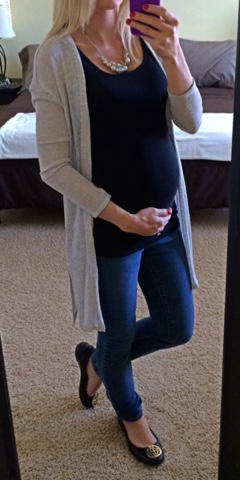 Tank top- Old Navy
Jeans- Old Navy
Cardigan- H&M
Sunday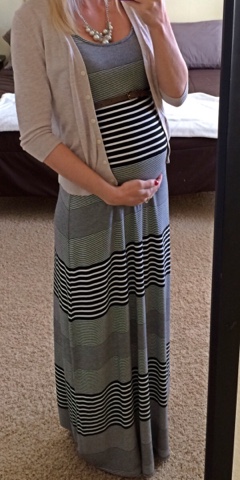 Dress- Target
Belt- Target
Sweater- Old Navy
Here's my weekly baby bump picture. This baby is doing a lot of growing right now and I'm feeling it. My ribs have been hurting a lot this week, making it really uncomfortable at times. I never stopped to think about just how much stress your body goes through during pregnancy. It makes me a little nervous for the next 3 months. If I'm this uncomfortable right now, I can only imagine how I'll be feeling during my last couple of weeks. I guess it's better than throwing up. Plus, I have to say that I love watching this little guy grow every day.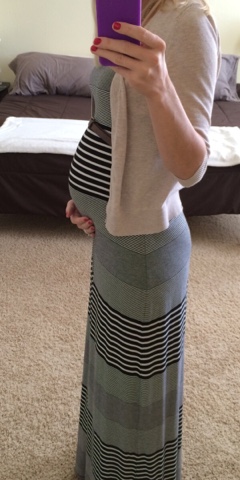 24-week baby bump
Have a wonderful week!!