It's officially my last month of pregnancy! So that means only a few more weekend wardrobe post with maternity outfits. I've really enjoyed dressing up my baby bump, but now I'm really looking forward to getting my body back and putting together normal outfits. I can't wait until I can start rediscovering all the clothes in my closet that I haven't been able to wear for a long time. For now, I'm going to have to continue working to dress my baby bump, I'm sure I'll have days when I miss it.
So here are my weekend outfits this week.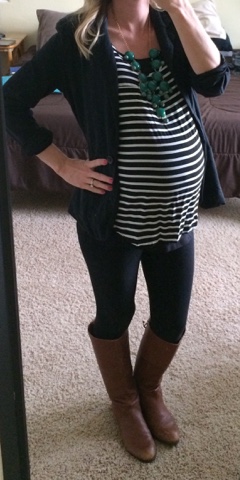 Blazer- Forever 21
Top- Walmart
Leggings- Forever 21
Necklace- Charming Charlie
Boots- DSW
Here is my week 36 baby bump picture. There hasn't been a whole lot of changes from last week. I've had a little more energy this week, but I'm still not sleeping well. That's okay because I'm sure it will be years before I can get a good night's sleep. I'm keeping busy, by trying to organize my house and get ready for this little guy's arrival. It's only 4 weeks away…hopefully no more than that.