Dressing my baby bump is getting to be pretty challenging for me lately. Now that I only have 6 weeks to go, I feel like it's pointless to buy actual maternity clothes that I won't be able to wear after the baby comes, but at the same time, I'm popping out of all my clothes. To keep me from shopping I've been trying to dig up anything in my closet that will fit my expanding tummy. It's not always easy, but I've been doing my best to keep my outfits creative and new.
Here are my outfits from the weekend.

On Saturday, I wore my gingham button-down shirt from Target with a plain navy t-shirt that barely covered my belly, so I wore a longer tank top under the top to help give it some length. Then I belted it up at the top of my belly just for some shape. I also wore my jeggings with my brown boots.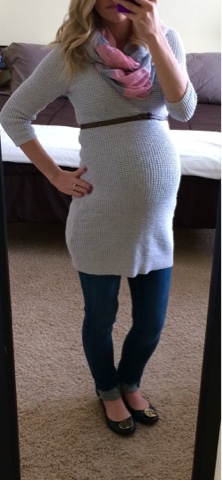 On Sunday, I wore my grey sweater dress from Old Navy as a top (similar
here
). It worked out well because I don't have any maternity sweaters and this sweater dress is a perfect size. I wore one of my normal pair of jeans with a pair of black flats. I also accessorized this outfit with my brown belt and an infinity scarf.
Here is my 34-week baby bump. I wouldn't really call it a bump anymore, it's more like a mountain. I've been feeling very pregnant lately. I feel like a walking belly. All I heard during my first 2 trimesters was how great I looked and how I didn't even look pregnant. Now the comments are all changing to things like "you look like you're due any day" and "wow, you look like you're ready to pop". I still have 6 more weeks until my due date, so as much as I would like to have my baby now, I'm not popping any time soon.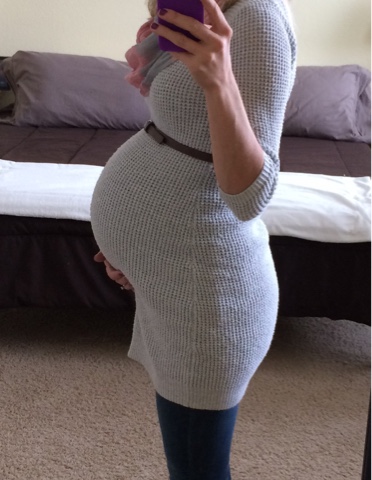 All I can do for the next 6 weeks is keep myself busy to help me patiently await our little boy's arrival. Kevin and I are both getting really excited, especially the closer we get to the due date. I hope time goes by quickly, and in the meantime, I'll just keep finding cute ways to dress this baby mountain.
Have a great week!