When it came to childbirth, I was always pretty relaxed about it. I am not the kind of person to come up with a detailed birth plan with all my wants and wishes. My birth plan was always to get my baby out as safely as possible and if I could make it less painful, then that was good too. I'm so glad I didn't have a birth plan that I felt I had to stick to because my birth experience was nothing that I could have planned for. I talked with friends who have had kids, I read blogs of birth stories, watched birth stories on YouTube, but nothing could have ever prepared myself for what I experienced. Everything that I thought would happen, didn't happen. I wasn't going to share my birth story at first, but after going through with it, I realized every woman has a different story, and maybe mine might help some first-time mom like myself.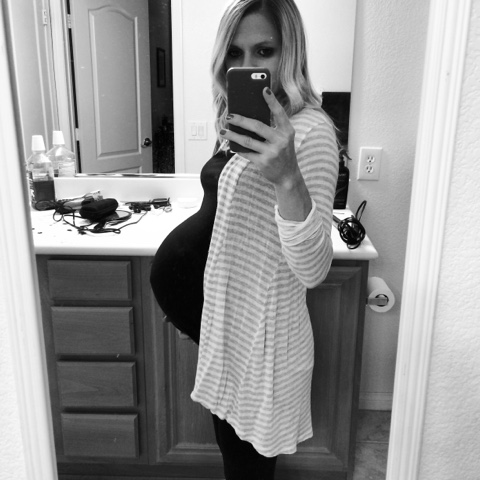 The morning of the day that my water broke. I thought I looked huge, little did I know my little guy was wanting out.
Labor
Wednesday, I went through my normal day. I went to work, Kevin and I took my car in to the dealership for a check, we came home and had a normal evening together. I had no signs of pain throughout the day. Then at about 10:00 pm, I woke up to go to the bathroom. I noticed some extra water coming out of me. I thought I was just losing control of my bladder, but it didn't stop there. I kept feeling leakage. I spent an hour googling "water breaking". Since I had no contractions, I thought I had plenty of time to get to the hospital. I didn't want to wake up Kevin yet, so I went back to bed. About 1:30 am I woke up with a pretty strong, but bearable contraction. I decided to time them. Before I knew it, they were less than 5 minutes apart. I got Kevin up and he got ready as I tried to pack a bag for the hospital and clean my kitchen. (It was 10 days before my due date, so I was a little unprepared.) When we got to the hospital, I was in so much pain, it was horrible. I was checked around 4:30 am and I was dilated to 4 cm. There were so many babies being born on that day, that I got the last delivery room on the floor, which was doubling as a hospital storage room. They were able to get me an epidural right away. The epidural was amazing. It helped make the pain go away and I felt relaxed. The nurse checked me right after the epidural kicked in and I was already at 8 cm. She told me I pretty much had dilated all the way to an 8 on my own without the epidural. She also said I would probably be having my baby by lunchtime. I was happy that things were moving along so quickly. I thought that maybe my labor wouldn't be so bad after all. I was wrong though.
Pushing
Between 8 and 9 am, I was dilated to 10 cm. Instead of pushing right away, they had me in a couple different positions to help bring the baby down. The nurse would leave me in a position for 15 minutes then she
would have me push a little, then switch positions. We did this for an hour in a half or so. Then she started having me really push. This was the hardest part by far. The nurse had turned off the epidural, so I could feel the contractions and know when to push. It was so exhausting, frustrating and painful. No matter how hard I pushed, the baby would not come down. The nurse said I was doing a good j

o

b pushing, but the baby just wasn't having it. He was always

cradled

on my left side and he kept turning his head, making it harder for me to push him out.

After a little more than 2 hours of pushing like that with no results, the doctor said we would have to do a c-section. Of course, I didn't want that. I was determined that I'd just get him out myself, but of course, that didn't happen.

Before I knew it the epidural was turned back on and I was being wheeled into the operating room.
I really never thought that I would need a c-section. I had such a

healthy

pregnancy, I was not prepared for this at all. I was disappointed that I wouldn't be able to hold my baby or see him when he came out. Kevin was so calm and it

comforted

me just to watch him. I could tell from his eyes what was happening. Before I knew it I heard the sweetest little cry in the world. Kevin took a bunch of pictures and kept showing them to me. He was so cute. My favorite part was when the nurse brought

the baby

to my face so I could give him a kiss. He was perfect. The most beautiful baby I had ever

seen.
Unfortunately,

I got the worst of both worlds. Pushing followed by a c

–

section means d

ou

ble the recovery. It's not fun. This was another thing I didn't expect. After the surgery, I was taken back into the delivery room while I waited for a recovery room to open up. I got to spend some time skin to skin with Jack and feed him for the first time. Later I went to the recovery room. I was so thirsty, all I wanted was a huge glass of water. The nurses told me that water would make me nauseous

,

because of the medicine I was given during the surgery. Finally, they let me have some water. I was just so de

hydrated

after all the pushing

,

but eventually, I did through up some of it. The nurses at the hospital were all so nice. I have a new respect for everything nurses do in their jobs. Caring for people can't be easy and they were all so nice,

patient

and helpful. I had packed a cute going home outfit with my yoga pants and a cute cardigan, thinking I'd be walking out of the hospital with makeup on and my hair done. Yeah

right!

I quickly learned that wou

ldn't be happening. I

barely fit in my baggy pajama pants, because I was pumped up with so many fluids, my legs were so swollen. I got to go home 48 hours after birth, but it was scary to leave the hospital. Luckily I had help

on the way.
Over all, my birth story was no walk in the park, but when I'm holding my little baby Jack in my arms, I know it was so worth it. He

is

the most beautiful baby I've ever seen. He's beyond perfect. Kevin has been an amazing husband and father. He never left my side at the hospital and since Jack came 10 days early,

he

had to work this week. Thankfully, we had family that was willing to come into town early from Michigan and California

,

to help us out with the first few weeks. Each day has brought new challenges for us, but we are definitely making our way. Besides, recovering from surgery is much better when you have such a cute little guy to snuggle up with. I'm so grateful for everything.