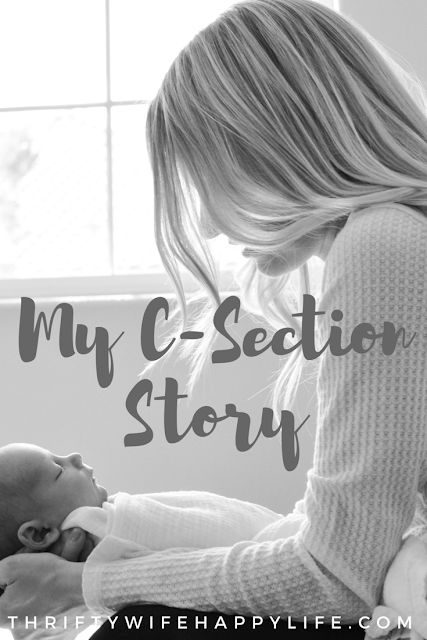 Some of you may or may not know that Jack was born via C-section. I don't think that I have ever shared my story about it, besides touching on it a little in my birth story post (HERE), but I never shared the whole experience. Since April is Cesarean Awareness Month, I felt like it was the perfect time to open up about my experience with my C-section. It's something that I'm not 100% comfortable sharing for all to read, but I want to share my story because 3 years ago as I recovered and got to know my newborn son, I was feeling very alone. I hope that in telling my story, it might bring some comfort to another new mom going through the same thing.
I never ever thought that I would need a C-section. I was completely prepared for a long painful labor, but I never thought that I would need to have an unexpected C-section delivery. I didn't research it at all. I watched a bunch of different birth stories on Youtube, but I never once watched one about a c-section. It was the last thing from my mind.
My labor with Jack started when my water broke 11 days before his due date. After not truly believing that I was in labor, I decided to hold off on going to the hospital until I started contractions. (Bad idea, don't do this, but what can I say, I was a first-time mom.) My contractions started about 3 hours after my water broke and that's when my husband and I headed to the hospital. I remember that drive to the hospital being extremely painful. It was something out of the movies. The contractions were strong and painful as soon as they started, and when I got to the hospital I learned that my labor was progressing very quickly. I was happy to hear that I could have an epidural as soon as they finished my blood work. It all seemed to go very quickly and before I knew it I was sitting comfortably with an epidural going through labor and waiting for my baby to arrive.
Finally, the nurse said it was time to start pushing. It started off slowly, but it started to get very intense after about an hour or so. No matter how hard I pushed, the baby was not coming down at all. It was so frustrating. The nurse had turned off my epidural, so I felt every contraction. After 3 hours of pushing, the nurse called my doctor and he said that the best option would for me to have a C-section. My other options were to possibly use a vacuum to help get the baby out, which all seemed very scary and traumatic for me and the baby. I didn't want to have a c-section. I wanted a natural birth. I wanted to be the first person to hold my baby. I had this idea in my mind of what it would be like when the baby came out and c-section was not in that plan. I was also exhausted from pushing and in a lot of pain, so I took the doctor's advice and went with the c-section. I was scared, but at the same time I was in so much pain, I barely thought about the whole idea of being cut open when I was awake.
I remember shaking uncontrollably on the table. The nurse told me that was normal and it was because of all the pushing. I was scared, but I just focused on my husband's eyes. The nurses had him sitting across the room from me, I didn't know why. I wanted him close to me, but looking at him just helped me stay calm and distract myself from the fact that I was being cut open while I was still awake. When I saw tears in his eyes I knew Jack was out. Then I heard the sweetest little cry ever. It comforted me to hear Jack and hear everyone in the room telling us what a beautiful baby he was. Finally, the nurse brought him over to me and we just looked at each other. I was too scared to move my arms so I just kissed him and told him I loved him. Kevin snapped this picture below of us which is one of my favorite pictures ever.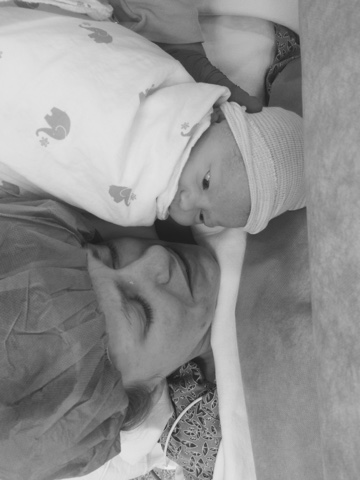 After the surgery, I felt great. The drugs were working wonderfully and I was on such a high just holding my beautiful new baby, but then the medicine wore off and the pain set in. It was scary leaving the comfort of the hospital. I liked having someone checking on us every hour that I could ask a million questions. Luckily my sister-in-law came to town and stayed with us until my mother-in-law could get to town. She had a C-section with my nephew and understood what I had gone through. Nursing was hard because I just couldn't figure out a good position, plus Jack was tongue-tied and had a horrible latch, which caused a lot of pain for me. For the first week, all I remember was the pain from the surgery, the pain from nursing and crying every 5 minutes over nothing. I remember calling my mom and crying to her because I felt like I was a failure for having a C-section. I felt like I had failed as a woman. I didn't have any friends at the time who had a c-section, and I especially didn't know anyone who had one with their first baby. I felt so alone.
With time, my body started to heal and I started to feel better. Emotionally I felt better too. My feelings of failing faded, especially as I got more comfortable with my new role as a mother. Now 3 years later looking back, I don't know why I couldn't just accept the facts and enjoyed those first couple weeks at home more. In no way do I feel like I failed as a woman anymore. I am proud of the fact that I went through all that and came out with a beautiful healthy little boy.
I know that when and if I'm blessed with another baby one day, the conversation is going to come up about having a planned C-section. The idea of having a planned c-section is scarier to me than having an unplanned c-section. The first time around I was in so much pain I didn't care as much about what was going on. Being aware of everything seems scarier to me. But it might be something I may have to consider when the time comes. It's something that I'm not going to think about until the time comes.
C-sections are very common in this day and age, and no one should feel guilty or feel like a failure like I did. I know that it was helpful for me to have people in my life that I could talk to. I also should have read a few more C-section birth stories while preparing for my birth. You never know what God's plans are, but usually, his plan is better than yours, so it's best just to let him lead the way when it comes to things like childbirth. Healthy baby, healthy mom is the best birth plan you can have. I'm so grateful for my little blessing every day.