Another week down, another 3 more to go….hopefully only 3 more. I'm getting to the end of dressing my baby bump. Putting together cute maternity outfits has not only helped me pass the time while waiting for my baby to arrive, it has also helped me feel good about myself while I'm pregnant. I just feel confident when I'm wearing something that I feel good in, even on those days that I feel like a complete whale, if I have on a cute outfit, it helps brighten my mood.
Here are my weekend outfits.
Saturday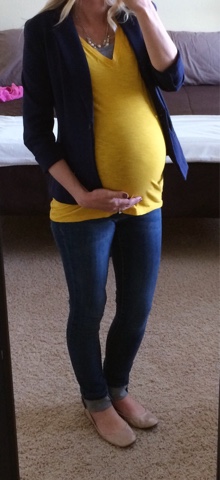 Shirt- Target
Jeans- Meijer
Blazer- Target
Shoes- Target
Sunday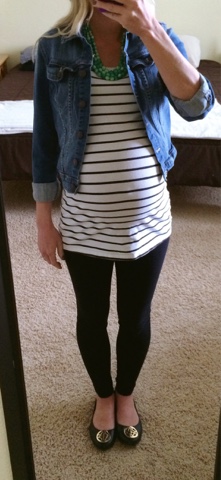 Shirt- H&M
Leggings- Kohl's
Jacket- Meijer
Shoes- DSW
Necklace- Target
Here's my baby bump picture for the week. It's almost time, yet I feel like it's so far away still. Not much has changed since last week. This week my biggest fear has been that I'm going to go way past my due date. The hardest thing about being pregnant is that nothing is in black and white. Some babies come early and some come late. I just need to relax and not think about it. My baby will be here when he's ready. No one can predict how their pregnancy will go, and that's just something that I need to accept. Overall, I'm healthy and feel as good as one can feel during their 9th month of pregnancy.