I have definitely been slacking with my outfit post lately. My reason for this is my 3-month-old baby, of course. He takes up all of that free time that I used to have to blog. Lately, my days are packed and I never feel like I'm getting ahead on anything. Monday through Friday I go to work. My preschool class goes from 8-2, then at 2:00, I try to manage my time appropriately to finish all my paperwork during my planning time, so that at 3:30, I'm on my way home to see my baby boy. Once I'm home there's dinner to make, laundry to fold, a baby to change, feed and keep happy.

After I put him to bed around 8:00, I have an hour to clean the kitchen, wash his bottles, get myself ready for bed and prep everything for the next day. I sometimes get a few minutes to do a little blogging or check my blog social media accounts, but that's about it. I have to make sure that I'm asleep no later than 9:00, because I know that I'll be up with the baby before midnight. I'm usually up at least 3 times during the night with my little guy. (He is not the greatest sleeper.) The next morning I drag my tired self out of bed to do it all over again. This is why I live for the weekends, but even then, Saturday and Sunday are my catch up days. I knew having a baby would completely change my life forever, but living it every day can be overwhelming at times. Please don't get me wrong though, I wouldn't trade it for the world. I love every moment I get with my baby boy. Every smile reminds me just how much I love that little human. I love being a mom and I would never want to trade it in for my old life before my baby was born.
So with all that said, you can understand that my life is busier than ever. However, I refuse to loose my sense of style. Having on a cute outfit can always brighten my day. What I've been trying to come up with is easy to put together outfits that are comfortable and cute. I like to call it "mom wear".
Here are some of my mom's looks from this week.
Sunday, I wore this hand-me-down dress that my mom gave me a while back. I love a black dress. It's easy to accessorize and looks good on everyone.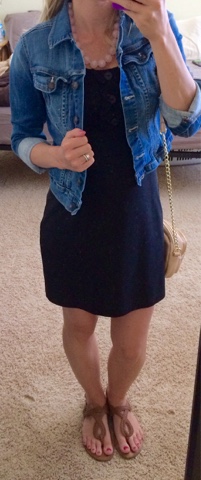 Dress- Nordstrom
Jacket- Meijer
Shoes- Target
My Monday outfit is pretty much my standard look for the workweek. Leggings, tank top and a cardigan with flats are always my go-to outfit because it's comfortable and looks cute. Since I work with kids, I figured my work outfits are good looks for stay at home moms too.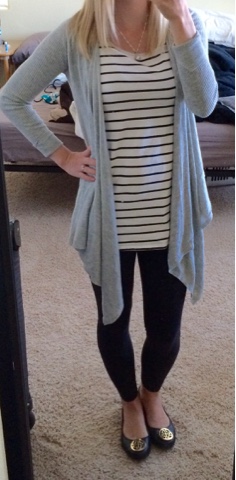 Tank Top- H&M
Cardigan- Target
Leggings- Forever 21
On Tuesday, I wore my grey tunic with a white cardigan. The cardigan is an Express cardigan that I bought at the Salvation Army for $3. I love finding simple staple clothes at thrift stores for cheap, especially when it comes to my work clothes.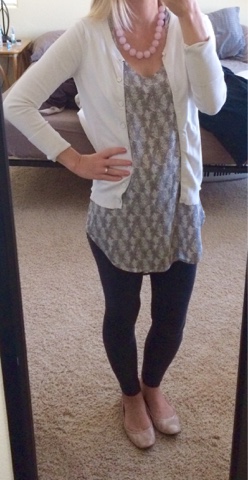 Tunic- Nordstrom Rack
Sweater- Salvation Army
Leggings- Forever 21
On Thursday, I wore this look that I wore a few times in the fall while I was pregnant. (Pregnancy look
here
). It's an easy look that doesn't require a lot of thought.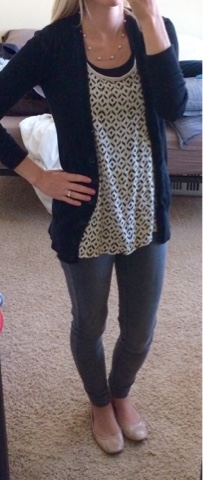 Shirt- Old Navy
Cardigan- Target
Jeggings- Old Navy
On Friday, I really wanted to wear a dress, so I wore my new swing dress (read about it
here
) with a cardigan. I love how comfortable this dress is in the heat. It's a perfect summer mom outfit.
Cardigan- Old Navy

Look for more mom wear post soon! I'm all about trying to stay stylish while being a mom. Plus with the lack of time on my hands, I don't have time to get to the store and buy new clothes, so I'm trying to reinvent some new looks with the older clothes that I already have in my closet for now. I can't wait to share more soon!