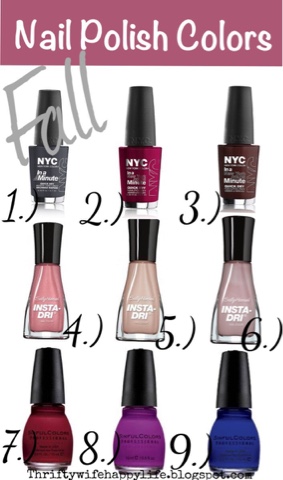 I love nail polish and you will rarely find me without color on my nails. I like to pick polish colors to match the season. Right now, I'm all about fall colors. For fall, I like to switch from my bright pinks and pastilles of the spring and summer months and go a bit darker with a mix of jewel tones, neutrals, and metallic colors. I have 3 favorite brands of nail polish and they are
Sinful Colors
.
NYC In a New York Color Minute Quick Dry Nail Polish
. and
Sally Hansen Insta-Dri
. I like these 3 brands because the nail polish always goes on nice and smooth, they dry quickly, the polish lasts and best of all they are all under $5!
Here are some of the colors that I'm feeling this fall.
This fuchsia color is fun for fall. Instead of the bright pinks, I lean towards the darker pinks like this. They transition perfectly to the winter season as well.
I found this brown bronzy color while I was searching for new fall colors and I can't wait to try it. I like a nice brown at times to match the autumn season.
I'm a big fan of this pearly beige color. It's a very neutral color that goes well with all my fall outfits.
I love the name of this color because it describes it perfectly. I love to have a grey metallic color and this one almost has a hint of purple in it.
I love a dark burgundy on my nails in the fall. It reminds me of the color of red wine, which I also love to have in the fall months.
Purple is another fun color for when the weather cools down. I like to mix it up with a dark amethyst color.