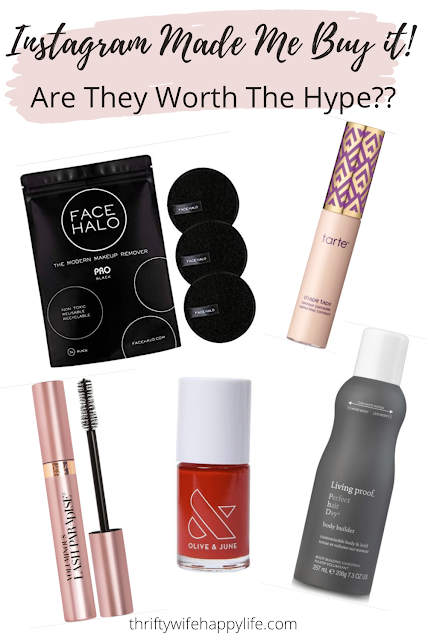 *This post contains affiliate links.
Have you ever been influenced to buy something because of Instagram?  I have!  Instagram has a big influence on me and what products I choose to buy.  I'll admit, I'm a hard sell.  I don't just go out and buy everything I see, but some things get hard to ignore.  That's when I just need to try them out for myself.
Over on Instagram in my stories I've been sharing a few products that I was recently influenced to buy.  I decided that I wanted to really look into it these products and compare them to the products that I was using before Instagram made me buy these new ones.  I figured I would share my findings here on the blog with all of you so you can know if these Instagram hyped products are really worth all the hype.
Before I start with my comparison of these products, I learned something new about buying hair products.  Apparently, when you buy a salon hair product at a drugstore or grocery store a.k.a Target or Meijer, those stores don't have the license to sell certain salon hair products so that means when you buy them at a non-license retailer you are most likely getting an expired or defective product.  I had no idea about this until some of my followers over on Instagram shared that information with me.  I buy a lot of beauty products at both Meijer and Target and I was disappointed to hear this.  If you want the real deal you have to either order from the actual website or buy it from a store like Ulta or Sephora.  They are both licensed to carry the salon products.
Anyway, I bought my Living Proof dry shampoo at Target because that's where I do most of my shopping, therefore I wasn't able to actually test out the actual real deal Living Proof dry shampoo, but since I am doing this comparison from the view of a normal consumer who is just looking to see if the dry shampoo is worth the price, I still carried out my experiment.  I've heard almost every blogger I follow on Instagram rave about Living Proof dry shampoo for the last couple of years.  I've been using Batiste dry shampoo and so far that is the only brand that works with my oily hair.  I needed to know if a $28 bottle of dry shampoo was worth the splurge over my $6 bottle of dry shampoo.
What I found
After using the Living Proof dry shampoo for a couple weeks and comparing it to the Batiste dry shampoo I found that the biggest difference was that Living Proof kept my hair softer.  It did a good job soaking up the oils in my hair and giving my hair a clean feeling, however, I still didn't feel like it made my hair feel that much better than the Batiste dry shampoo.  Overall I feel like I liked the 2 dry shampoos the same.  I will be sticking to my $6 Batiste dry shampoo for now, but I will be keeping my eye out for a good sale on Living Proof so I can give it another shot to see if the real product is better.
For the last year or so all I see is Olive & June nail polish all over Instagram.  Their stylish bottles filled with gorgeous colors had me needing to try this nail polish.  I love painting my nails at home and I never go to the salon, so when I heard that Olive & June could give you an at-home salon-quality manicure I was excited.  I also like that the brand is cruelty-free and vegan.  Their nail polish is $8 per bottle which is a reasonable price for quality nail polish.
Before Olive & June, I was using Essie.  Essie recently became one of my favorite brands.  I spent a little extra and bought a bottle of their gel nail polish and top coat to get a gel nail polish salon look.  My nails take a beating every day.  I'm always cleaning, washing dishes, changing diapers, or giving the kids a bath.  I need a nail polish that lasts.  The Essie gel nail polish is $11.99 per bottle.  It's more than Olive & June so I needed to know which polish is better.
What I found out
I tested both polishes for a week to see which one lasted longer.  Both polishes go on really nicely, but the Olive & June polish dries quicker, which is a huge plus for me.  After a week both nail polishes did start to chip.  Essie chipped a little less, but after about 5 or 6 days the polish started to peel right off. Olive & June lasted at least 4 days without any major chips.  Overall, Olive & June was my favorite and I plan on sticking to it.  I like the price, the ingredients, the way it quickly drys, and the way it wears better than the Essie brand.
I have been using the L'Oreal Voluminous mascara for years.  I buy it in the color noir with the curved brush.  It's my go-to favorite mascara of all time.  About a year ago I kept seeing my blogger peers on Instagram sharing L'Oreal Lash Paradise mascara.  They were all saying it was one of the best drugstore mascaras they have ever tried.  So naturally, I needed to try it out for myself.  I figured that I already knew I liked L'Oreal mascaras so I figured that I would like this one too.   The Lash Paradise mascara is about $4 more than the Voluminous mascara.
What I found
I wore both mascaras on the same day on each eye to get the full comparison.  My first impressions of the Lash Paradise were not good. I found the mascara to be clumpy and harder to apply.  The mascara tends to get gooky around the opening of the bottle which is a negative for me.  I've never had any of those problems with the Voluminous mascara.  The overall wear of the two mascaras was very similar.  They give my lashes a very similar look. Very full and long lashes.  The winner on this one was my Voluminous mascara.  I will be sticking to that one.  It's less money and there are no clumps.  I've had a really hard time finding any other mascaras that match this one.
Everyone on Instagram says that Tarte Cosmetics Shape Tape concealer is the best concealer ever.  It's the countries #1 selling concealer, so I just needed to try it to see what all the hype is about.  I started with a travel size to see I would like it and I later bought the full-size bottle this year when it was on sale. Before Shape Tape came into my life, my tried and true concealer was Maybelline Instant Age Rewinding concealer.  I needed to see if Shape Tape is really worth the extra money.  Tarte Shape Tape is $27 per bottle and Maybelline Instant Age Rewinding concealer is around $10 per bottle.
What I found
I applied the concealer on each side of my face to really compare the two concealers. The biggest difference during the application, besides the different applicators, was that the Maybelline concealer left a stinging feeling on my skin.  There was none of that with the Shape Tape.  It quickly went away as I blended it in, but it leads me to believe that the Shape Tape concealer was of higher quality.  I went on the websites to compare the ingredients in both concealers and what I found were a lot of words I didn't understand.  However, the Tarte ingredient list was much shorter than the Maybelline ingredients and Tarte did have a few familiar ingredients like shea butter in it.  Tarte is also known as being a vegan-friendly cruelty-free makeup line, so I do believe that their formulas are better than what you might find at the drugstore.
When I compared the overall wear and coverage of the 2 concealers I did feel that it was very similar.  Both concealers stayed on throughout the day and didn't seem to get cakey or anything.  I am going to go with Tarte Shape Tape concealer for the win on this one.  However, I will only buy it on sale, because I don't want to spend $27 on a concealer.  Good thing Tarte runs a lot of sales throughout the year on their website and at other stores so I shouldn't have to ever pay full price for it.  I will keep my Maybelline as a backup concealer.
For my last Instagram product, I didn't actually buy this product.  About a month ago Face Halo sent me a package of their microfiber makeup remover cloths.  I didn't even know these existed.  Before I was using Garnier Cleansing Water makeup remover to take off my make up.  I had been using that for the last couple of years and really like it.  The cleaning water usually costs around $7 and it lasts me a couple months. I also buy cotton pads to apply it.   The microfiber makeup removers that I have are $28 dollars and come with 4 mits and a wash bag.  You can also buy the pads that are $22.
What I found
After about a month of using the microfiber makeup removers, I am hooked.  I haven't even used my cleaning water.  The microfiber cloths not only do a better job of removing all my makeup, but they also exfoliate my skin and leave it feeling fresh.  The cleansing water leaves a film on my face after using it, but because the microfiber cloths just use water there is no film or chemical feeling on my face after use.  Another thing about the Facehalo cloths is they are cheaper in the long run and better for the environment.  The Face Halo makeup removers can be used over and over again.  I wash mine after use with a little bit of water and then let them dry.  Once a week I pop them in my laundry basket and wash them.  Then I let them air dry.  (They will get ruined if you dry them with a dryer sheet or softer.)
Let me know if you found this post helpful!  I'd love to research some more Instagram products.  What was something you were influenced to buy because of Instagram?  Was it worth the hype?  Leave it in the comments below!

Pin the post!