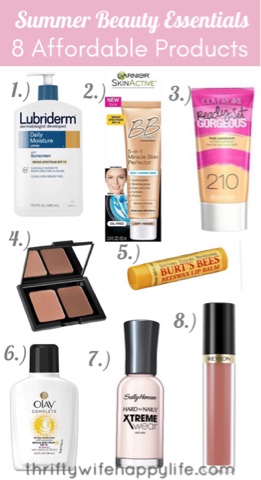 Welcome back to my summer favorites series. Last week I was focused on my wardrobe favorites (in case you missed the post read about it
here
), but this week I am switching gears to talk about my favorite beauty products that I've been using this summer.
When it comes to the beauty products that I use, I tend to stick with the products that I like. My favorites don't usually change from year to year, but every now and again I try something new that I really love. I always gravitate to affordable products, because they are always accessible and my wallet likes them. It doesn't scare me to buy a $5 lipstick to try out a new color. If the color was in the $20 range or higher, I might be a little more hesitant to try it.
Here is a list of my current favorite beauty products.
*This post contains affiliate links which means by clicking on and/or making a purchase through a link I will receive a small commission. Thank you for your support.
1.) Lubriderm Daily Moisture Lotion-
I love this lotion. It has SPF 15, so I use it as my daily lotion in the summer to give my skin some extra protection from the sun. It's moisturizing, lightweight and not greasy at all like other sunscreens and lotions. That's why it's one of my summer favorites. There is nothing worse than using a heavy, greasy lotion when it's super hot out.
2.) Garnier BB 5 in 1 Miracle Cream-
I've been using this bb cream for a while now and I love it. I like to use it as a foundation. It goes on very sheer, so it's perfect if you don't want to wear a heavy foundation when it's hot outside.
3.) Covergirl Ready Set Gorgeous Foundation- I tend to have oily skin, so I'm always looking for a good foundation that's not going to feel heavy on my skin or oily. I was attracted to this foundation because of the low price, but it ended up becoming one of my favorite foundations. I think that this line was marketed for teenagers who typically have oily skin, which is perfect for my skin because sometimes I think it never grew up.
4.) E.L.F. Bronzer Palette-
I bought the Turks and Caicos bronzer/blush palette this spring. At first, I was worried because it looked like it was really dark and it had a shimmer to it, but after trying it and using it for a while I started to really love it. I have pretty fair skin, but I tan in the summer, so the color blends perfectly. I was surprised that it wasn't as dark as it looked and it has more of a matt finish despite the shimmery look it has in the case.
5.) Burt's Bees-
I am someone who finds something that they like and I stick with it. Burt's Bees has been my favorite chapstick for years. I just love the minty feel on my lips. You have to keep your lips moisturized in the dry heat and for the price, I think that Burt's Bees is the best option.
6.) Olay Complete All Day Moisture with SPF-
It's very dry living in the desert, so I always need some kind of moisturizer for my face. As I said before, my skin is pretty oily, so finding the right moisturizer can be hard. I ended up going with this brand last time because it had SPF and I liked the price. It's perfect for wearing under your foundation or on its own. I like to wear it as my face sunscreen at the pool.
7.) Sally Hansen Xtreme Wear Nail Polish- Of all the millions of nail polish brands that I've bought over the years, Sally Hansen has to be my favorite. I love that it's accessible. You can buy it at almost any store. I buy my nail polish at the grocery store because I'm there 2 to 3 times a week. I love that it's a great price. I really like the Xtreme Wear because it's under $3. It's also always a quality brand. The polish lasts long, it goes on smooth and it has a nice shine to it. My favorite color for summer has been White On.
8.) Revlon Super Lustrous Lip Gloss-
I'm always trying to add some color to my lips, so I recently bought this lip gloss in the super natural color and I love it. The color is perfect year round, but I especially love a little light color in the summer. It's perfect for someone like me, who doesn't like too bright of a color on my lips, but doesn't want my lips to feel left out.
So there you have it. Those are my favorites this summer. Next week I will be talking all about my favorite summer accessories. I hope you stick around for it!