A few months ago I ordered a clean-out bag from
ThredUP
, which is an online consignment and thrift store. I filled my bag with a bunch of Jack and my gently worn clothes. To be honest, I really had low expectations of getting any kind of money back for it, because I normally don't have good luck with resale shops. I ended up having a few treasures in my clean-out bag and I ended up with a credit of $98 and some change! I was so excited! I ended up getting a ton of new clothes and accessories for Jack and myself, so many of my blog posts for the next month or so might include all my new fun ThredUp purchases.
I shop at thrift stores a lot, and the biggest downfall for me about thrifting is that it's hard to find clothes and accessories that are still in good condition. It takes me hours to search for a good item at a thrift store. Everything that I ordered from ThredUp came in perfect condition. It was like I ordered it brand new from the original store. Thrift shopping can be really time-consuming, but I loved being able to sit from home on my phone and thrift shop!
Today, I wanted to share this casual Old Navy dress, that was just one of the many items I ordered from ThredUP. They actually had 3 dresses in this style, but I picked this one because I liked the pattern on it. I felt that it would be the perfect fall dress. It's perfect for work, church or even to wear for Thanksgiving. The best part about this dress is that it's so comfortable. I like to call dresses like this "pajama dresses" because they are so comfortable I feel like I'm in my pajamas. I also bought these adorable peep-toe booties. I've wanted a pair of peep-toe booties for the longest time and these are perfect. I love the color because they can be worn with almost anything!
*This post contains affiliate links, which means by clicking on and/ or making a purchase through a link, I will receive a small commission. Thank you for your support!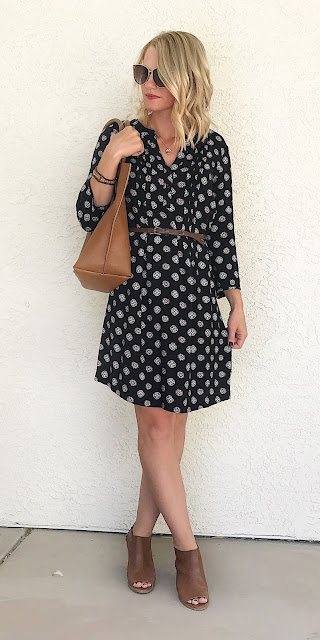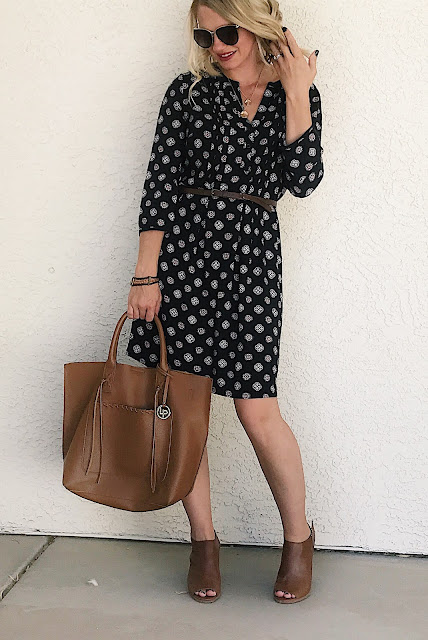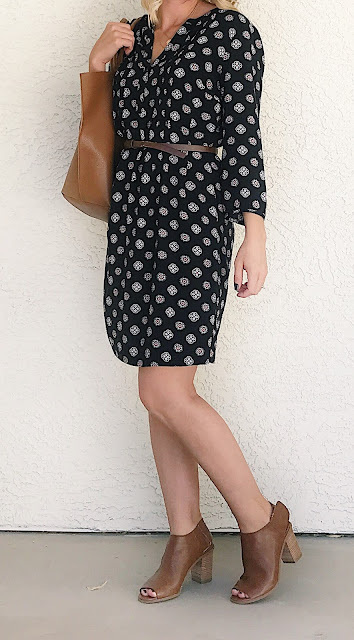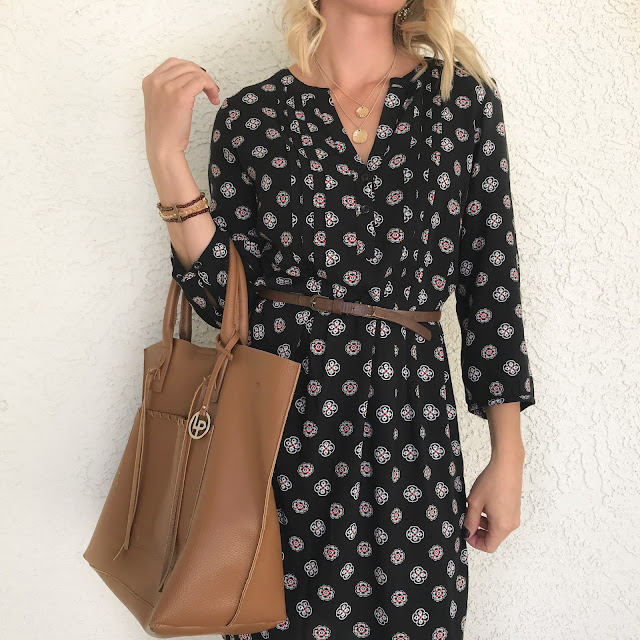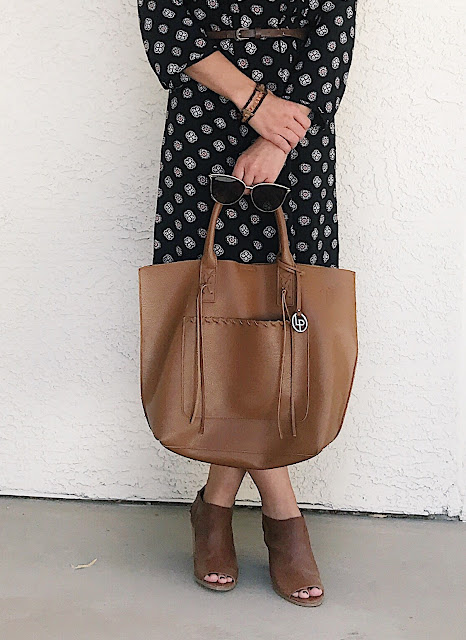 Shop my closet
Dress-
Old Navy-ThredUp (
similar
,
similar
) ||
Shoes-
Target- ThredUp (
similar
) ||
Purse-
Last Call Neiman Marcus (
similar
,
similar
) ||
Necklace-
LC Lauren Conrad- Kohl's (
similar
) ||
Belt-
Target (
similar
) ||
Sunglasses-
glassesshop.com (
exact
)
I have had a lot of people tell me that they weren't sure about ThredUP, but they wanted to try it out. I will tell you that you should go for it! They have so many cute styles and designer brands, plus I loved that they have kids clothes too! It's the perfect way to update your wardrobe for the season changes. Plus you will get 40% off your first purchase! Incase you're wondering, this post is not sponsored by ThredUP. I just love to share how I save money on my wardrobe. I hope that you can save too!