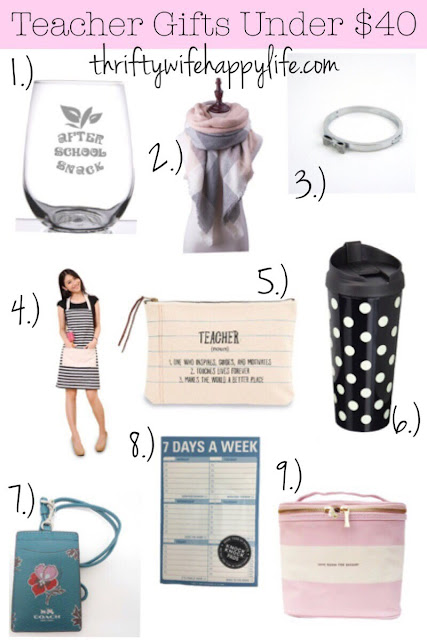 Now that Thanksgiving is over, I am getting really excited for Christmas. I'm officially ready to start my shopping. I have to say that my favorite people to shop for are Jack's daycare teacher. I truly appreciate everything that they do for him, so when Christmas comes, I get excited to spoil them. Being a teacher myself, I've received a lot of great teacher gifts over the years. It's always the thought that counts and us teachers always love to be remembered.
This year, I'm going to try to do most of my Christmas shopping from my couch to avoid shopping the crowded stores with a toddler. Amazon happens to be my go-to place for gifts this year, because you can find almost anything there, including great teacher gifts. Here is a list of teacher gifts that I have my eye on this year. Best of all, these gifts are all under $40 and most of them are under $20!!

*This post contains affiliate links, which means by clicking and/or making a purchase through a link, I will make a small commission. Thank you for your support!
One || "After School Snack" wine glass
This wine glass just cracks me up because it's so true. Teachers deserve to have some time to wind down from a long day with kids.
Us teacher love our scarves! I like to give scarves as a gift because they are easy to pick out and one size fits all.
Three || Kate Spade bow bracelet
This was actually a teacher gift that I received from one of my students at the end of the year last year, so I just had to add it to my list. Jewelry always makes a good gift. It's extra special when it comes to a student.
I love giving and getting aprons as a gift. I always like to wear an apron while I'm cooking or cleaning in the kitchen, but it's not something that I would buy for myself. That's why it's the perfect gift.
Five || Teacher definition makeup bag
While I was looking for a cute makeup bag, I stumbled upon this adorable teacher definition makeup bag. This would make a great teacher gift and you could even fill it with some goodies and gift cards to go along with the gift.
Six || Kate Spade travel coffee mug
Teachers love their morning coffee and usually, we have to be to work so early that we don't always have time to make a stop for coffee. That's why a travel mug makes such a great teacher gift.
Seven || Coach ID lanyard
I love these Coach lanyards. They are perfect to wear every day with your work ID. They are pretty popular with the teachers at my school. If you happen to notice that your child's teacher is wearing her work ID in a boring plastic lanyard, then this would make a perfect gift for them!
Eight || Knock Knock notepads
I personally love these little knock knock notepads. They come in all different colors and sayings. They help keep you on track. I use them to keep me organized with work and blogging too. All teacher's appreciate help with organization.
Nine || Kate Spade lunch box
A lunch box is a perfect teacher gift. Teacher's often have short lunch breaks and we prefer to pack our lunch. No one likes a boring lunch bag though. That's why a teacher would appreciate a Kate Spade lunch box like this one.