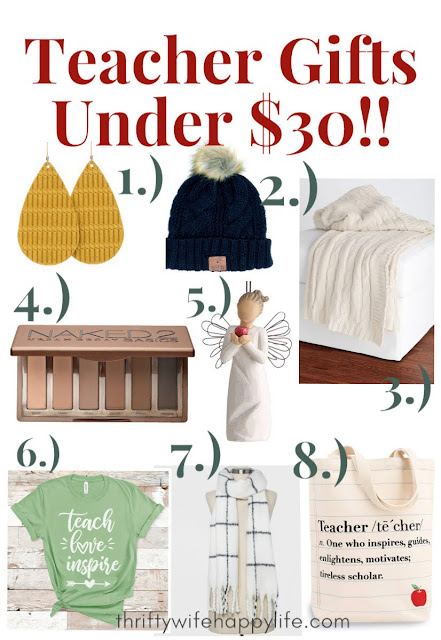 This is my 3rd year doing a teacher gift guide. I love doing them because of not a lot of bloggers' high light gifts for teachers. For me, teachers are my favorite people to gift at Christmas time. As a teacher myself, I know how much we appreciate being remembered by our students. As a parent, I love being able to spoil my child's teacher, because I want to show them how grateful we are for their hard work and care of our son throughout the year. I've been asked before if teachers prefer gift cards over gifts and my answer is no.

Personally, for me, I don't think you can ever go wrong with a gift card, but it's always nice to have a personal gift from one of your students. I hold on to those gifts and I always think about the student who gave me the gift each time I use them. It doesn't have to be anything expensive, because it's really the thought that counts, that's why I have listed 7 affordable teacher gifts to give to your child's teacher this year.
*This post contains affiliate links, which means by clicking on and/or making a purchase through a link will result in a commission for this blog with no additional cost to you. Thank you for your support!

One || Leather Earrings
I've been seeing leather earrings all over Instagram this past year. A few months ago I won a giveaway with
Brinley & Co
and I am loving these earrings. I wear them to work almost every day. They are the perfect earrings for a teacher because they are lightweight and easy to wear around children.

As a teacher, I am outside with the children every day. To me, winter accessories are always a good gift. I'm really loving all the cute winter hats out right now. That's why I think a winter hat would make a nice teacher gift.
Blankets always make great Christmas gifts for everyone. They are cozy during the winter months. I love getting blankets as gifts. I've gotten them from students before and I always find them a thoughtful and useful gift.

Four || Makeup
Last year, one of my students gave me makeup for Christmas. I thought that it was such a great gift because I personally love makeup. Even if your child's teacher doesn't wear a lot of makeup, they still might appreciate a nice eye-shadow pallet.

Five || Ornament
I love getting tree ornaments from students. Each year that I put them on my tree, I remember my students. Ornaments always make a great personalized gift.

Six || Graphic T-shirt
Who doesn't love a good graphic tee? There are tons of cute graphic t-shirts out there for teachers. These are something that teachers can wear to work on casual Friday or just wear on the weekends.

Seven || Scarf
I think I add a scarf to my teacher gift list every year. A scarf is such a good gift. It's something that all most all teachers would appreciate.

Eight || Tote Bag
Do teacher totes ever go out of style? They always come in handy. That's why I think a cute teacher tote makes a great gift.
I always feel bad that I leave out the guy teachers when I do my teacher gift guide, but in my personal experience, guys are extremely hard to shop for. That's why I say, stick with a gift card for them. You can't go wrong with that. Hopefully, you find this post helpful and it gives you a few ideas. For more teacher gift ideas you can check out my posts from the last two years
HERE
and
HERE
.
Happy Shopping!!