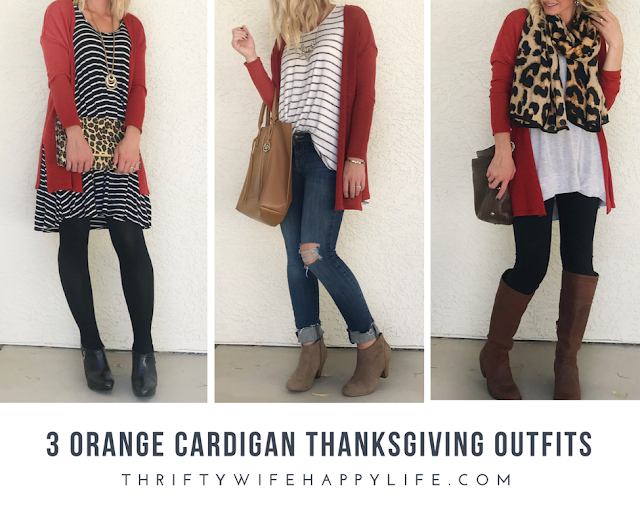 *This post contains affiliate links, which means by clicking on and/or making a purchasing through a link, I will make a small commission. Thank you for your support!

I can't believe that it's already mid-November! Christmas is right around the corner, but first, it's one of my favorite holidays… Thanksgiving! I love Thanksgiving because it's a holiday devoted to eating yummy food, being with family and friends and reflecting on what you're thankful for. I hate that Thanksgiving gets overshadowed by Christmas. I like to take it one holiday at a time.
Just like every holiday, I love to come up with fun festive outfits. Since Thanksgiving is still a fall holiday, I like to wear some sort of fall color…like orange, which happens to be the color for November's Year of Color linkup!
I don't own a lot of oranges, but I do like it. Last spring I found this H&M cardigan at Savers on one of my thrifting trips. I really liked the rust orange color. I felt like it would be perfect for fall. Today I have put together 3 fall outfits that would be perfect for wearing for Thanksgiving.

Sometimes you might want to be a little dressier for Thanksgiving, so I picked a stripe swing dress for this look. A swing dress is perfect for eating a big meal because it's extremely comfortable. It's also perfect if you're in you're early stages of being pregnant or postpartum. It hides your tummy perfectly. I like to wear tights with my dresses when it gets cold out. I love the way the tights look with my black booties. I choose to mix it up a little and add a leopard clutch.
This next look is more casual. Just like the swing dress above, I love my swing tank tops. They are super casual and comfortable. I like to tuck mine in and layer a cardi over it. To accessorize I added a statement necklace, booties, and a cognac purse.
I often find myself wearing leggings for Thanksgiving because let's be honest, what's more, comfortable than leggings? I tend to eat a lot of stuffing, so I hate feeling uncomfortable in jeans. A cardigan, scarf, and boots are the perfect way to dress up your leggings.
Now I just need to decided what I will actually wear for Thanksgiving this year.
Next month is the last month of a Year of Color. It's all about metallic colors for December. Get all your fun outfits, makeup, decoration, recipes and craft ideas ready to share. It should be a great way to end the year! Don't forget to leave your orange link below!