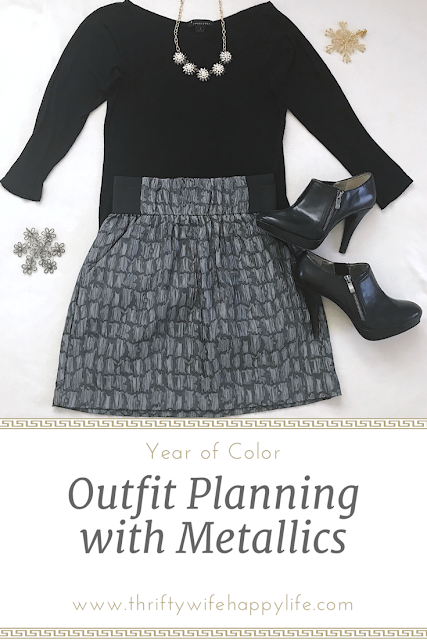 Where did this year go? How is it almost Christmas already? I feel like it was just the 4th of July.
Not only is it the last month of the year, but it's the last Year of Color link party of the year. I joined in as a host halfway through the year, but I've had a lot of fun putting together different outfits to match the color theme each month. Some were a challenge for me, while others were easy to come up with a post for.
For this month our color theme is metallic colors.
December is the perfect month for metallic colors. I think of all the metallic decorations that the month of December brings. Our homes are decked out in silver and gold, but what about your wardrobe? I love adding metallic into my wardrobe this time of the year.
For today's post, I wanted to share some outfits for the holidays with all my favorite metallic pieces in my closet. Instead of my normal outfit posts where I model the clothes, I decided to try something a little different and do some outfit flat lays for a change.
*This post contains affiliate links, which means by clicking on and/or making a purchase through a link, I will make a small commission. Thank you for your support!
This first look is perfect for a Christmas or New Year's party. I love this grey metallic skirt. I like to wear it with my black booties and some black tights. For this outfit, I added my favorite statement necklace that I received in my most recent Rocksbox. I love how sparkly it is. I think it's the perfect way to dress up all your favorite looks this season. If you haven't tried a
Rocksbox
subscription yet, I suggest you check it out. Use my code
thriftywifehappylifexoxo
and you will get one free month of a Rocksbox subscription.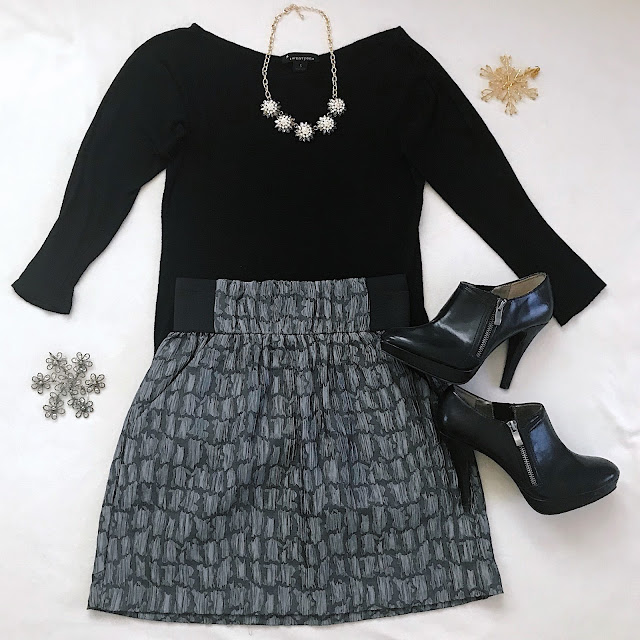 This next look is casual, but the metallic accessories really dress it up. My mom gave me this metallic gold scarf a few years ago for Christmas. I like to wear it with a simple black sweater. I also love this pretty little metallic purse. I've had it in my closet for years. I always feel like a statement purse can really add to an outfit.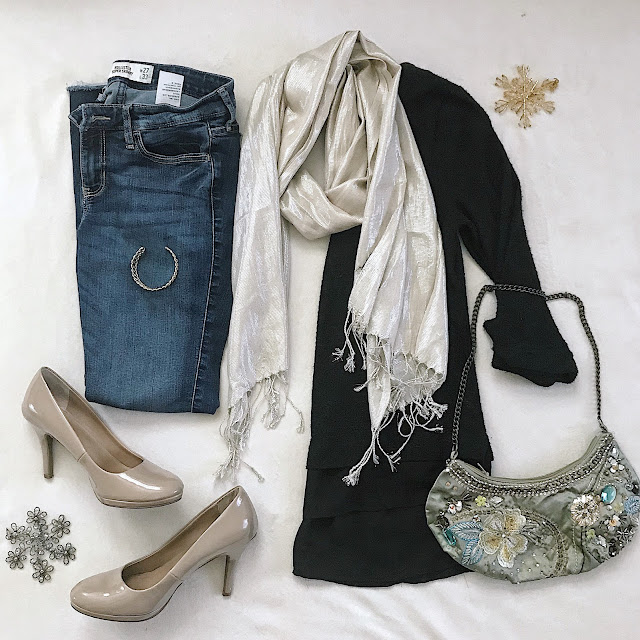 This last outfit is with my sequin top. I have only actually worn this top a few times and it's always around the holidays. I like to pair it with a black blazer and jeans.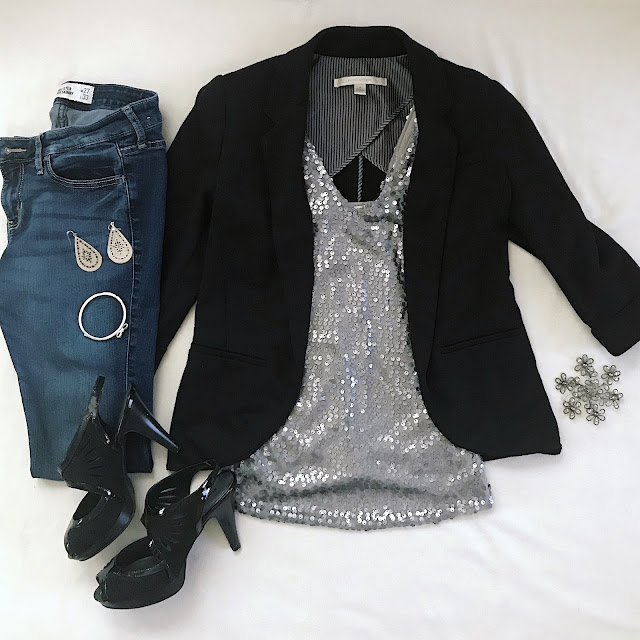 Thank you to everyone who has participated in a Year of Color. I've enjoyed reading everyone's posts and getting new ideas from all of you. Don't forget to link up below and share your favorite metallic color posts.