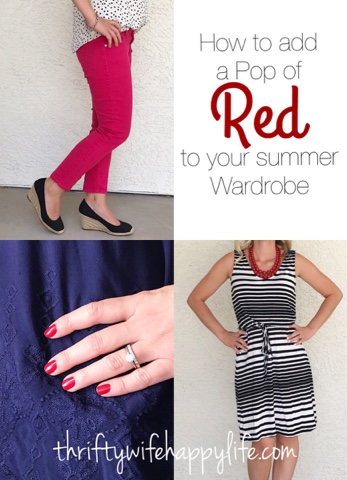 Happy Friday everyone! I'm very excited to be teaming up with some of my fellow blogger friends to join in as a host for the monthly link-up "A Year of Color". Each month of the year there is a new color theme and this month's color is red.
I don't think that anyone can ignore the color red. I mean think of a red sports car, a red room, a red dress or even red food. It's so bright and bold. That's why when I do red, I like to take it in with small doses.
When it comes to my wardrobe, I have a couple ways that I like to add a little pop of red to my looks without standing out more than I want to. I typically save red for Christmas time, but there is another time of year that I love to wear red and that is summertime. With all the patriotic holidays during the warmer months, it always gives me an excuse to bring out some red in my outfits. That's why today I'm going to share 3 ways that I like to add a pop of red into my everyday looks during the summertime.
*This post contains affiliate links which means by clicking on and/or making a purchase through a link I will receive a small commission. Thank you for your support.
The first way I will wear red is to wear my red cropped jeans. A few years back, when I was in need of some business casual clothes for work, I wanted to find a pair of colored pants that I could wear to work as an alternative to my black pants. I ended up finding these cute cropped pants at Kohl's on clearance for only $5. I just had to buy them. I have gotten a lot of use out of these pants over the years. I feel like they are such an easy way to add a little pop of color into a typical neutral look.
Here is an example of a summer outfit I would wear to work.
The next way I like to add some red to my look is to accessorize with red jewelry. I love my red bead necklace. I've had it for years. I actually bought this necklace when I went through a red accessory phase in college. I love pulling it out for Christmas and most recently I wore it for the 4th of July. (You can check out my 4th of July look
here
)
This is an example of how I wore my necklace a couple weeks ago with a simple striped dress.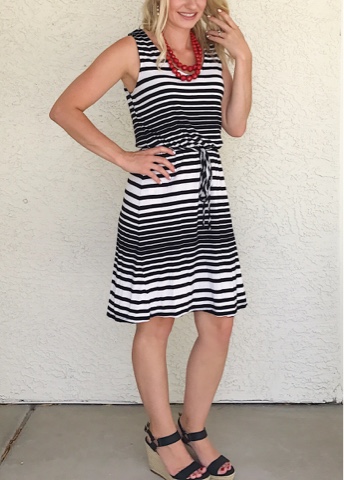 The last way that I like to add red into my wardrobe, is with red nail polish. I love red nails! It's so classic and reminds me of the women from the 1950's and 60's. I do my nails every week and I probably rotate this
cherry red
color once or twice a month.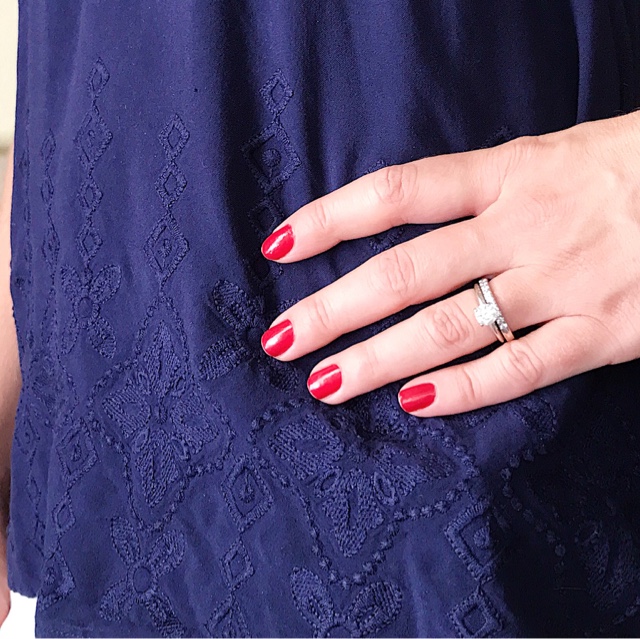 Nail Polish- Sally Hansen Extreme Wear Cherry Red (similar color)
How do you incorporate red into your wardrobe? Be sure to leave your link below and share your red posts for July!!
Next months link up will be on August 18th and our color theme is Neon! Hope to see you then!