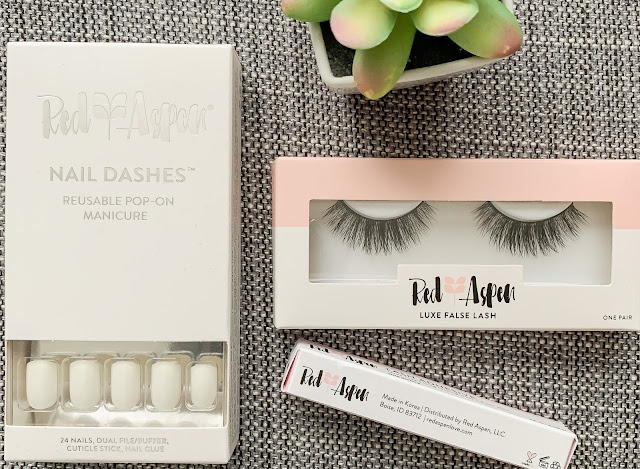 *This post is part of a collaboration with Red Aspen.  I was gifted these products in exchange for my honest review.  All opinions are 100% my own.  This post also contains affiliate links, which means if you make a purchase through a link, I will earn a commission for this blog.  Thank you for your support!


I always get excited when I have the opportunity to review a new makeup or beauty product.  That's why when
Red Aspen
reached out to me to see if I was interested in trying some of their products and reviewing them I said yes. 
Red Aspen
is an American women-owned company based in Boise, Idaho.  They sell a variety of different beauty products, but they're probably best known for their
false eyelashes
and
pop-on nails
, which is what I'm going to be reviewing today.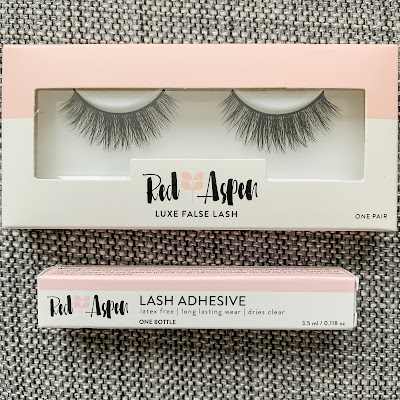 The last time and only time I wore false eyelashes was my wedding day.  I remember not loving the un-natural feel on my eyes.  I felt like I had little butterflies sitting on my eyelashes all day.  However, as the trend of big eyelashes has gotten bigger and with the popularity of lash extensions, I've been more interested in giving false eyelashes another try.
The
Red Aspen
lashes that I tried are called
Miss
, which sell for $16.  They are made from silk and luxe fibers.  One of the first things I noticed was that they looked very full and natural.  I applied the lashes with the
lash adhesive glue
.  I'm definitely not a pro at applying lashes, but the instructions were easy to follow.  It took me a couple tries to get the lashes on straight and they still weren't perfect, but I was able to get them to a point that they looked right.
Here are the before and after pictures.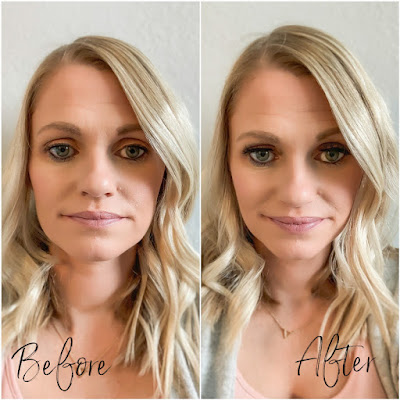 My final thoughts on the lashes
I like that these lashes are soft and natural feeling.  I don't have that same butterfly feel that the lashes I wore on my wedding day gave me.  I also like that they are reusable, so you can wear them more than once.  The glue seems to have a stronghold on the lashes, so they will stay on throughout the day.  I personally need some practice with applying the lashes, but I know that practice makes perfect.  I am definitely not opposed to wearing them more often.  I do love the dramatic lash effect and the way it makes your eyes pop.  I would definitely buy this product myself.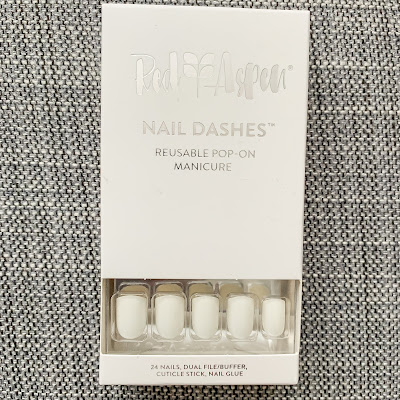 The next product that I tried out was
Red Aspen Nail Dashes
, which is a reusable pop-on manicure set.  I have the color,
Nina on Cloud 9
, which is a white color.  This nail set is $13.  The kit comes with 24 nails, a dual file/buffer, a cuticle stick, and nail glue.  The instructions are listed in detail on the back of the box and easy to follow.  A little tip I learned is to start off applying the nails to your pinky nail first and end with your thumb.  I've always started with my thumb, but it makes it hard to get the other nails on.
My final thoughts on the nails
I personally don't typically wear fake nails.  I do not like the feel of them on my nails. Plus, my natural nails grow long and strong on their own, especially right now with my prenatal vitamins I'm taking while pregnant.  I've just always done my own manicures.  These nails are not something that I would personally buy on my own.  With that said, I have to say these are some of the most natural feeling fake nails that I've ever tried.  I like that the set has different sizes to pick out a nail that fits your natural nail.  They are also really easy to file to get the perfect shape and size.  I like the idea that you don't need to worry about nail polish chipping off either.  If you are someone who wears pop-on nails often, these are definitely worth trying out.
Overall, I think that
Red Aspen
has some great products and I'd love to try more.  I like that their beauty products are clean and cruelty-free and sell at an affordable price.  You can head over to their
website
to learn more about the company and its products.
Katie🤍
Pin the post!