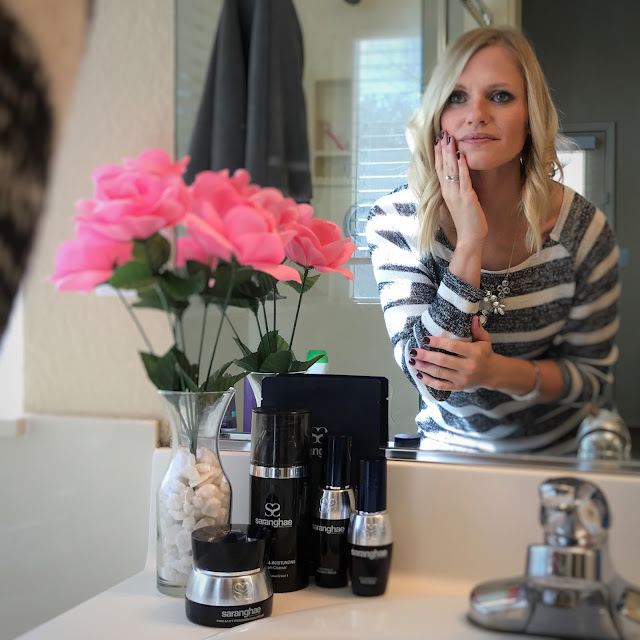 *This post is part of a collaboration with Saranghae. As always all opinions are 100% my own.
I have never had perfect skin. It's always been oily and prone to acne. My biggest concern when it comes to skincare has always been keeping a clear face. I never really gave much thought to using anti-aging products until after I turned 30. I've always heard that it's never too early to start using anti-aging skincare products. That's why I've had more interest in trying out different skincare products in recent years.
When Saranghae contacted me to collaborate with them on a post, I knew very little about what they were all about, but I was very interested in learning more about them. Saranghae is an award-winning Korean 5 step anti-aging skincare system. I had heard of Korean skin care products through social media and other bloggers, but this was my first time trying it out for myself.
I was very impressed by Saranghae at first sight. Everything came beautifully packaged, which I'm a huge fan of presentation. I felt like they really nailed it on this one. All the products have a nice clean smell to them without being too strong. The 5 step routine includes…
Nourishing + Moisturizing Cleanser
Deep Radiance Essence + Serum
Firm & Lift Cellular Regeneration Cream
Focus Renewal Eye Cream
Elemental Essence Mask

The first 4 products are used daily and the Elemental Essence Mask is recommended to be used weekly. I've been doing the 5 step system once a day for almost a month now (for best results it is recommended to use the system twice a day). So far, I've been really happy with my results. I get a little nervous when I try new skincare products, because I'm always worried that it will leave my face feeling greasy, but that was not the case at all with Saranghae. I absolutely loved the cleanser, because I had never tried anything like it. It goes on dry as an oil, then it foams up as you slowly wash it away with water. I also really love the regeneration cream. It's like a mini facelift in a jar. All the products were very absorbent and left my skin feeling hydrated and refreshed. I usually dread washing my face at the end of the night, but lately, it's been my favorite part of my bedtime routine.
In Korean, Saranghae means "I love you". I completely understand why they chose that name for this product. I am truly enjoying using Saranghae and I would recommend it to anyone looking for a new skincare product.
For more information on Saranghae, click HERE!