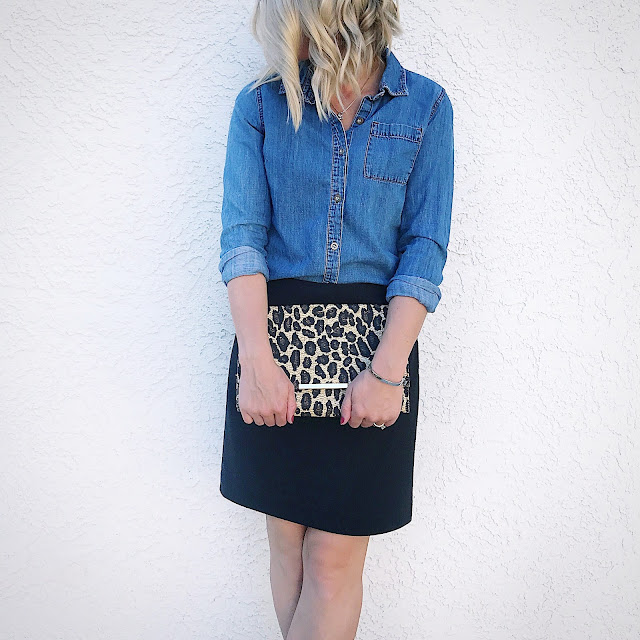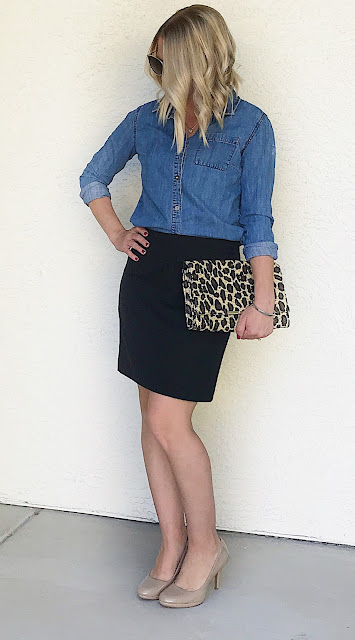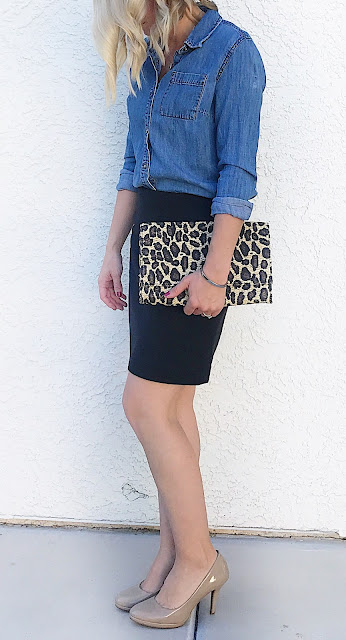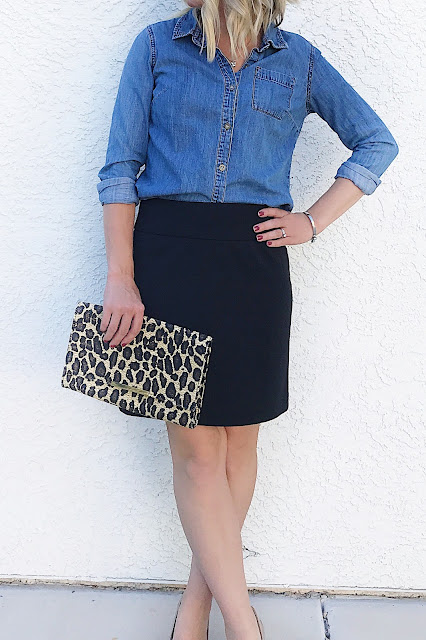 Hey everyone! The other day I posted about all my favorite wardrobe essentials, so today I wanted to do a post featuring some of the pieces I shared. I took these pictures back in the fall, but I really love how this outfit can really be worn year-round. It's a perfect work or church outfit and it's made from 4 of my essential wardrobe pieces. Here is why I love these clothing items.
Chambray Shirt- I love denim and I think that having a chambray shirt in my closet is a must. I love that I can layer it under a cardigan or over a tank top. It's perfect on its own as well. I can wear it with white pants, black pants or even jeans. I like wearing it with a skirt because it gives the appearance that you're dressed up, but having denim on keeps it a little more casual than a blouse.
Black Pencil Skit- This is a must-have in my closet. A black skirt will go with EVERYTHING! It's flattering and classic. You can find a pencil skirt easily at an affordable price. I've had great luck finding skirts like this at thrift stores. I've also found cute skirts under $10 at stores like Forever 21 and H&M.
Nude Pumps- I love nude shoes! I prefer them over black pumps. I think that the nude color lengthens your legs and for a short girl like me, that's always nice. Nude is a very neutral color, so shoes like this will go with everything. My nude shoes are from Target and they are my favorite pair of heels. I can wear them comfortably for a long period of time, which is rare for a heel.
Statement Purse- A statement purse could be anything from a beaded purse to a bright color. I love my leopard clutch. I love to accessorize in leopard print and this clutch gives a sublet pop of fun to any simple outfit.
What are your favorites?