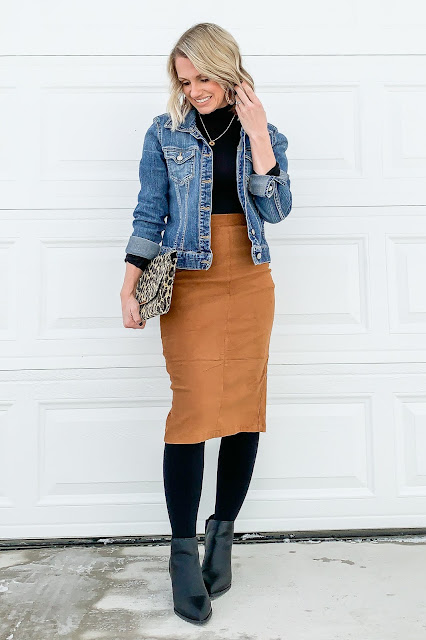 The last couple of weeks I have been struggling to keep up on blog posts.  I have so many things I want to share on here, but it's been so hard for me to set aside time to get all the things done.  Between having an active/mobile baby now, and also a sassy 5-year-old on my hands, I feel like I don't have any downtime to just sit at my computer and write.  I try to stay up after the kids go to bed at night, but that has been hard for me.  Some nights I just can't do it and I head to bed right away, but other nights, like tonight, I try my best to get as much as I can done, so let's see how that works. 😂
*This post contains affiliate links.
Last month, a local Michigan online boutique called Minty Boutique, reached out to me to see if I wanted to do an Instagram collaboration with them.  I always love the opportunity to team up with a local women-own-business so I was excited to share their boutique with my Instagram followers.  I immediately fell in love with this faux suede mid-length pencil skirt.  I love that it has the classic style of a pencil skirt from the 1960s, but it also has a modern edgy feel to it with the faux suede material.  I felt that a skirt like this would be a perfect addition to my wardrobe and definitely something that could be worn year-round.
Today I want to share a couple different winter outfit ideas with this faux suede pencil skirt.
1.) Crew Neck T-shirt + Moto Jacket
2.) Denim Jacket + Black Turtleneck + Leopard Clutch
3.) Black Turtleneck
This next look is the same outfit as the look above, I just dropped the denim jacket and wore the turtle neck on its own.  It's very simple and easy to put together.  A little tip for keeping your shirt tucked in with a fitted skirt like this is to tuck it into your tights.  It helps keep everything smooth.
4.) Striped Crew Neck T-shirt + Black blazer
Which look is your favorite?? Let me know in the comments!
Don't forget to pin the post!