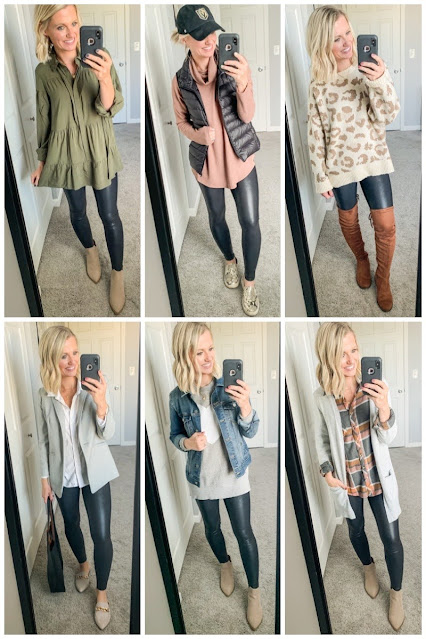 This week is Thanksgiving, which I guess is the official start of comfy pant season. I don't know why, but I only want to wear my comfy pants during the cold winter months. One pair of leggings that I wear over and over again is my Spanx faux leather leggings. Last year I bought a pair of faux leather leggings from Aerie (HERE) and I loved them. I wore them so much, so this summer when the Spanx leggings went on sale during the Nordstrom Anniversary sale I decided to splurge and buy them. I typically don't spend that much money on any clothes in my wardrobe, but I knew that I would be wearing them a lot once winter came. I also knew that the Nordstrom sale is the best time to buy them because that is the lowest price I have seen after watching them for a couple of years now.
*This post contains affiliate links.
After having these leggings for a couple months I feel like I can give an honest review. I really like them. I like the look of them when I wear them. They are thick material, so there is no risk of underwear lines showing. They also do a great job of sucking it all in. The one thing that I don't like is the inside. It's slippery, so I find that they can be a little uncomfortable at times compared to my other leggings from Aerie. That doesn't make me dislike the leggings, but I don't usually wear them for lounging around the house as much. With all that said, I am happy about my splurge purchase, however, I don't think that you need to spend $98 on a pair of faux leather leggings to get a good quality pair. There are lots of other options out there. I have linked some other affordable options below.

Now on to the outfits. Last year I shared some mom-friendly faux leather legging outfits in a post (HERE), but this year I wanted to update those looks to give you a little more inspiration.
Outfit #1: Flowy Tunic + Booties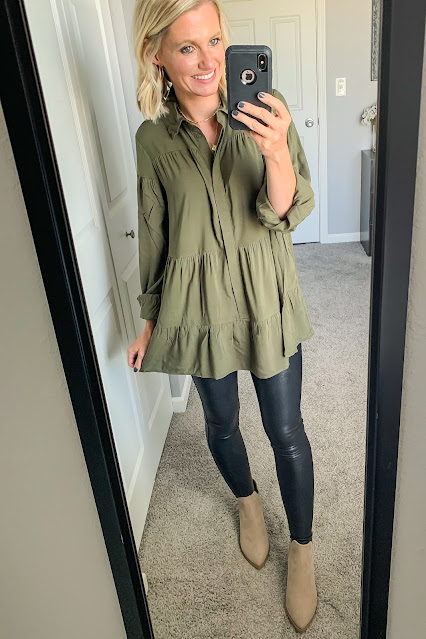 Outfit #2: Vest + Turtleneck Tunic + Sneakers
Outfit #3: Oversized Sweater + Over The Knee Boots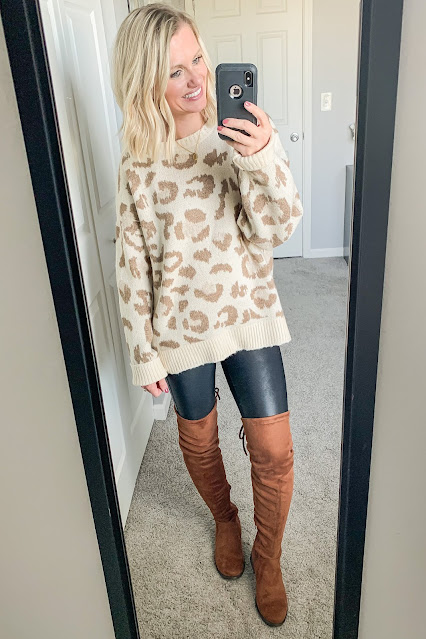 Outfit #4: Button Down Shirt + Blazer + Mules
Outfit #5: Sweater + Denim jacket + Booties
Outfit #6: Plaid shirt + Cardigan + Booties