If you haven't jumped on the faux leather trend yet, then it's probably time that you at least start to consider it. It took me a while to get into faux leather.  I find it a little edgy for my style, but I finally decided to give it a go a couple of years ago and I am glad I did.  This isn't a trend I see going anywhere anytime soon!  Today I want to share with you 3 faux leather clothing pieces that you can add to your closet to give this trend a try.
*This post contains affiliate links.
Faux-Leather Moto Jacket
I feel like this is a great laying piece to have in your closet. You can easily dress it down or up. I like to sometimes replace my denim jacket or blazer with a moto jacket to give my look an edgier vibe.  I have an H&M moto jacket that I thrifted off Poshmark.
Faux-Leather Leggings
 I wear my faux leather leggings at least twice per week.  In the winter I wear black leggings a lot and I feel like the shiny finish on the leggings helps keep my legging outfits looking fresh and put together.  I have 2 pairs.  One I bought last fall at Aerie (similar
HERE
) and the other pair are the Spanx faux leather leggings
HERE
.  You do not need to spend a lot of money on faux leather leggings, but you do need to find a decent pair.  Make sure they are thick material, high-waisted, and fit well.  I have tried on a lot of pairs of leggings that bunch up or hang off my legs, so finding the right fit is key.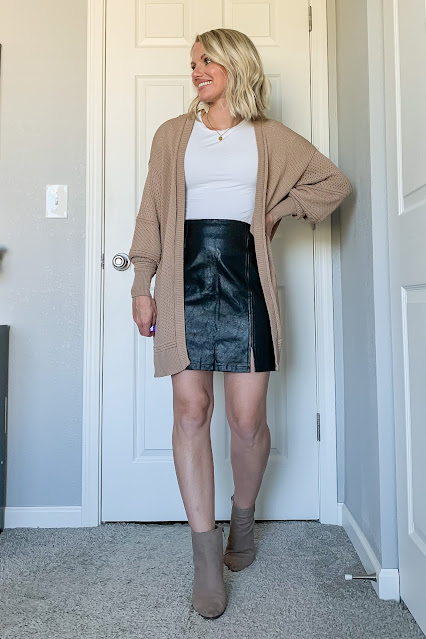 Faux-Leather Skirts
I am loving faux-leather skirts right now!  They are so fun. You can find them in all different lengths, styles, and colors.  I just thrifted this one
HERE
on ThredUp.  They are probably my favorite skirt material to wear in the fall and winter.

Don't forget to pin the post!