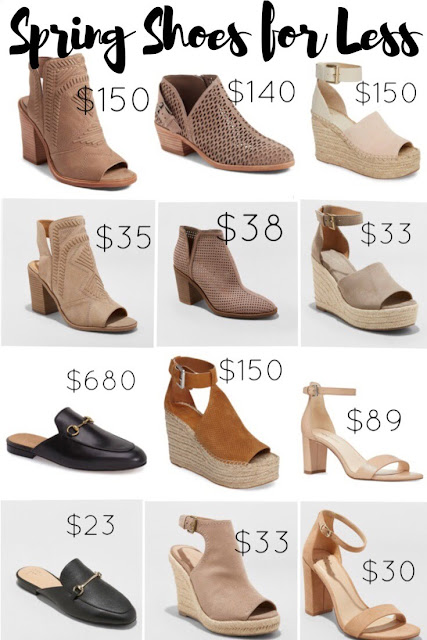 I am such a shoe fan. Every time I put together a list for a new season, the number one thing I always want is shoes. My husband, who owns only 5 pairs of shoes, cannot understand my need for new shoes. I feel like shoes are the most important part of an outfit.
This spring, I have my eye on lots of different shoe styles. I love getting inspired by other blogger's outfits on Instagram and Pinterest, but I always find their shoes are often out of my price range. That's why I always set off to find a dupe. In my opinion, the best place to find designer look-a-likes is good old Target. I always find stylish shoes that are designer knock off's for a fraction of the price of the real thing. Besides the price,
*This post contains affiliate links, which means by clicking on and/or making a purchase through a link, I will make a small commission for this blog. Thank you for your support!
Today, I want to help give you a guide for your spring shoe shopping.
I love Peep toes, especially with a bootie. I've been eyeing these Vince Camuto Karinta block heel booties (
HERE
), but with my price range being between $30-$50 per item, even with their best sale, these booties have been out of my reach. Good thing I found an almost exact pair at Target (
HERE
) for only $34.99!!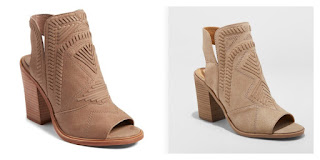 While we're talking about booties, I should mention that I also love these Vince Camuto Phandra Booties (
HERE
), but again I found them out of my price range. Target has a similar pair with the same laser cuts for $33.99 (
HERE
).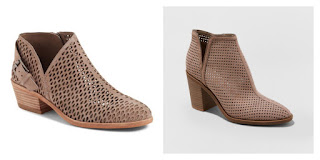 Last summer, all I saw were espadrille wedge sandals everywhere. I wanted a pair so bad, but I was having a hard time finding one in my price range. The splurge pair I was looking at was the Marc Fisher LTD Adalyn Espadrille Wedges (
HERE
). This year Target has an almost identical pair for only $34.99 (
HERE
).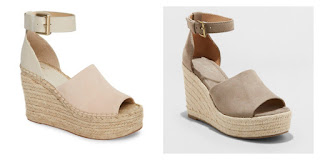 I haven't decided how I feel about mules yet, but I couldn't ignore this dupe. These Gucci Princetown Loafer Mules (
HERE
) are a beautiful pair of shoes, but not everyone can afford the $680 price tag. Target has a pretty good dupe for only $22.99 (
HERE
). I don't know about you, but I think that's the perfect price tag for a trendy shoe like this.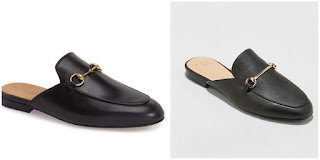 These Marc Fisher Annie Perforated Wedges (
HERE
) are another pair of espadrille sandals that I've been loving. They are beautiful, but they are also $150. Target has a similar style for $32.99 (
HERE
).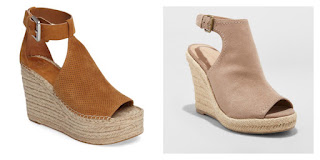 I keep wanting these nude colored sandals every year. This might be the year I buy them. I love this classic pair from Nine West (
HERE
), but personally, I think I like the ones from Target best (
HERE
).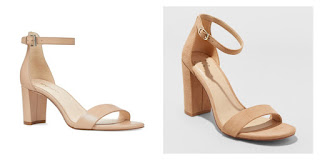 Shop the shoes!The designer splurges

The Target look dupes for less


It's up to you how much you want to spend on your shoes, but if you're a shoe lover like myself, you might want to keep yourself on some sort of budget. Hopefully this will help you find those great designer styles for less!
Happy Shopping!!