Hey guys! I'm so excited about today's blog post! A couple of weeks ago, I met up with a local Las Vegas photographer, Elissa Rangel for an outfit photoshoot. When she contacted me to collaborate with her I was super excited. For one, I take my own blog pictures and I thought it would be fun to work with someone who actually knows what they are doing. And for two, I had seen Elissa's photos on her Instagram page and I could see she had a lot of talent.
I met with Elissa on a hot Saturday morning in the Art's District in Downtown Las Vegas. If you have never been to the Art's District, I suggest you go. It's a different side of Las Vegas that most tourists never see. No casinos, but it's filled with vintage antique stores, pawnshops, thrift stores, brewery's, yummy restaurants and trendy coffee shops. Just like in many cities in America, downtown Las Vegas is being revitalized by its hipsters and artist community. It's really the perfect spot to take blog pictures.
Elissa was great to work with. She was very nice and professional. I warned her that I was not a model. I'm still not very comfortable with getting my picture taken, even though I share pictures of myself and my outfits all the time on my blog and social media. Elissa made me feel very comfortable in front of the camera. She made some suggestions and had a few visions on what kind of shots she wanted to get. She was also opened to the ideas that I had.
We shot 3 different outfits, which for me was very hard to narrow down. Typically, I get an idea in my head for an outfit and I put it on when I have time and take a few quick pictures. This photoshoot took some planning for me. I have been trying to be resourceful with my wardrobe lately, so I told myself that I wasn't allowed to go shopping for anything new for this posts. I had to find pieces in my closet that I could re-wear in new ways. I feel like the outfits were a good choice and show off my style well.
*This post contains affiliate links, which means by clicking on and/or making a purchase through a link, I will earn a commission for this blog. Thank you for your support!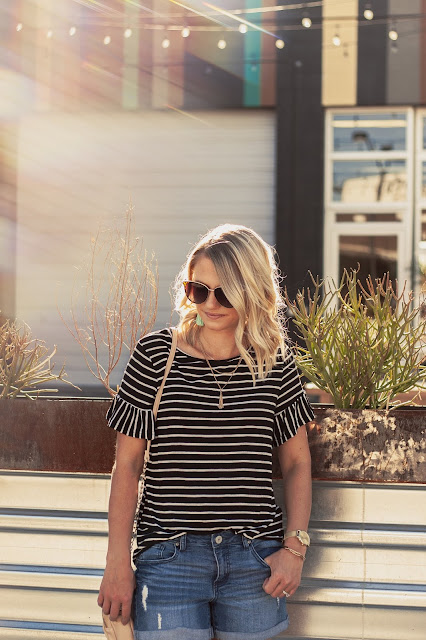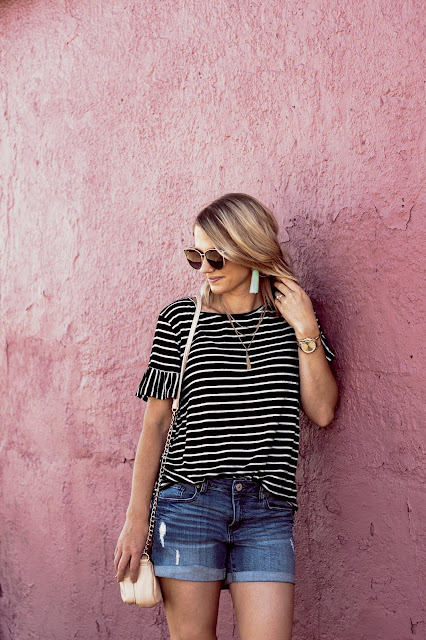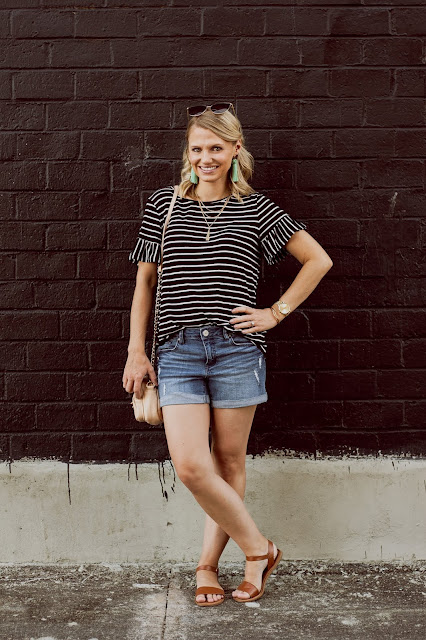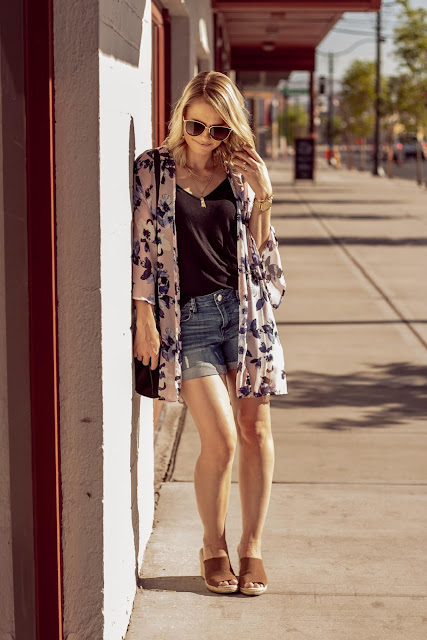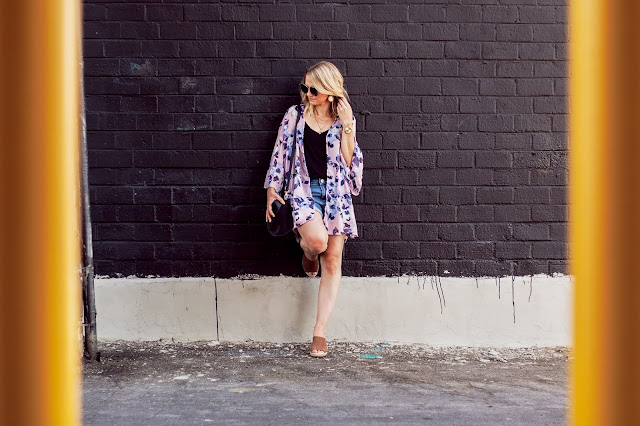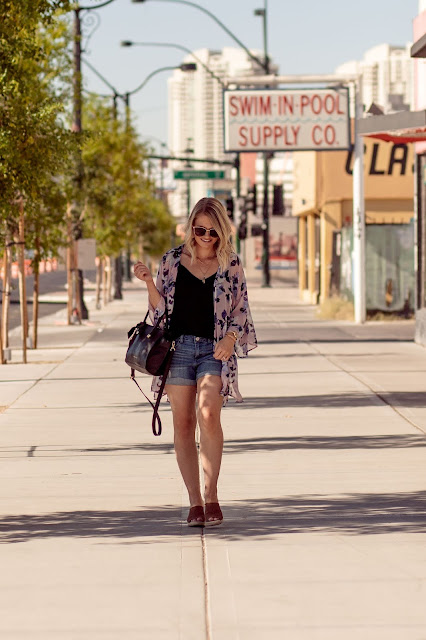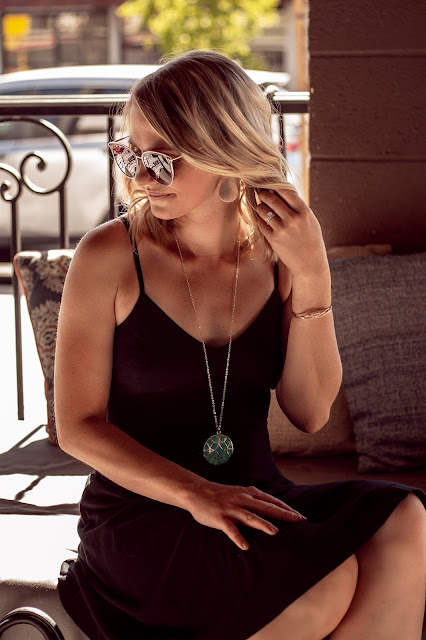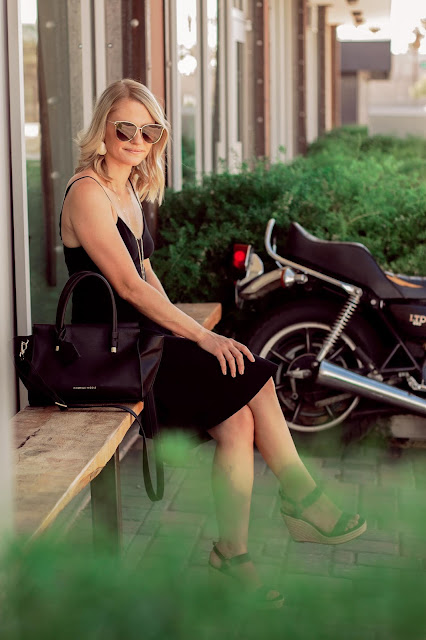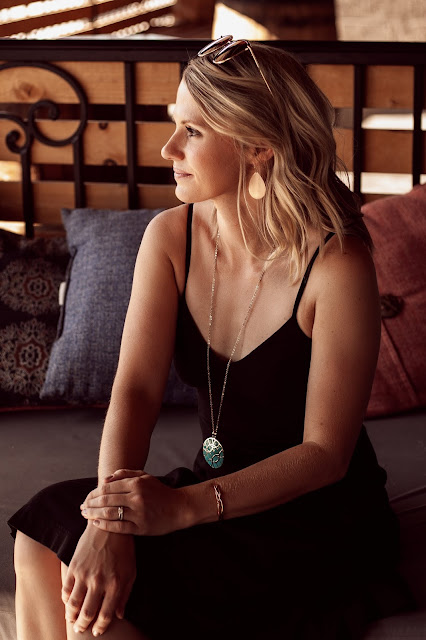 Dress- Express (
similar
) || Necklace- Nordstrom Rack (
similar
) || Purse- Last Call Neiman Marcus (
similar
) || Shoes- Target (
similar
) || Earrings- Walmart (
similar
) Sunglasses- Glassesshop (
similar
)
I'm thrilled with the way these photos turned out. I really love the urban feel of the setting. I want to say a big thank you to Elissa for letting me be her model for the day and sharing these beautiful photos with me. To learn more about Elissa and find out her rates, head over to her website elissarangel.com or check out her Instagram @elissarangelphotography.