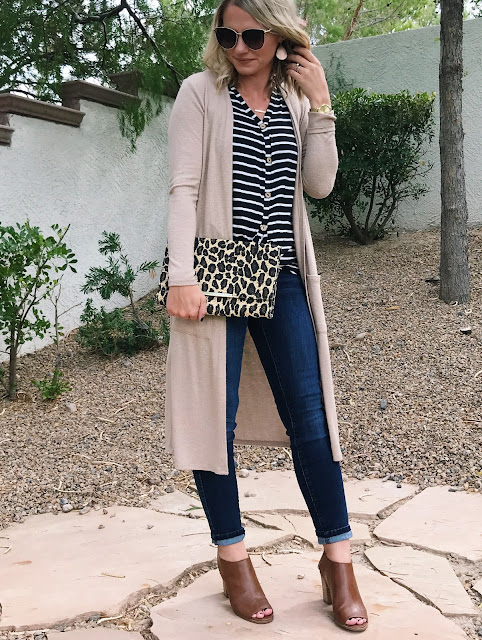 I cannot tell you how many times I've sat down and tried to write this blog post. I've been wanting to share this look for weeks, but every time I go to write, I realize that I have something else to do before I can start. That task usually leads to another and before I know it, I'm too tired to write. The last few weekends have been productive, but busy. My plan was to get a bunch of blog posts drafted and scheduled for the last couple weeks of October because I'm going to Michigan at the end of the week and I know I won't have much time for blogging while I'm there. That didn't happen though. There were just more important things to get done before our trip, plus this weekend Jack decided to boycott his naps, which is not a good thing for me. Naptime is blog time for me on the weekends. But finally, I have a minute. Due to not having a nap today, Jack passed out on the living room floor at 7:30, so bedtime was a breeze tonight. With the husband sleeping too, I can finally work on a few blog posts and plan out my life a little. Yay!
Anyway, today I want to share this super cute Amazon find. This black and white striped button-down tank top (Find it
HERE
) is the perfect tank for wearing under my cardigans this fall. This style of top is very in style right now with the buttons and the knot at the bottom. It was only $5 on Amazon, but I don't have Prime, so I did have to pay for shipping. Sometimes I get nervous when ordering really cheap clothes online, but this one turned out to be a pretty good find. Minus the poorly sewed buttons, it's a pretty decent top. I bought it in a small, but I do wish I would have sized up because I do like my tops a little baggier for styling.
I thought that this top went perfectly with my new duster cardigan (
HERE
) from Forever 21. I may have mentioned before that I hate going to the mall. It's too time consuming and too overwhelming, that's why I'm all about mall shopping online. I've been doing almost all my shopping online lately. So I was unsure about this cardigan at first. I wasn't sure if I should size up or down, but I have to say that I really love it. It's the perfect fit and It was under $13, which for a cardigan, I think that's a great price. I accessorized my look with my favorite leopard clutch that everyone likes so much. I love to mix leopard and stripes. It's one of my favorite combos for fall. I'm also always a fan of the peep-toed booties in the fall. These booties are the perfect color for me. You can scroll down to get all the details on this outfit!
*This post contains affiliate links. By clicking on and making a purchase through a link, I will earn a small commission for this blog. Thank you for your support.