Back before we had Jack, fall used to be my husband and I's favorite time to go on vacation. We always enjoyed traveling in the fall, because it's not a time of the year when most people are going on vacation. You can usually get low prices and do a tropical vacation for a fraction of the price of what you would pay during the high travel season. I remember our first vacation together we went on a 4 night cruise to the Bahamas in late October and we paid under $250 per person (for everything). That was probably the best trip ever. Nowadays, our vacations are few and far apart. After moving to a vacation destination a few years ago, having a baby, having a husband in and out of training with his airline and both of us having busy work schedules, when we get a little time off we mostly vacation to visit our family. Our next trip is to Michigan in a couple weeks. Even though it's not a "real vacation", it still involves traveling, which is always an adventure when you have a two-year-old.
*This post is part of a collaboration with Rock Flower Paper. As always my opinions are 100% my own. It also contains affiliate links, which means by making a purchase through a link will result in a commission for this blog. Thank you for your support!
For today's post, I have teamed up with a store called
Rock Flower Paper
. Rock Flower Paper is based out of the San Francisco Bay area and they sell unique, high-quality lifestyle goods at affordable prices. They have everything from home goods items to clothing and accessories. Many of their products are perfect for traveling, that's why for today's post, I'm going to share my 4 must-have items when traveling.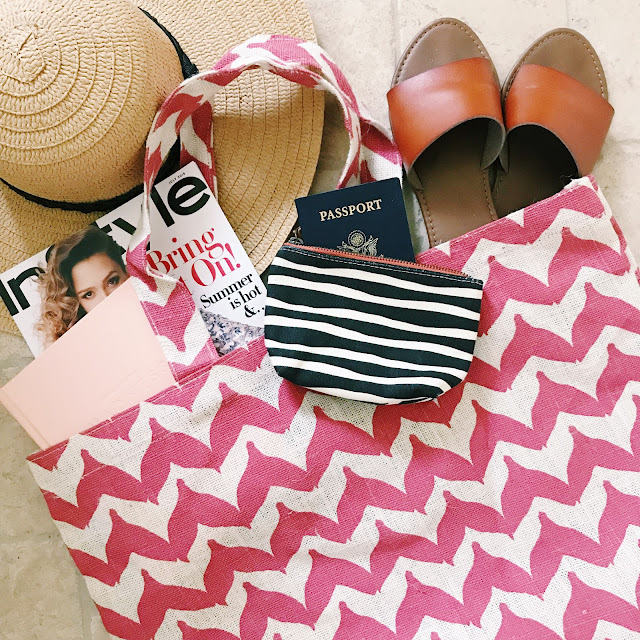 1.) A Tote Bag– As a mom, I can't think of anything more useful than a giant tote bag. The bigger, the better. I always like to bring a tote bag as my carry on when flying because it's like bringing an extra suitcase. One thing that's great about a large tote bag is that you can throw a smaller purse inside and still use the tote as your personal item when you're flying and bringing your suitcase as a carry-on. This bag above is from Rock Paper Flower's Jute Tote Bag collection. I love the whale tale print on the bag, but sadly they are sold out on this print, but they do have some other great prints worth checking out.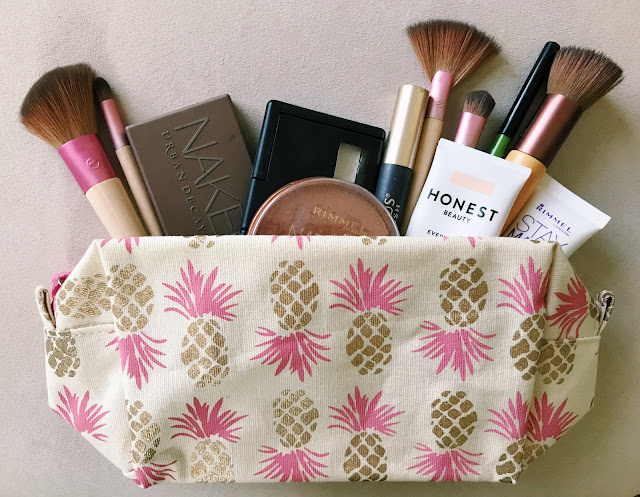 2.) A makeup/cosmetic bag– I always need a safe place to transport all my make up and this adorable pineapple print is the perfect travel makeup bag. It's large enough to fit all my makeup, brushes and then some. I'm still debating on whether I want to keep it as my go to makeup bag or use it daily as a purse organizer.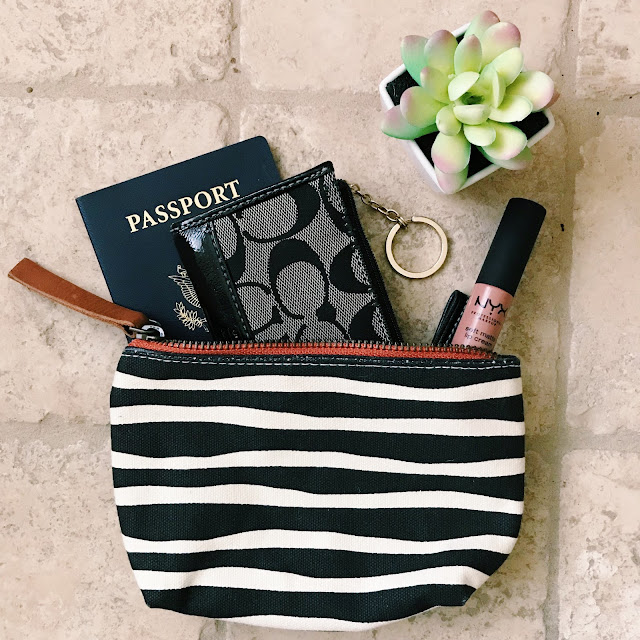 3.) Small pouch- I don't know about you, but I'm always losing all my stuff in my tote bags. Having a little pouch to organize all your important things in your purse is extremely helpful. It's nice to have a safe place to keep your keys, passport and credit cards. I love this black and white wavy stripe canvas pouch. This is now going to be something that I use daily in my purses.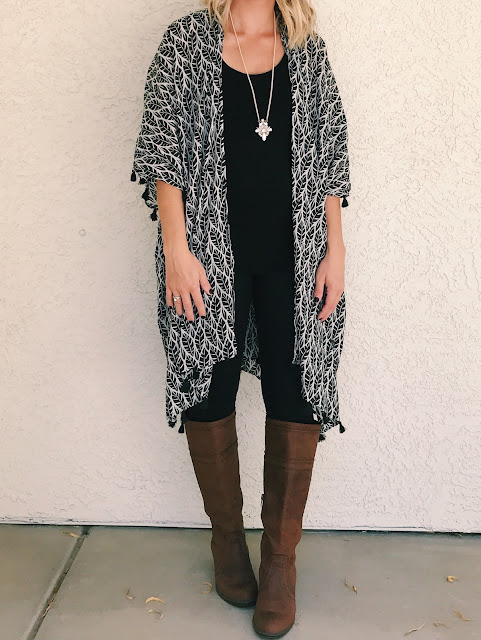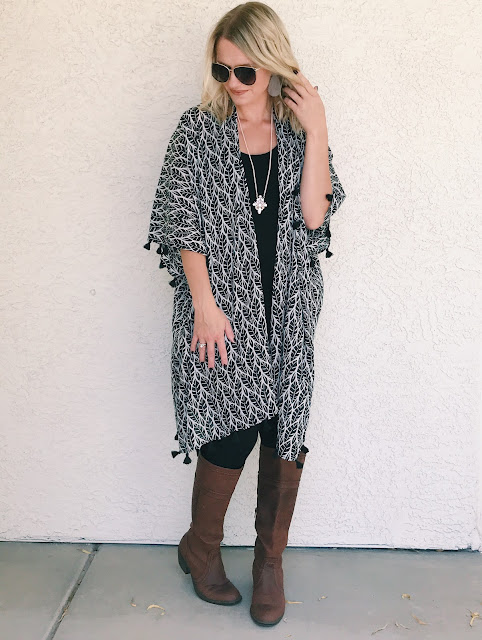 4.) Comfortable Travel outfit- Lastly, but not least, I always need to have a comfortable travel outfit. This black and white palm print kimono is perfect to wear as a comfortable travel look. I love how it looks over leggings and a tank top. The best part about this kimono is that it's totally versatile. It's great to wear on travel days, but it also makes a great bathing suit cover up. It would also look great layered over a dress.
Even though I plan on using all my new travel accessories now, it makes me really excited to plan our next "real vacation". What are some of your must have travel items?
Shop the post