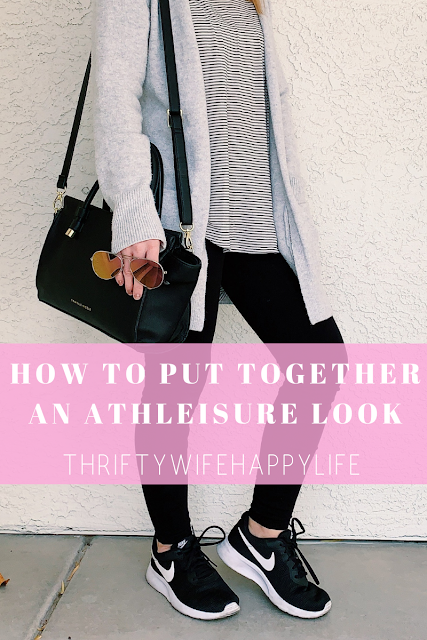 As a native Michigander, I really can't complain too much about the 50-degree temperatures of the Las Vegas winter, but I'm still feeling the winter blues. The days are short and days are colder, it still puts me into a funk with my wardrobe. Thankfully winter in Las Vegas is very short. Before I know it the sun will be out and it will be 70 degrees every day, probably before I ever get around to posting these posts. To be honest, all I want to do lately is to wear comfortable clothes. Leggings, cozy sweaters, t-shirts… anything to keep me comfortable and warm. That's why every weekend I've been wearing athleisure wear. I love athleisure clothes because it's a perfect combination of workout athletic clothes with everyday casual clothes.
Today I want to share one of my favorite athleisure looks and also what the key components are to putting together an athleisure look. It's actually really easy and most of you probably already have these pieces in your closet.
*This post contains affiliate links, which means by clicking on and/or making a purchase through a link, I will earn a commission for this blog at no extra cost to you. Thank you for your support!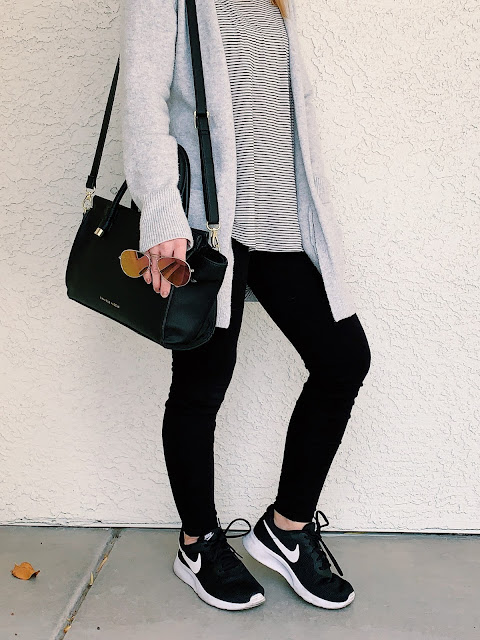 1.) Tennis shoes-
The most important piece of an athleisure look is athletic tennis shoes. I personally think that black athletic shoes make for the best athleisure look, but. I just feel like the black and white look so polished, but I also love other tennis shoes with these looks too. I bought my tennis shoes (
HERE
) at Kohl's back in the fall. Tennis shoes seem to be my most expensive shoes in my closet because I always buy name brand. I love Nike, Adidas, New Balance… they all have great styles. The key is to find them on sale! I've linked some of my favorite shoes below.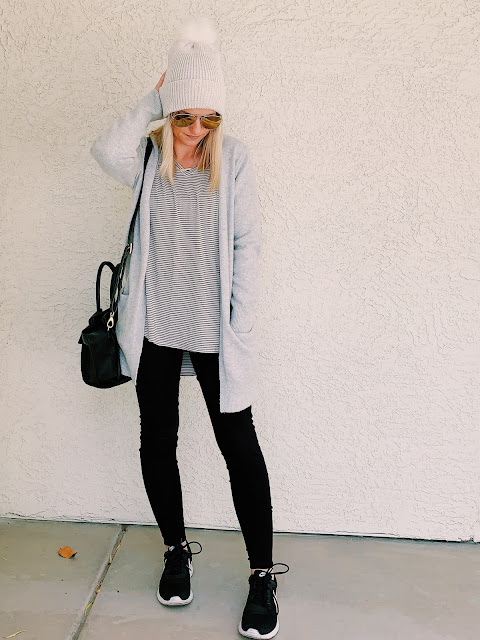 2.) Leggings- I think we can all agree that leggings are the best! When I buy leggings, I look for 3 things; comfort, thickness, and affordability. I like something comfortable that sucks in everything with a high waist. I also look for something with a decently thick material. One of my biggest fashion fears is to be the person who bends over in leggings and you can see the pattern on their underwear perfectly. Lastly affordability. My dream leggings are the Zella Live in High Waist Leggings (HERE), but I just can't bring myself to spend the $59 for them. (Maybe the next big Nordstrom Sale). I typically will look at stores like TJMaxx or Marshalls for decent brands of leggings. I recently bought this pair of leggings (HERE) at Nordstrom Rack for under $10. I really like the thickness of the leggings, but I will say that they are not as soft as some of my other leggings. Another legging steal is at Forever 21 (HERE). Their leggings are really nice everyday leggings and they are under $4!! I still have a pair of Forever 21 leggings that I bought when I was pregnant with Jack, but I will say that their thickness wears out a lot, so I save those ones for my around the house leggings.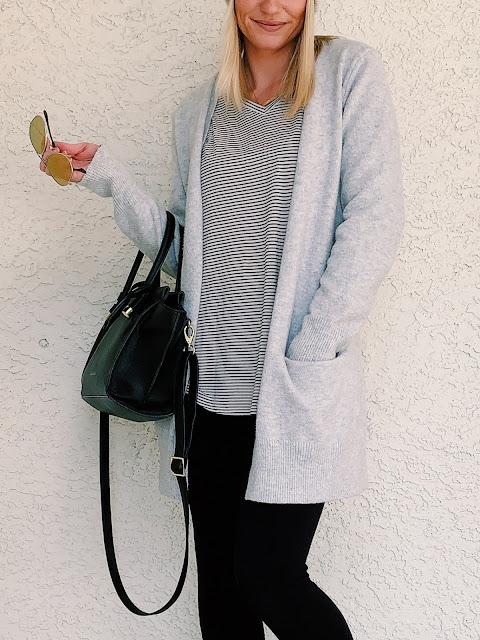 3.) Graphic tee or loose-fitting top- I love my stripe tunics and I also love a good graphic tee. For this look I'm sharing today I stuck with my comfy thrifted striped American Eagle top (HERE). With tops, I like something that's loose-fitting and long enough to cover my front and backside.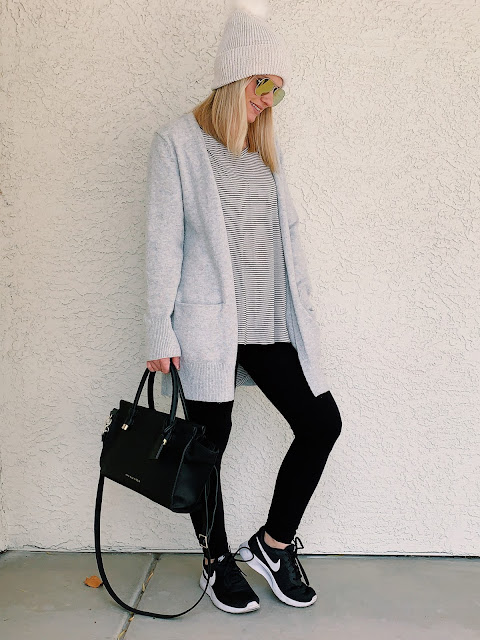 4.) A layering piece- When I say a layering piece, I mean anything you can wear casually over a t-shirt. It could be a vest, cardigan, jacket… really anything that you like to layer with during the cooler months. I personally like denim jackets or boyfriend cardigans. For this look, I went with my grey boyfriend cardigan (HERE) from Target. It's super cozy for the winter.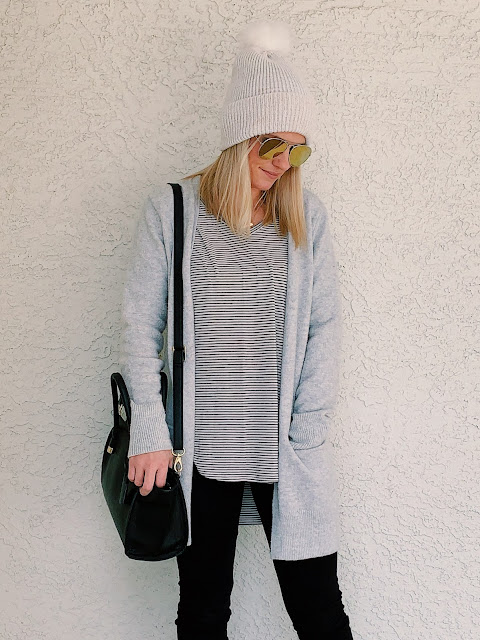 5.) A hat- I love wearing hats lately, especially when it's cold out. For this look, I wore my winter pom pom beanie hat (similar HERE) that I got in the dollar section at Target before Christmas. I also wear my Tigers baseball cap (HERE) all the time with my athleisure clothes. It's the perfect way to hide the fact that I didn't want to do my hair.
So there you have it, 5 key components to completing an athleisure look. If you like this post, check out my post on 5 Ways to Make Your Momiform More Stylish. Post HERE!!