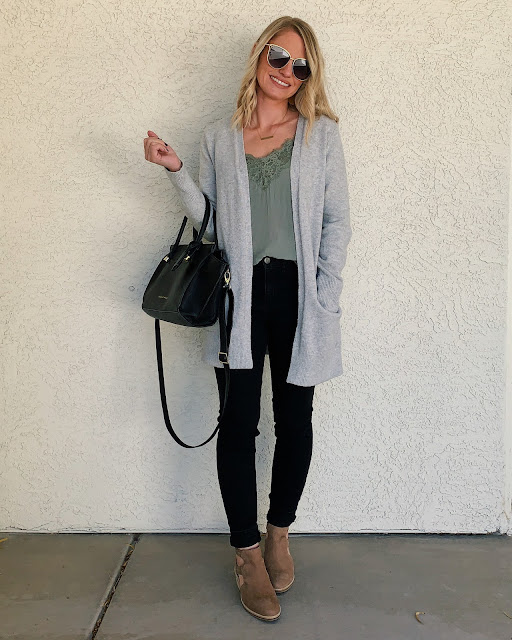 For today's outfit post I wanted to talk about something a little more than just my outfit. Today I'm talking about confidence. This is something that I've always struggled with. I've always been a pretty shy person and I haven't always felt very confident in myself. Sometimes I let my lack of self-confidence take over and I don't try new things.

When I first started my blog, I didn't really feel confident about it. For me, taking pictures of myself was out of the question, but I still wanted to share my outfits. I did my best to hide my face in all my photos. It wasn't until I was a few years into my blog that my mom said to me "I really love your blog, but I wish you would share your pretty face more often." Of course, she said that she's my mom. I told her that it wasn't about me, it's about my outfits. My brother-in-law also commented about it too. He asked why I always cut off my head in all my pictures. The more people started to ask me these questions, the more I started to question why I didn't want to share my face. It wasn't just about the outfit, I just didn't feel confident enough to show myself.
I am still not completely comfortable with taking pictures of myself. I feel silly doing it. I try to take all my photos in the privacy of my yard. I don't even like to have my husband take my pictures because I'm too embarrassed. But the thing is, I love sharing my outfits. I love having this blog. That's why I take a big step out of my comfort zone to try to make my blog better. I figured that I'm probably the only one seeing all my flaws. I highly doubt that people are as critical as I am of myself (at least I hope not).
So with that said, today I'm sharing an outfit that makes me feel confident wearing. Even though my pictures are not perfect and my head is down in most of the pictures, because that's what I'm more comfortable doing, I'm still going to share my post. Having this blog has helped me gain more confidence in myself and in my wardrobe than I ever thought it could. I'm sure a lot of you can relate to me. If that's the case, don't let your insecurities or lack of confidence stop you from doing something you love. You might not be the best, but if it brings you joy, then do it!
In today's look, I'm sharing a transitional spring outfit. With March around the corner, I pulled out my green cami to wear under my grey cardigan I've been wearing all winter. (See other posts HERE and HERE) Mixing winter clothes and summer clothes is a great way to pull off a transitional spring outfit. I bought these black jeans at Target last month and I'm loving them. I love that they are high waisted and they fit great. They are only $15, (HERE) so I highly recommend checking them out if you are in need of a pair of black jeans. For shoes, my cut out booties makes for the perfect transitional bootie. I love peep toe and cut out booties during the transitional seasons. Scroll down to shop my look!
*This post contains affiliate links, which means by clicking on and/or making a purchase through a link, I will earn a commission for this blog. Thank you for your support.