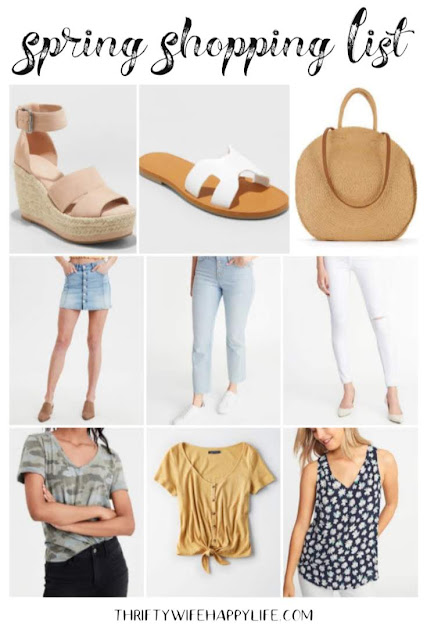 It's that time of year again when the weather starts to warm up and I start to get the urge to do some shopping. I get so excited when I see all the new spring clothes out in the stores. It can be really hard if you are someone who is shopping on a budget not to make impulse purchases. I've been known to do it a lot in the past. As a clearance and sale shopper, I've been quick to jump on a good deal just because it's a good price, but it's not something I necessarily need or even want. What I'm finding out is that impulse purchases like that don't bring me that much joy in the long run. What I've been trying to do is keep an ongoing list on my phone in my notes of the things that I want to buy/need to buy. This keeps me on track and helps me avoid buyers remorse. As the seasons change, my list might change a bit. So far it's been working. I'm not perfect and I still have my moments when I buy something unnecessary, like for example, another striped t-shirt, when I already have 100 in my closet, but overall it does help me save money in the long run.
I've been doing a lot of browsing online and in stores when I can. I try to find the best deal that I possibly can when I have my eye on something. It gets to the point where I will buy something because I see it for a good price, but I will not wear it and save the receipt just in case a better deal comes along. I will obsess over it and spend hours searching for the perfect deal, but what can I say? It keeps me busy. Here are some of the items that I have on my spring wish list this year.

Wedge Sandals– This is more of a want than a need, but I would love a new pair of espadrille wedge sandals. I love the lighter colors for spring. I'm not going to lie, I'm eyeing the Walmart options (HERE) because lately, they have not been disappointing me at all in my shoe selections from them. Plus they have the best prices.

Slides–
I love my slides and I have my eye on some cute ones this spring. I love the Steve Madden dupes from Target (
HERE
). I think that they are so similar to the originals (
HERE
) but at a much more affordable price. They are my current favorites, but I'm also really loving the scallop Target pair (
HERE
) as well.

Straw Purse–
I'm a little late to the straw purse trend, but it seems to still be going strong this year, so it seems like a good time to jump in. I love the summer look they have. I think it would be fun to dress up a casual look.

Denim Skirt–
I'm so happy to see that denim skirts are back in style. I've always been a fan. I love the button front look or the simple style as well. I've linked all my favorite options above.

Light Washed Denim–
I have a jean obsession. Just like shoes, jeans are always on my wish list, but I've been noticing that my closet seems to be lacking in light wash denim. I love the lighter color for spring and summer.

White jeans–
This seems to be my biggest challenge at the moment to find the perfect white jeans at the perfect price. The problem is that I have a pair of white jeans in my closet that are just fine, but I don't love the fit anymore, so I'm looking to update them, but it's been a struggle. Above are some of the jeans I've looked at or tried on in my search. I am determined to find the perfect pair soon.

Camo T-shirt– This is an item I'm still debating if I actually want or not. I've always felt that camouflage print should only be worn by the military or hunters. But lately, I see that it's all the rage. The more I see other people wear it, the more I seem to want it. I think that a t-shirt is a perfect way to try out a new trend like this. It's an easy way to ease into a trend like this.

Anything and everything Yellow!!– I am loving yellow this spring. I'm so attracted to the color every time I walk into a store. It's so bright and cheerful.

Lightweight tanks- Loose-fitting lightweight tanks are my favorite thing in the summer. Something with a print or bright color makes it even better. They are so easy to style.
Thanks for coming along on my shopping adventure. I'm sure I will be sharing my finds as I buy them. What is on your spring wish list?