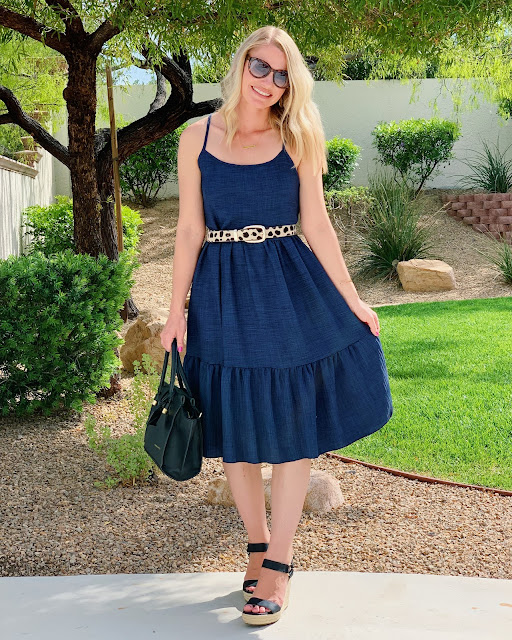 Lately, I've been really feeling the itch to shop. I've been spending a lot of time browsing online and in stores trying to figure out what I really want to buy, but as always I have to keep my clothes spending to a minimum. It can be hard for me sometimes as a blogger because I always feel pressure to share something new and trendy. Sometimes I have a hard time identifying what I really want, with what I think I want because I see everyone else is wearing it. That's why I have 2 methods that I use to keep my unnecessary purchase or impulse buys to a minimum. 1.) I keep an ongoing shopping list on my phone of my needs and wants. 2.) I try to shop in my closet first before I buy new clothes.
Lately, I've been eyeing dresses. I see so many cute dresses out there, but I also have a closet full of dresses that I rarely wear. For today's outfit, I picked a dress I got last summer from
PinkBlush
(See post
HERE
). I've only worn it once or twice and for me, that's not enough. I try to wear my clothes as much as I can in different ways, that's why I decided to restyle my dress to wear it a bit differently for this summer.
I love the style of this dress, but it's always been a little big on me. I'd like to hold on to it though because I think it would be perfect to wear for future maternity wear (if needed). I decided to add a belt to help define my waist a little. A belt is always a good way to restyle a dress when you get bored of wearing it the same way. I wore my black espadrille wedge shoes, that I bought 4 years ago on clearance at Target. I keep telling myself that I want a new pair of espadrille wedges, but I still have a couple pairs that I love in my closet, so I figured I will hold off for now.
*This post contains affiliate links, which means by clicking on and/or making a purchase through a link, I will earn a small commission for this blog. Thank you for your support!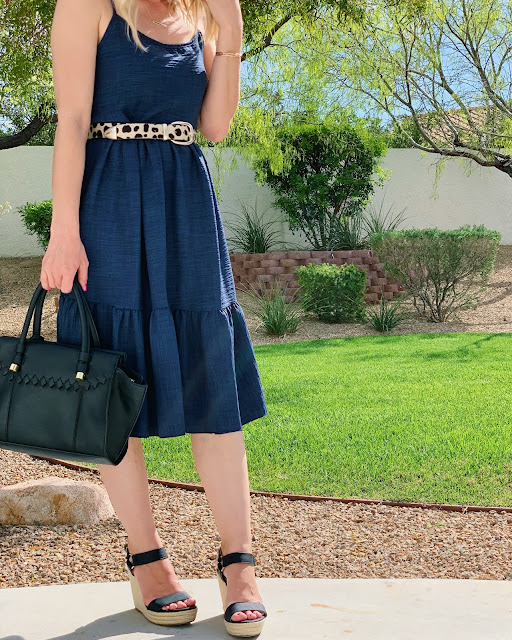 Sometimes instead of spending, your best bet is to take a closer look in your own wardrobe to see what you already have. One of my favorite fictional characters is Carrie Bradshaw and I always love a good Carrie quote. One of my favorites is… "Maybe the best any of us can do is not quit, play the hand we've been dealt and accessorize what we've got."
We can't all be shopping all the time and have the latest most trendy wardrobes, but it doesn't mean that you can't be stylish with what you already have.
Shop my look
Purse- Last Call Neiman Marcus (
similar
)
Belt- Hand me down from my mom's closet (
similar
)
Necklace- Nordstrom (
exact
)