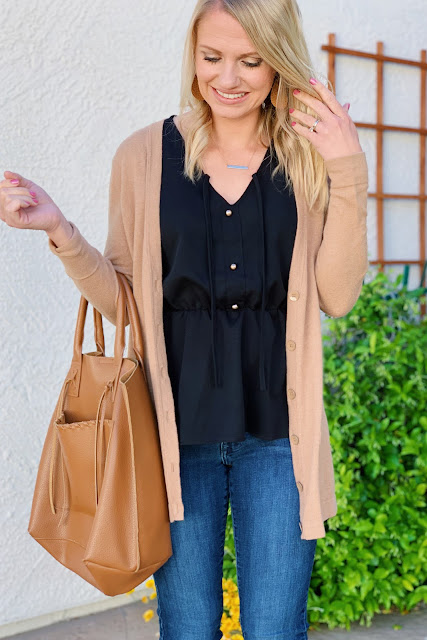 I'm very excited about today's blog post, because not only am I sharing one of my favorite go-to teacher outfits with some of my favorite fellow teacher bloggers, but I am also talking about teacher appreciation.  In case you didn't know, this week is teacher appreciation week.  It's a week dedicated to teachers to show your appreciation for all they do.  And let me tell you, teachers deserve some love!  It's this time of year when I can't help but reflect on my own teachers.
 I went to public schools from K-12 and I was blessed to have many wonderful teachers.  Looking back, I couldn't ask for a better school experience, but school wasn't always easy for me.  My struggle with school started at an early age.  I was always in the lowest reading group in the class and I quickly started to realize that I was different from my peers.  It wasn't long until I had an IEP and started to get extra help during the day from the resource teacher at the school.  It wasn't until I was in high school that I was officially diagnosed with dyslexia.  Dyslexia is a learning disability that affects the processing of language.  It makes reading, spelling, and other tasks difficult.  It was my high school special education teacher who helped me through my dyslexia.  She was able to identify my problem and helped give me the skills I needed to cope with it.  She made me take a linguist class with her during my junior year, where I was retaught phonics.  I remember sitting in the classroom being surrounded by kids just like me and for the first time I realized that I wasn't the only one who was struggling.  The class helped me in my other high school classes.  I eventually ended up taking the ACT and going to a University, something that I wasn't always sure if I would ever be able to do.  Even though I am still faced with difficulties every day because of my dyslexia, I am forever grateful for my teacher, who never made me feel like I couldn't do whatever I wanted.  I often think of her as I write my blog because I know writing is not my strong point, but it's always been something I love to do.  I know each blog post has spelling and grammar mistakes that I will never be able to catch on my own, but I don't think I would have the confidence to do something I enjoy like this without her encouragement during those early years.
As I moved on to become a teacher myself, I always keep my high school teacher in mind.  I try to remember how understanding and helpful she was to me.  I try to be understanding and encouraging to all my students.  They might be young, but you need to start somewhere.  It's always surprising to me when I see a child give up so easily at such a young age.  My goal as a pre-k teacher is to make sure each one of my students believes in themselves.  I tell them that "can't" is a bad word and I tell them to say "I'm not sure how to do that, but I will try".
Now with all that said, let's move on to fashion!  I mentioned last month that this is officially my last year teaching.  I'm leaving my job at the end of this month and I'm going to be staying home to be with my family.  It's something my husband and I have been planning on for a long time.  Time will tell if I ever go back to a classroom or if I choose a different path if I decided to go back to work one day.  This post is bittersweet for me because this might be my last teacher outfit post.  I've always enjoyed sharing my teacher outfits because I love showing that you can be stylish no matter what grade you work with. 
This outfit combination is my number one favorite go-to teacher look.  It includes neutral colors, comfortable jeans and a pop of leopard.  It can be tricky figuring out how to be stylish and professional when working with 4 and 5-year-old's, so that's why I try to keep it simple.  The less frilly it is the better.  My class this year has become obsessed with what I wear.  I have a group of girls who are 5-year-old's going on 15-year-old's in my class and each day they tell me what they want me to wear the next day.  As excited as I am to quit my job and be home with my family, I'm really going to miss this group of kids.  I could not have asked for a better group of kids as my last class.
I want to say a big THANK YOU to all the teachers out there!  You do a job that pays less, but gives so much back!  Keep up the hard work to inspire our future generations!  Be sure to scroll down for all the outfit details and also check out the other teacher blogger's posts below!
*This post contains affiliate links, which means by clicking on and/or making a purchase through a link, I will earn a commission for this blog.  Thank you for your support!