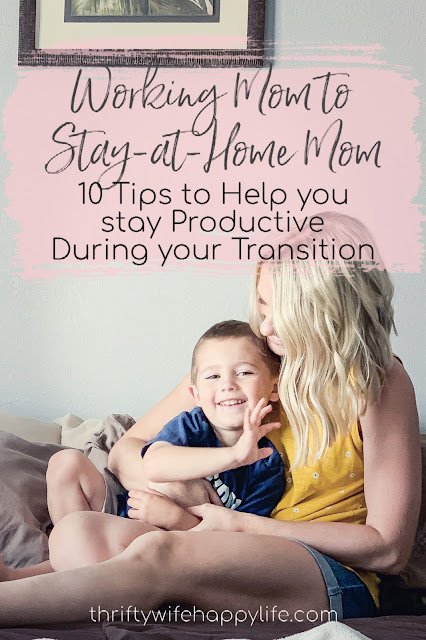 It's been almost 5 months since I quit my job as a preschool teacher to be a stay-at-home mom.  Although this was always my plan, I'd be lying if I said the transition hasn't been an adjustment for me.  I've been working full-time ever since I graduated from college.  My job was always such a huge part of my life.  It gave me a sense of pride knowing that I was good at what I did.  It also gave me a place to go socialize with my co-workers and get out of the house every day.  The friends I made through work became a huge support system for me. 
After Jack was born and I became a mom, it did get hard to balance the 2 worlds.  Even though I had decent work hours and lots of time off, I was still struggling to balance it all, especially as Jack got older.  It was last fall when Jack was really sick with an ear infection and croup and I had just used up all my PTO days at work when my husband and I made the decision that I would quit my job at the end of the school year.  Having a sick kid and not being able to be with them has to be the hardest thing to go through as a working parent.  You feel guilty that you can't be with your child, but you also don't want to disappoint your employer or let the people down at work, but when you are at work, you can't perform your job correctly because you are too worried about your sick child.  It was always a struggle for me.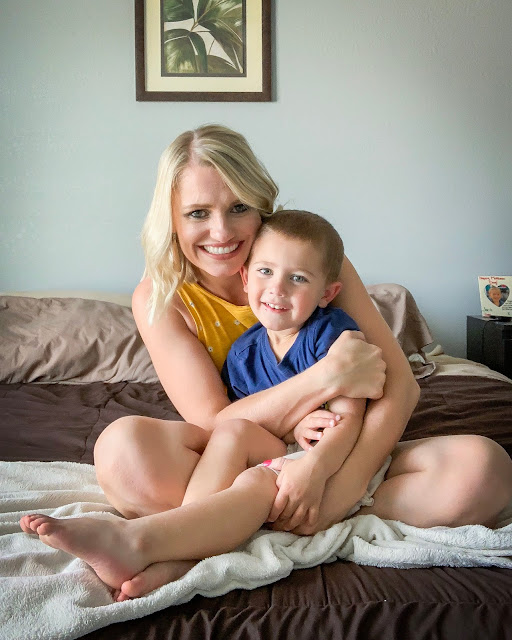 Now that I'm officially home, I will say that I love the flexibility that I have in my schedule.  My situation is a little different than most stay-at-home moms.  My husband doesn't work a typical 9-5 job as an airline pilot.  His schedule changes month to month, which makes it hard to keep a routine.  I also only have one child at the moment and he's in preschool full time.  We felt that it would be best to keep him in his routine of going to school every day since he has been in daycare since he was 7 weeks old.  Yet I still have the ability to keep him home with me or pick him up early when needed.  It's been really nice.
I did have a fear that I would be bored being a stay-at-home mom, but that has not been the case at all.  I find that there is always something that needs to be done around the house, always a room that needs to be cleaned, meals that need to be cooked and I go to the grocery store all the time.  I also have more time to dedicate to blogging, which has been nice.  My problem with all of this is staying on task.  It takes a lot of self-discipline for me to stay productive.  I often feel that if I'm not working on something, I'm lazy and I hate that feeling.
Today I want to share some tips that have helped me transition from a working mom life to stay-at-home mom life.
1.) Wake up early
As a mom, waking up early shouldn't be a problem for you.  I loved sleeping in on the weekends before I was a mom, but that all changed.  I truly enjoy my mornings.  It's my time to relax, drink my coffee, and plan out my day.  My mind is clearer in the morning, so I try to use that time to get all my thoughts out. 
2.) Keep a schedule
This is so important, especially if you are at home with little ones.  I try to keep to a daily schedule the best I can. Jack thrives off routine, so it's good for him, but it's also good for me. 
3.) Use a planner
Planning my life out on paper is therapeutic to me.  It helps me stay on track and reach goals.  I use my planner to meal plan, blog plan, and set goals.  If I'm not using my planner, I use my phone or just a notebook.  There is just something about getting all my thoughts out that helps me get through the day. 
4.) Workout
My work schedule always made working out nearly impossible.  Being home, I've been able to keep a decent workout schedule.  I work out from home, using DVDs.  It saves me money and makes it convent for me.  
5.) Use a timer
This is something new to me that I'm working on.  I get distracted often, so setting a timer helps me stick to my task at home.  Whether it's cleaning, blogging or catching up on emails, I try to stick to a time frame to help me focus on the task at hand. 
6.) Stay off social media
I love social media, but it's one of those things that sucks my life away.  I swear, I go to check Instagram quickly and I end up spending an hour on it just scrolling through my feed or watching Instastories, without engaging or doing anything that I had set out to do.  I will admit that it's hard to not go on social media when you have a blog because it's such a major part of blogging, but I'm trying to use social media more purposefully.  I don't want to fall down the rabbit hole.  I'm trying to make a point of only going on social media when I can make my time productive.  We will see how this goes, but I'm hoping it will better me and give me more time to focus on my priority which is my family. 
7.) Set goals
It's so important to have goals.  Whether your goal for the week is to clean the bathrooms or it's to earn $1,000 extra dollars for the month, they are all important.  We should never stop reaching for our goals no matter how big or small they are.  I like to set small daily goals and also larger long-term goals in my planner.
8.) Keep in touch with friends
When I worked, I had friends and people to socialize with.  My fear of being home was that I would lose that.  Since I've been home, I've been trying to stay in touch with my friends.  I text with my friends from college who are also home and I socialize through my blog.  It's hard being new to town, because I don't know anyone, but I'm trying to reach out and meet new people.  Having friends and people you can connect with is so important as a woman and especially as a mom.  
9.) Take time for yourself
Mom-life is hard.  Whether you work or stay home, it's important that you make time for yourself.  It could be reading a book, watching a show you enjoy on Netflix, getting your hair done or going for a walk.  Just pick something that you enjoy and you can do for yourself that makes you feel good.  For me, I like to give myself a mani/pedi once a week.  I've always enjoyed having nice nails, so that's what I do for myself.  We spend so much time doing things for the other people in our lives that it's important that you don't lose yourself.
10.) Don't compare yourself to others
I hate to admit it, but I sometimes compare myself to other moms.  I see the working moms dropping off in their work clothes and think I'm not doing as good of a job because I'm not working.  I see other stay-at-home moms who do all sorts of fun activities with their kids and they just seem to be a natural at being a stay-at-home mom and I start to feel like I'm not good enough.  It's a horrible feeling when you start to compare yourself and put yourself down.  You can't compare yourself to others though.  We are all doing a good job and don't let yourself tell you differently.
Those are my tips.  Hopefully, they are helpful for you, especially if you find yourself in the same transitional spot as me.  So my big question for you is are you a stay-at-home mom or a working mom?  Are you transitioning into one roll and out of the other?  Let me know in the comments.