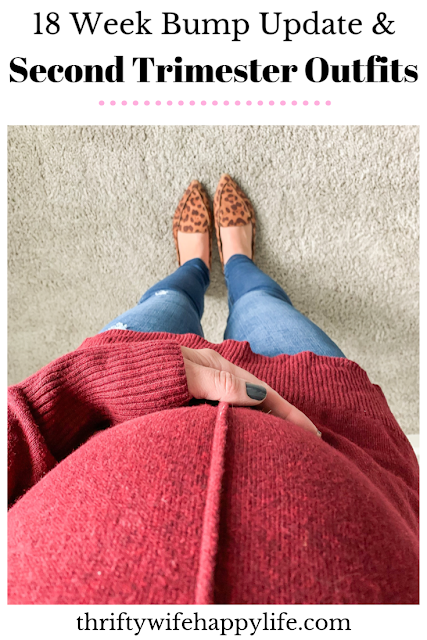 I'm really excited to be writing my first bump update for baby #2.  Not only do I love being able to share my pregnancy journey with all of you, but these posts are also nice for me to look back on.  I love being able to document this special time in my life and look back on it.  I will often go through and read my old blog posts from my first pregnancy and it's just fun to remember how I was feeling and what was going on in my life at that time.  This is most likely my last pregnancy, so I want to remember this special time in my life since I may never experience this again.
*This post contains affiliate links which means by making a purchase through a link I will earn a commission for this blog. 
How have you been feeling?
Currently, I'm feeling great.  The yuckiness feeling of the first trimester is officially over and I'm even getting some of my energy back.  I actually feel like a normal human again.  I've even been trying to exercise a little bit.  I'm really bad about working out when I'm pregnant, so I've been just trying to do a few low-impact exercises and stretches for about 20 minutes a day during the week.
About the bump
My baby bump is definitely growing.  I had always heard that you show faster with your second and I am now experiencing it.  At least now my bump is starting to look more and more like a baby bump, instead of a food belly.  I'm even starting to feel little flutters, which I absolutely love.  Feeling the baby move is my favorite part of being pregnant.  It's the most amazing feeling.  I'm looking forward to feeling more movement as the baby grows.
Any cravings?
My cravings change all the time.  Right now I'm really loving salads, especially salads with romaine lettuce.  I'm also loving fruit!  My favorite snack at the moment is celery with ranch dressing and buffalo sauce.  I'm glad that at least I'm craving fruits and vegetables.  I can feel my appetite is bigger than it usually is, so I really need to be careful that I don't overeat and when I do get in the mood to snack I try to go for the fruits and veggies.
Do you know the gender yet?
We have not found out the gender of our baby yet.  I opted out of doing the extra genetic testing in the first trimester, so we have to wait until my 20-week ultrasound.  I have that scheduled for the second week in February.  Kevin will be away for work the first week of February and since I wanted him with me when we find out the gender I had to make the appointment a week later.  It's actually on Jack's birthday, so I thought that would be a good birthday surprise for him to find out if he's getting a little brother or little sister.  Jack wants a baby brother really bad.  Kevin and I have no preference, we both just want a healthy baby.
What I'm wearing
January is always a hard month for me to dress for, pregnant or not.  I hate being cold, so I wear a lot of layers and sweaters.  After Christmas, I did a little
Old Navy
shopping.  I bought 2 sweaters, (
HERE
and
HERE
) both are very bump-friendly and under $20.  I also bought a plush knit long sleeve t-shirt (
HERE
) that I love.  All three items have been on repeat this month.  For bottoms, I am still living in my leggings.  I love my
Aerie
leggings (
HERE
) that I bought back in the fall right after I found out I was pregnant.  I'm glad that I sized up to a medium though because they are turning out to be the best pair of leggings to wear with my growing bump.
As for maternity clothes, I have made a few maternity purchases that I will be sharing in a later post.  I'm not really at the point where I need to wear maternity clothes yet, but I am making a list of what I will need and starting to make some purchases here and there.  I plan to get by with as little maternity clothes as I can, just like I did with my first pregnancy, but there are a few things I'd like this time around.  I was gifted a pair of maternity jeans from
PinkBlush
(
HERE
) this month that I absolutely love.  Jeans seem to be the most useful maternity item at the moment.
Here are some of my recent outfits from the month.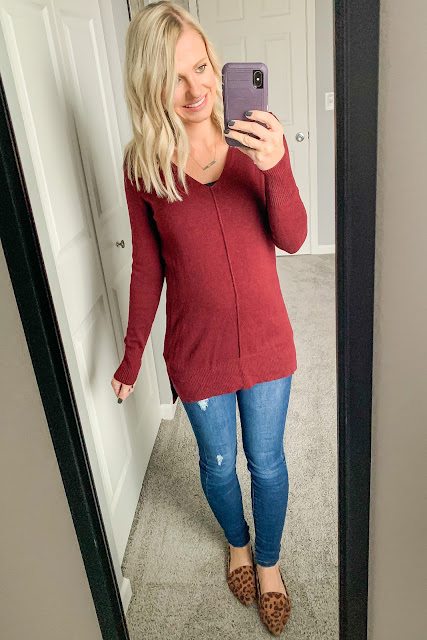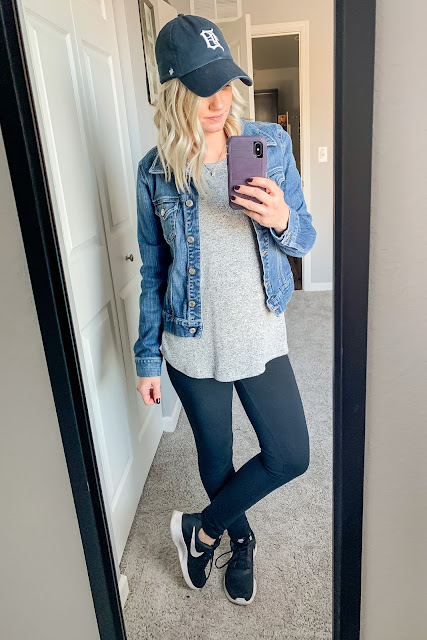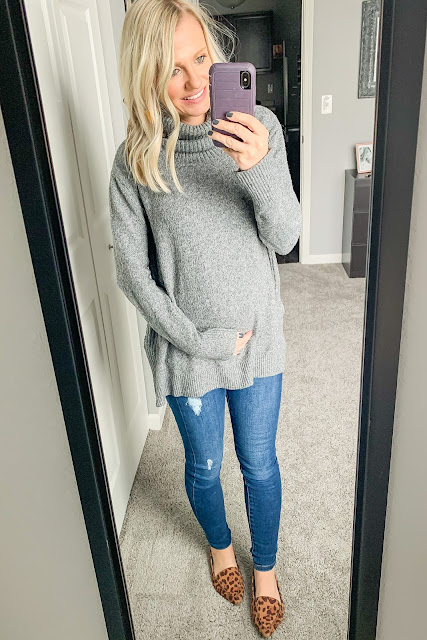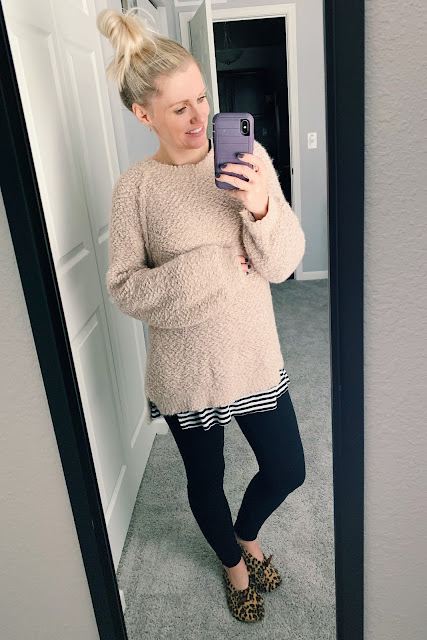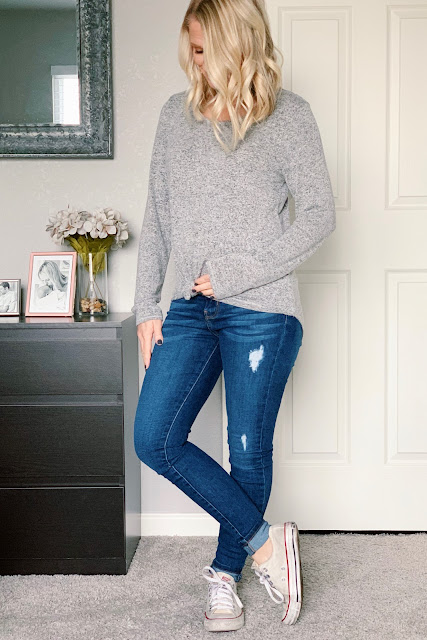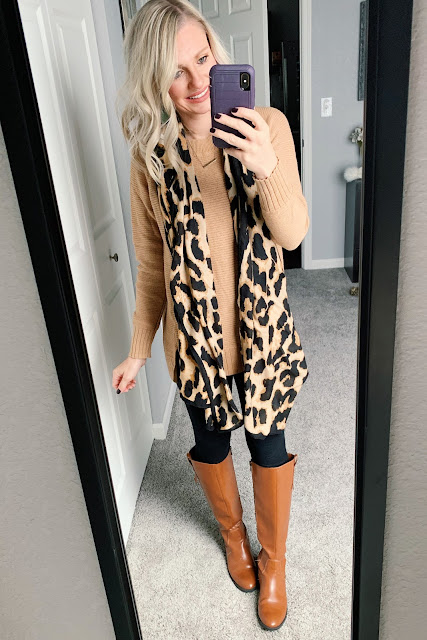 That's all I have for today.  You can look for more bump updates as this little guy or girl grows.

Katie 🤍