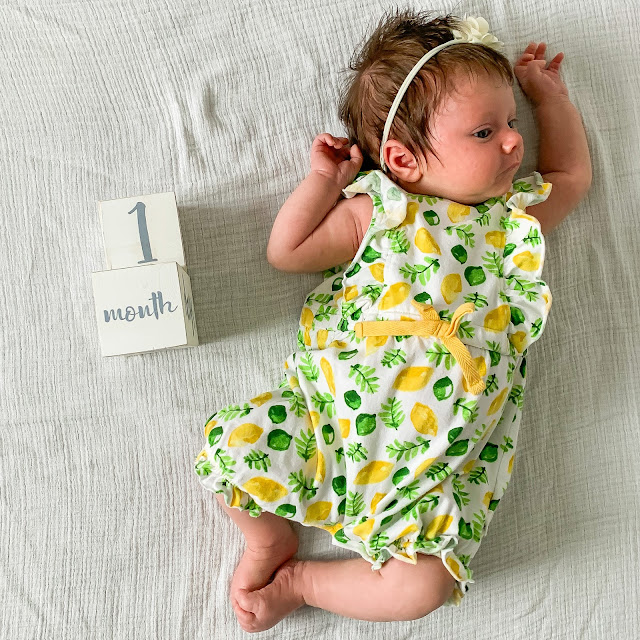 It's hard for me to believe that an entire month has gone by since we welcomed our little Anna into the world.  In some ways, I feel like she's been here forever and in other ways, I feel like it was just yesterday I was at the hospital giving birth.  A lot happens in those first weeks, so I just wanted to share a baby update and postpartum update.
*This post contains affiliate links, which means by clicking on and/or making a purchase through a link, I will earn a small commission for this blog.  Thank you for your support! 
Baby Girl
Baby Anna has been a complete joy.  She's the perfect addition to complete our little family.  So far she's a pretty relaxed baby, which is exactly what we were hoping for the second time around.  She has her moments when she gets fussy, but overall she rarely cries.  It's been fun having a newborn again.  They are so snuggly and cute.  Of course, when it comes to a newborn, there isn't very much sleep going on.  So far, Anna hasn't been that bad at night.  She's been sleeping at least 3 hours in a row, which is good to me.  Jack was the world's worst sleeper, so if Anna is just a little better than he was I will be happy.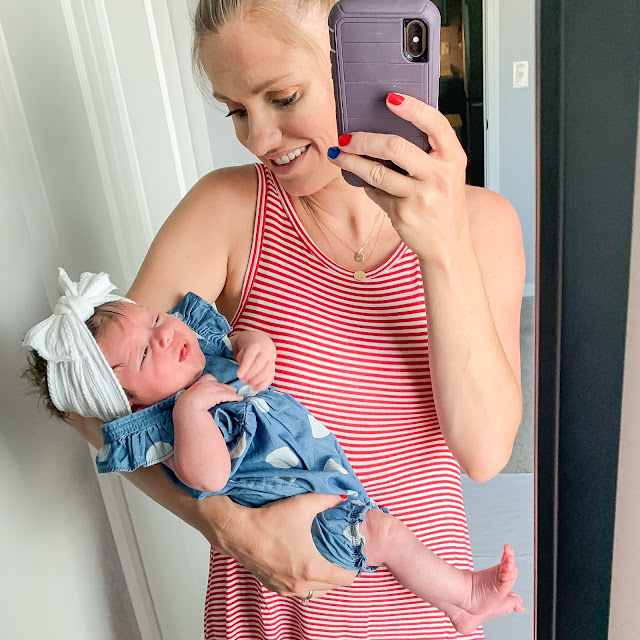 Recovery 
All I can say is that recovering from a VBAC compared to a c-section is a completely different experience.  It's been so much easier this time around.  I did have a 3rd-degree tear, which hasn't been that fun to recover from but compared to a c-section, it's been a breeze.  This whole recovery has been overall less painful than my c-section recovery.  I'm still trying to take it easy when I can, but I'm so grateful that I'm able to do so much more than I was the last time around.  
The one thing I feel has been harder this time around is not actually having much dedicated time for recovery.  I guess moms don't get maternity leave from their mom jobs.  Because I was feeling okay to move around more, I've been on the go ever since I came home from the hospital. The first week was a blur and ever since then, I've been trying to balance having time with Jack, catching up on all the household chores I wasn't able to do while I was pregnant, and finding time for myself to rest.  That part has been a challenge. Sometimes I have to tell myself to slow down because I just had a baby.
 Breastfeeding
 Just like everyone told me, breastfeeding the second time around is so much easier.  I'm more relaxed about it and know what to expect.  Anna has had no problems latching on to me or even taking a bottle when I pump.  Breastfeeding is still a really big commitment and I know in those first few days all the bad memories from the first time around came back to me.  The pain of engorged breasts and sore nipples was hard to get through, but once it passed I was fine.  This time around I knew it wouldn't last forever.  It actually got easier a lot faster for me this time.  Anna still isn't on much of a schedule yet, so I've been feeding her on demand.  Sometimes I feel like I'm feeding her all day long.  I'm looking forward to getting her on some sort of schedule in the next couple of months that will work well for us.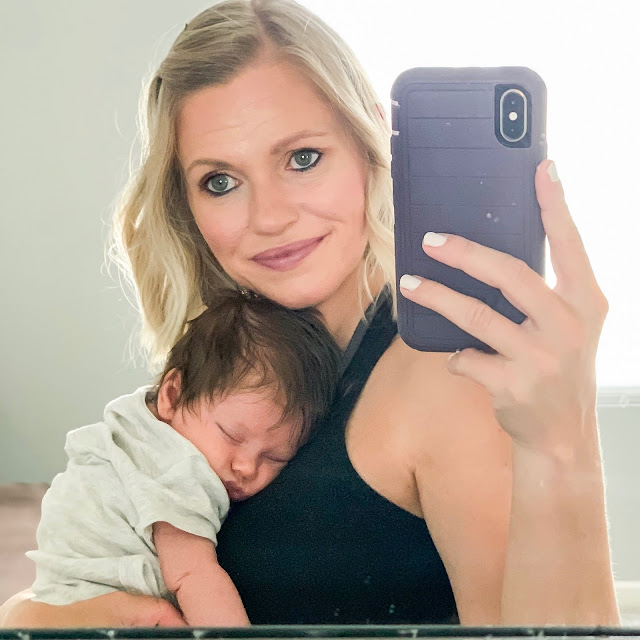 Fitness and Diet 
I'm still taking it easy and going slow with working out. I feel like I'm being extra cautious because of my tear down below.  I have been getting out for walks when I can.  I'm hoping to slowly get back into a workout routine after my doctor gives me the okay.  I really want to fit back into my jeans by fall, so I'm anxious to get moving! 
 As for my diet, while I was pregnant I ate whatever I wanted.  I didn't hold back.  We were quarantined and if I had to cook every day, I was going to enjoy eating the food I made.  Plus I bought lots of snacks that I usually don't buy.  Now I'm trying to kick my pregnancy/quarantine diet and eat more balanced.  I hate diets, so I'm just trying to be a little more conscious of my food choices.  With breastfeeding, I've been super hungry, so it's hard to get back to a normal eating schedule completely.
Life with 2 Kids
So far, life with 2 kids hasn't been too much of a change.  I will say that I am busier now.  Someone always needs something from me.  Jack has always kept me on my toes, but lately he's been really testing me.  He's been doing things to get my attention anyway he can, whether it's positive or negative.  He's been imitating me all the time too, which I don't mind.  I think it's cute.  While I take care of Anna, he takes care of his stuffed animal that he calls "Big Baby".  He changes Big Baby's diapers, gives him a bath.  He even nurses Big Baby.  I figure that's his way of adjusting to having the new baby in the house.  Even though I'm tired, I love seeing the two of them together.  It makes me so happy.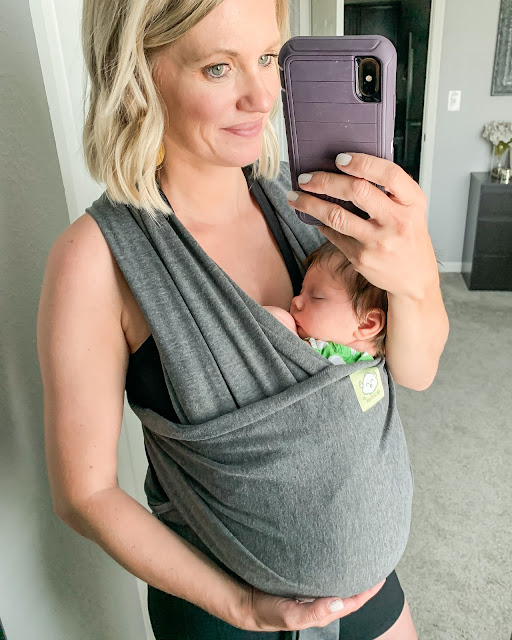 Products I'm Loving
Baby Products
For the most part, I've been using the same baby products I used with Jack, but there are a couple of new things that I recently discovered.  First off is my
KeaBabies Diaper Bag
.  I did a post on it (
HERE
) and now I've been using it every day and I love it.  Another product from KeaBabies that I'm loving is my
wrap carrier
.  It's really nice to have a carrier with the second baby.  I'm reusing my
SwaddlesMe
 swaddles that I used with Jack because they are the easiest way to swaddle a baby.  My
Car Seat Cover
has been a great purchase for me, because I can use it as a car seat cover, which helps protect Anna from the germs out there and I also use it as a nursing cover.  It's super convenient! For wipes, I was struggling to find something that wasn't soaking wet.  I've found that the
Huggies Natural Care Sensitive
Wipes
are my favorite.  They are nice and thick and aren't soaking wet.
Postpartum
For postpartum, I've been obsessed with my Silverette Nursing Cups. I shared these over on Instagram and I am so impressed.  Like I said before, breastfeeding isn't easy when you first start.  I used these nursing cups for about 2 weeks and they helped heal and protect my nipples.  I felt like nursing got way less painful much quicker by using these.  I'm also loving my 
MomCozy Pumping Bra.  It's so convenient for me when I want to pump.  It makes pumping less of an ordeal.  I've been living in my 
Button-Down Pajamas. They are so comfortable and great for nursing.  The last thing for postpartum that I highly recommend is anything with compression.  I bought some biker shorts on Amazon and they are so perfect for postpartum.  I love the tummy support, especially when I don't feel like wearing my belly binder.  
I look forward to sharing more baby updates with you as Anna grows and hopefully I can get around to getting weekly blog posts out again, but for now, I'm going to try to enjoy all the baby love. 
Katie🤍