I can't believe I have an almost 9-month-old baby and I haven't done a post yet on breastfeeding clothes. Each day I remind myself that this breastfeeding experience is nearing the end. With this being my last baby, I have some mixed emotions on letting go of breastfeeding. I can tell I'm getting ready to be done. I never planned on going past 12 months, so as she gets older I'm starting to do more bottles. Even though I'm looking forward to getting my body completely back to myself, I'm sad to let it go. It just reminds me that the baby stage goes by so fast and you really need to take it all in while you can.
I've learned a lot more about breastfeeding this second time around. My first breastfeeding experience felt short and I was impatient with it.
I felt like I had a lot of barriers which made breastfeeding very difficult for me after Jack was born. A C-section recovery, a tongue-tied newborn with a bad latch, mastitis, an un-ideal pumping situation at work, and then all the mixed emotions from a first time mom made breastfeeding a challenge for me. This time there was none of that. I feel so much more confident with breastfeeding and I didn't have any road blocks.
Not only do I have a better understanding of breastfeeding this second time around, but I have a better understanding of how to dress while breastfeeding. Clothes can be tricky while nursing. You need to wear clothes that are functional, practical, comfortable…and well… cute of course.
Here is a list of some of my must-have breastfeeding clothes.
*This post contains affiliate links.
Nursing bras- Day and Night
Don't underestimate the power of a good nursing bra for both day and night. I live in bras right now and the support is appreciated. For daytime, I like to have a good supportive nursing bra with a little padding. My 2 favorite nursing bras are my wireless nursing bra from Target and my sports bra from Leading Lady. Both are super comfortable and of course affordable. I wear them both almost every day.
For nighttime, I have to have something comfortable enough to sleep in, but also something supportive. My favorite night bra is from Simple Wishes. It is so soft and comfortable. I also like the Target sleep bras, but the material is not as soft as the Simple Wishes bra.
The last type of bra I need to mention is a pumping bra. I wish I knew about the pumping/nursing bras when Jack was a baby. These bras make it so convenient for pumping, especially if you are pumping at work. Simple Wishes has a great selection of affordable pumping bras. Because I usually only pump once a day in the morning, my go-to pumping bra is my Medela pumping bra.
High-waisted leggings
High-waisted leggings are everything to me right now. With my postpartum belly, I don't feel super comfortable always having my shirt up to breastfeed. My high-waisted leggings help cover up my belly and give me some extra support. My favorite leggings at the moment are my Aerie OFFLINE OG High Waisted leggings. They are an affordable option that are great for anyone, not just if you are nursing. I also wore my Belly Bandit Mother Tucker Leggings a lot in the beginning because they offer both postpartum support and also coverage.
It's not just leggings that I want to be high-waisted, it's also my jeans. I don't know if I will ever go back to wearing low-rise jeans. After having babies you just need something that makes your body feel comfortable.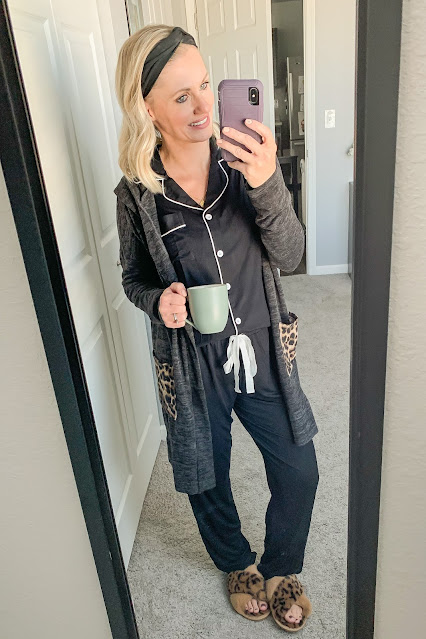 Anything with buttons
It goes without saying that buttons are amazing for breastfeeding moms. My pajamas, dresses, and tops all have buttons. The easy access is very convenient, especially if you are pumping or you need to nurse in a public place. I have a couple henley tops that I enjoy wearing while I'm around the house. I also love my pajamas from Amazon. I have a summer pair and a winter pair. They have come in handy so much for me in the last 9-months while breastfeeding.
Oversize sweaters and sweatshirts
I personally find oversize sweaters and sweatshirts comfortable to breastfeed in. They are easy to lift up and also make a nice little cover-up if needed. I'm pretty modest, even when I'm just nursing at home so I like to feel covered up. They are also really comfy and warm for you and your baby to snuggle up in during the winter months. I feel like I have lived in my turtleneck sweatshirt form Aerie this winter.
2-piece outfits
Unless you have a cute button-down or v-neck dress, make sure all your breastfeeding outfits are 2 pieces. It is impossible to nurse a baby in a public place wearing a crewneck or turtleneck dress. 😂 If you are going to dress up, skirts are always a good option. I mostly wear leggings and jeans for my bottoms.
Those are my must have breastfeeding clothes. I should note that I personally feel that there is no need to spend extra money on specific breastfeeding clothes. The dresses with the little hole to nurse through or the nursing tank tops are all great ideas, but are you really going to wear that after you are done breastfeeding? Try to work with your wardrobe that you already have.
I hope to do some breastfeeding outfit posts, so you can look for those coming up soon!
Favorite breastfeeding clothes