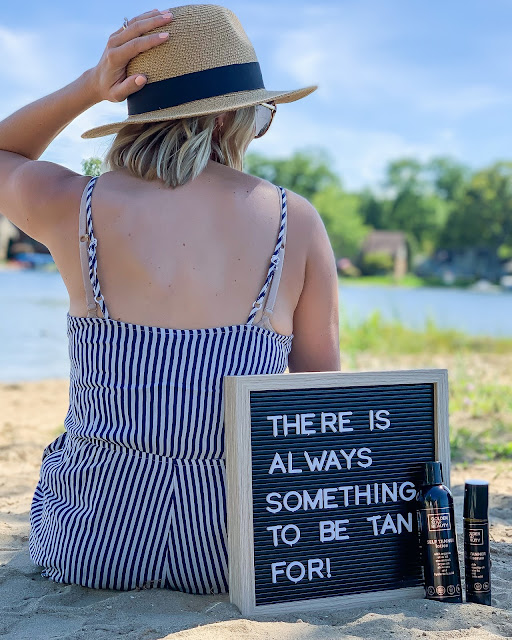 *This post is part of a collaboration with Golden Star.  All opinions are 100% my own.  This post also contains affiliate links, which means by making a purchase through a link, I will earn a commission for this blog.  Thank you for your support!
Back in my teenage years and early '20s having a tan was everything.  Growing up in Michigan, there was nothing better than coming back to school after a long vacation week with a golden tan to show off during the winter months.  It meant you went somewhere fun and sunny.  It was the best souvenir you could get.  I spent my summers laying out at the pool with my friends, only using a tanning oil with 8 SPF in it.  In the winter, I'd get a tanning package and lay in the tanning bed a couple times a week.  Winter was much more bearable when you had a nice tan.  After college, in my mid-20's, I started to worry about the effects my skin might have from all those years of tanning.  I started to slow up on my sun exposure and test out spray tans.  Around the time of my wedding and some of my friend's weddings, I got a few spray tans for the big events.  Unfortunately, those tans always left me looking orange and blotchy.  We've all seen the spray tanning episode of Friends and seen what happened to Ross.  That's something I needed to avoid.
 For years I just lived with my natural skin color and didn't care about tanning as much.  When I lived in Nevada I always had a natural tan from the constant sun exposure.  I was always careful not to get too much sun.  Summer came early in Las Vegas though, and in March I'd usually be looking for some self-tanner to put on my legs.  Unfortunately, I could never find a good tanner at the drug store that I liked.  They all left my legs streaky or orange, and I couldn't stand the chemical smell it left on me.  I didn't want to spend too much on a more expensive self-tanner, so I just gave up.  Once I was back in Michigan, I knew I'd need some sort of self-tanner and that's when I was introduced to
Golden Star Beauty
.  This self-tanner is the best self-tanner that I've ever used.  It's made in the U.S.A, uses organic ingredients, it's cruelty-free and vegan, but best of all it doesn't have that horrible self-tanner chemical smell.  I'm obsessed!  You can find it on
Amazon
and it's under $30, which I think is a completely reasonable price for the quality of this self-tanner.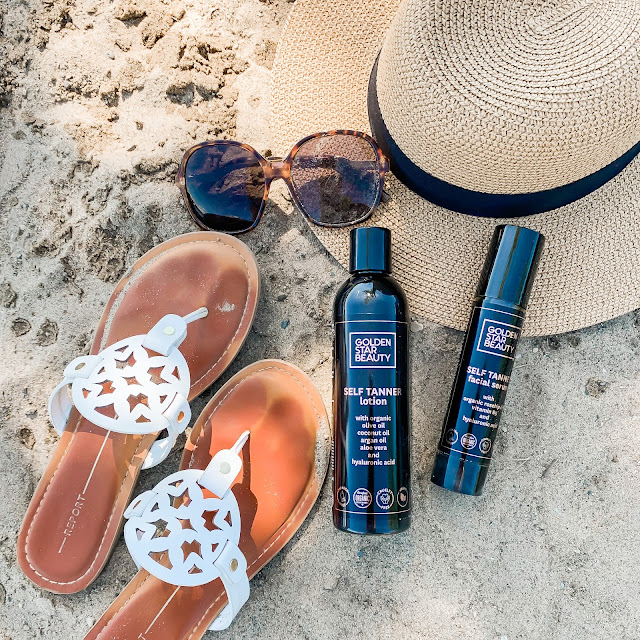 How to apply
 I love that this self-tanner comes with tips and tricks of applying self-tanner.  It makes it easy if you're an amateur like myself.  I have been using the Golden Star Beauty lotion and the face serum.  The lotion comes with a mitt, which I find very convenient.  I make sure that I shower, shave, and exfoliate before tanning.  Then I use the mitt to make sure that I evenly rub the lotion all over my legs, arms, stomach, and back.  After my body is done, I go back and apply the tanner to my hands and feet.  For this, I use an old makeup brush to blend the lotion into my hands and feet.  This is a great trick because it gives your hands and feet a natural-looking tan.  For the face serum, I always make sure that I apply it in the evening after I take off all my makeup, then I wash and exfoliate my face. I use my hands to evenly rub it evenly into my face and down my neck.  I'm careful not to apply too much. After I'm done I make sure to wash my hands really well.
Golden Star Self Tanner has been a total game-changer in the way that I think of self-tanner.  I still feel like having a nice glow to your skin can make you feel good about yourself and sometimes that's all we need to be a little more productive in our daily lives and give us some confidence back.  I recommend trying out Golden Star Beauty for yourself.  You can find it on Amazon and at Golden Star Beauty.  Use my code THRIFTYWIFE at either website and receive 15% off your order!
Let me know if you try it out yourself! I'd love to hear what you think!
Katie🤍
Like the post? Don't forget to pin it!