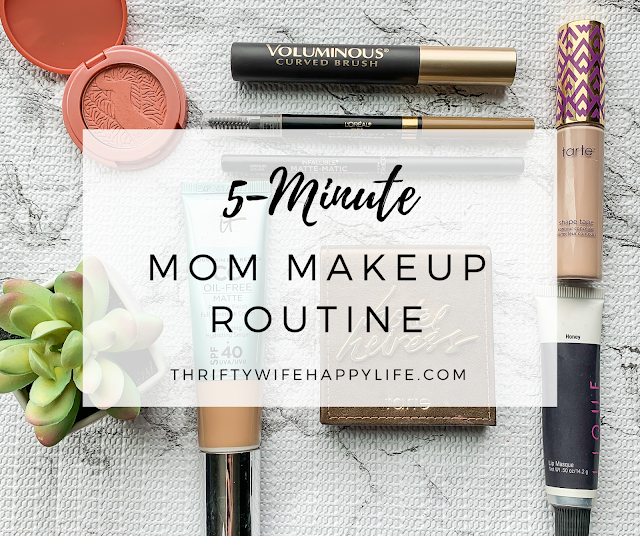 *This post contains affiliate links, which means by clicking on and/or making a purchase through a link I will earn a commission for this blog.  Thank you for your support! 
As a mom, I completely understand that makeup may not be a top priority for many moms.  Sometimes a daily makeup routine just gets lost in the chaos of motherhood.  But it doesn't have to be that way.  Makeup is not as complicated as it seems.  Sometimes all it takes is an extra 5 minutes and you can have a fresh face that will help you feel good about yourself and help you feel a little more put together.
I wear makeup almost every single day.  Unless I'm sick or spending the day at the beach, I'm in makeup.  I love makeup.  I like the way I look with makeup on, I like applying the makeup and I like the way I feel when I'm wearing makeup.  For me, makeup is a form of self-care.  I wear makeup for me, no one else.  It's my way of taking care of myself and making myself feel good.  To me, that's very important, especially as a mom.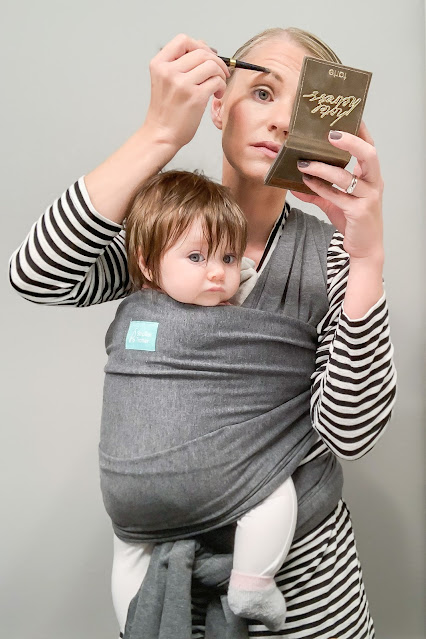 Some days are harder than others to get ready.  This is what it sometimes looks like when I have a clingy baby.
I feel like makeup is overwhelming for some people.  I've been wearing makeup ever since I was 12 years old when I would steal my mom's makeup and put it on in the bathroom at school.  I've experimented with many different makeup looks over the years and different products, but it wasn't until my late 20's and early 30's that I actually learned how to wear makeup correctly.  I'm still learning each day, but I feel like I have a pretty good understanding of how to wear makeup.
I prefer to keep a pretty natural look.  On the days that I'm just staying home doing things around the house, I keep my makeup very simple and it takes me less than 5 minutes.  That's all!  People have asked me how I find the time to put makeup on with a new baby.  My response to that is "How do you find time to unload the dishwasher?" "How do you find time to eat lunch?"  "How do you find time to do anything with kids??" The answer is…you make time.  Setting aside 5 minutes is nothing.  The baby sits in her boppy chair with a toy next to me, or I get ready while she's taking her morning nap.  Some days are a little harder and when I have to I will wear her in my wrap carrier while I get myself ready.
Here is my 5-minute makeup routine that I recently shared over on Instagram.  Hopefully, it will inspire you to take a little time out of your busy mom routine and put some makeup on.
Products used:
ItCosmetic CC + Cream Oil Free Matte (Medium) || Tarte Cosmetics Shape Tape Concealer (Light) || Tarte Cosmetics Amazonian Clay Matte Bronzer (Color Hotel Heiress) || Tarte Cosmetics Amazonian Clay 12 hour Blush (Captivating) || L'Oreal Eye Brow Pencil (Blonde) ||  L'Oreal Infallible Matte-Matic Liner (Black) || L'Oreal Voluminous Curved Brush Mascara (Black) || Lique Nurishing Lip Masque (Honey)
Tools I use:
Sonia Kashuk Essential Flat-Top Foundation Brush || Real Techiques Miracle Complexion Sponge || Eco Tools Start the Day Beauifully Kit || Eco Tools Perfecting Brush for Foundation, Powder, & Bronzer
Like the post? Don't forget to pin it!