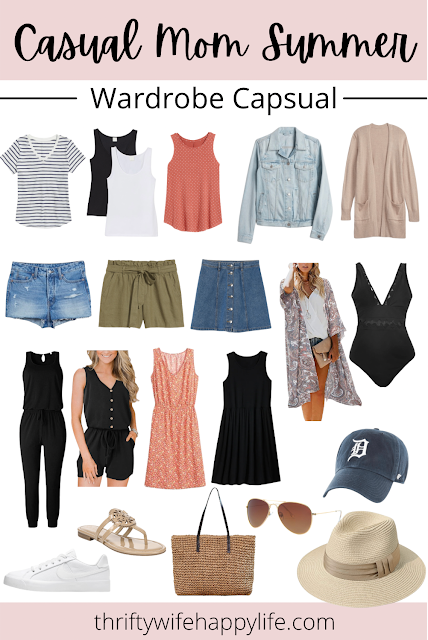 Summer is all about slowing down and not taking life so seriously. We all get out of our normal routine a little in the summertime. Kids are out of school, there's more vacations and we're outside more often. Our wardrobe usually shifts to the casual side. I like to keep my summer outfits easy. I don't like to think about it, so it's always nice to have a wardrobe full of casual summer staples.
I've never done an actual wardrobe capsule on this blog, but I wanted to try it out. That's why I have put together a casual 21 piece mom-friendly summer wardrobe capsule. These are all my summer essentials that will help you put together easy causal mom-friendly outfits.
*This post contains affiliate links.
Tops
I like to keep a lot of basic tops in my summer wardrobe. Neutral colored tank tops and t-shirts are always good to have because you can mix and match them with different bottoms. I also like to keep a couple shirts with a basic pattern like stripes or camo. A swing tank top is always nice to have as well. They are flowy, easy to style and a great way to add some color to your summer wardrobe.

Bottoms
My number one bottom for me in the summer time is a cute pair of denim shorts. I like something with a little distressing and also a decent length. I also love paper bag shorts. They are so comfortable and always look cute. Another great bottom option in the summer is a denim skirt. I love buttons and so my button front denim skirt is always my favorite, but any style will do.

Layers
Even though summer is hot, it's still nice to have layering pieces on hand. You never know if the air conditioning will be on really cold or it might get cooler in the evenings. A denim jacket will always be your best friend as a laying piece no matter what the season is. I also like to have a nice light weight cardigan on hand in the summer. I often keep one in my purse or diaper bag just in case. Also a kimono makes for a great laying piece in the summer. It adds some color to your outfit and it can even be worn as a bathing suit cover up.

Dresses & Jumpsuits
I love dresses and jumpsuits in the summer. They are both so easy and look so cute on. A LBD is always a must have in my wardrobe for summer. Also a comfy black jumpsuit and romper are great options to have. I also like to mix in some colors and prints to my dress collection to give me some variety.

Bathing suit
I recently did a whole bathing suit try on post (
HERE
) if you want to read more about mom-friendly bathing suits, but for me having a cute bathing suit for summer is a must. My favorite style of bathing suit is a black one piece bathing suit with a deep v-neck cut. I find this style of bathing suit to be the most flattering on me. If I had to pick one color of bathing suit it would be black. Black always looks great!

Shoes
You know I'm a shoe lover, but if I had to pick out only 2 pairs of shoes to wear all summer I'd go with my white sneakers and a slip on sandal. That's all you need in your casual summer wardrobe.

Accessories
My must have summer accessories are hats and sunglasses. You can't be without those. Hats have become a huge staple in my wardrobe in the last couple years. I love that they are practical for keeping the sun off your head and out of your face. They also are a great way to hide dirty hair on non-hair washing days. I also think they look cute and complete my outfits. Then there's sunglasses. I can't be without them in any season, but summertime I always keep at least 2 pairs on hand.

Purses
In the summer I love straw purses! I have a cute little one I love, but because I'm a mom, I need a big tote most of the time. Something that is big enough to take to the beach or on any outing with kids is usually the type of purse I look for these days.

To make your life a little easier this summer, I have taken the 21 wardrobe pieces I've shared and put together over a months worth of outfits for you. That way all you have to do this summer is pick out an outfit from my collection and you will be set for any casual summer activity you have planned.
Download your free Casual Mom Summer Wardrobe Outfit Guide HERE!!