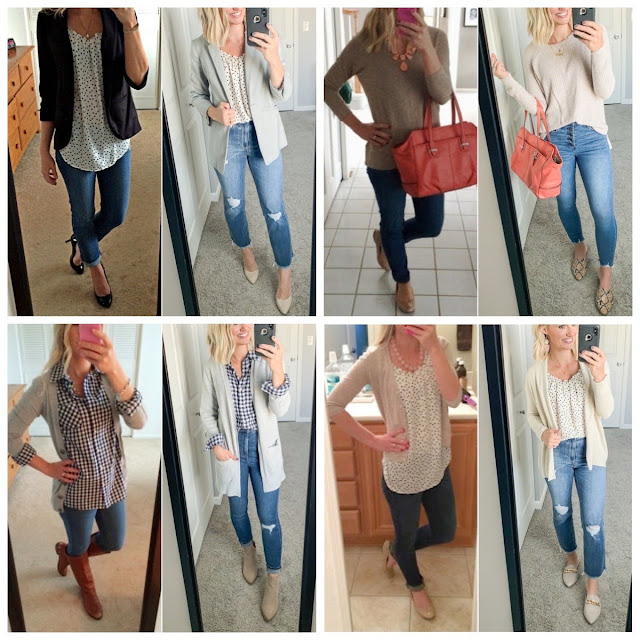 A few weeks ago I was scrolling through Instagram and saw a post from one of my favorite style bloggers
Merrick's Art
. (If you are not following this blog you need to!! She shares the best style tips!!) She has a series on Instagram where she takes outfits that she wore in the past and updates them to how she would style them now. This post gave me an amazing idea for a blog post series. I want to take some of the outfits that I shared in my early days of blogging and show you how I would style that same look now with updated pieces in my wardrobe.
*This post contains affiliate links.
I started blogging in 2013. I feel like it was at the height of Pinterest. All my friends and I were creating boards and finding inspiration for our current and future lives. I had a board for my future house, future children, recipes, but most of all I had style inspiration boards. I filled those style boards with all the popular styles of the time. Big oversized blanket scarves, bubble necklaces, lots of layers, laced-up back riding boots, colored skinny jeans, and lots of pattern mixing were all over Pinterest. I partook in all those trends.
I often look at what I wore back then and say to myself "I can't believe that I wore that and thought that it was cute enough to share on the internet for all to see". I've thought about taking down some of my old outfit posts, but I have decided to leave most of them up. I love that this blog documents my style journey through my adult life. Just because something looks ridiculous now doesn't mean that it didn't once make me feel good.
Today I want to share with you 4 outfits that I wore in 2014/2015 and show you how I would style them and wear them in 2021. Please excuse the horrible mirror selfies I took back then. I have improved a lot on my outfit selfies over the years. For starters, I have a better camera on my phone now, but I also use better lighting and editing. The filters were horrible and I promise never to deform my body again so I look taller and skinnier! 😂
Outfit #1:
This outfit was from a blog post posted in December 2014 (Original post HERE). It was on Lauren Conrad's style. This picture had a ton of repins on Pinterest. I still love this outfit and I still own many of the pieces I am wearing including the LC Lauren Conrad blouse (HERE). Besides the editing I did to my body, there are just a few things that I would change about this look.
Changes for 2021
The first thing I wanted to do when I saw this outfit was tuck that blouse in. I am all about tucking the shirts these days. I think that tucking in your shirt polishes the look and highlights your waist. I love the cropped skinny jeans, but in 2021 I updated this to a distressed pair of straight-leg jeans instead. I still have the blazer (HERE) in my closet, but I decided to switch it out for a lighter color of blazer. For my shoes, I chose to go with a pair of nude pumps with a little bit of a point over the rounded toe black pumps. I prefer nude shoes over black because nude shoes help elongate your legs and make you look taller. Which I was obviously going for in the first look with my editing. 😂

Outfit #2:
This is another look that I still love to this day. I wore this outfit right before I moved to Las Vegas. The sweater was a clearance find at Kohl's and I still love the color! The purse was a Christmas gift from my Aunt that I still really love and will always rework into my outfits when I am looking for a pop of color.
Changes for 2021
Sadly that cute clearance sweater shrunk and it's long gone from my wardrobe, but I have plenty of tan sweaters to replace it. I wore my Old Navy sweater (
HERE
) that I bought last winter and paired it with my button fly skinny jeans from Abercrombie (
HERE
). I front tucked the sweater, because that's what I do, especially when I have button details on my jeans like this. Instead of the chunky statement necklace, I chose to add a statement with my shoes by adding a print. I still have the purse, which I think is the perfect way to add a pop of color to the look.

Outfit #3:
I wore this outfit in the fall of 2014. I remember loving this look. I found the gingham shirt on clearance at Target. I had wanted to buy a gingham shirt after I saw Kate Middleton wearing one, so I was excited to snag this one. I was really into experimenting with layers at the time and this shirt was perfect for that.
Changes for 2021
I didn't need to change too much about this outfit. I now have a new thrifted flannel gingham shirt in my closet instead of the Target shirt. For my jeans, I updated the look with a pair of ultra-high-waisted jeans (
HERE
) from Express and tucked my shirt into them. I kept the gray cardigan, but instead of the fitted boyfriend cardigan, I switched it out for a more oversized boyfriend cardigan. The first cardigan was a little tight and hard to layer over the button-down, the roomier cardigan makes it easy to fit over the shirt. For shoes, I switched out my flat riding boots for a pair of Target booties (
HERE
) in a taupe color.

Outfit #4:
Why I took outfit selfies with mouthwash on the bathroom counter I may never know, but I do know that I really loved this outfit. I remember wearing it to work on a Friday when I first started my teaching job in Las Vegas in 2015. It was a really exciting time and this look brings back all those memories.
Changes for 2021
I obviously still have the blouse (
HERE
), because it's the same one I shared in the first outfit. I kept the same color scheme by laying my tan cardigan over my blouse, but I switched the shorter cardigan for a longer one. For jeans, I switched out the skinny jeans for some straight-leg jeans. For my shoes, I traded the flats for a pair of mules. This style of mule has been everywhere this fall, so I thought that it would be the perfect shoe to bring this look into 2021. I stuck with the blush pink as my pop of color, but instead of the chunky statement necklace, I switched it to some statement earrings (
HERE
-KATIE10!). If I wear color in my jewelry I am much more likely to wear a colorful earring now.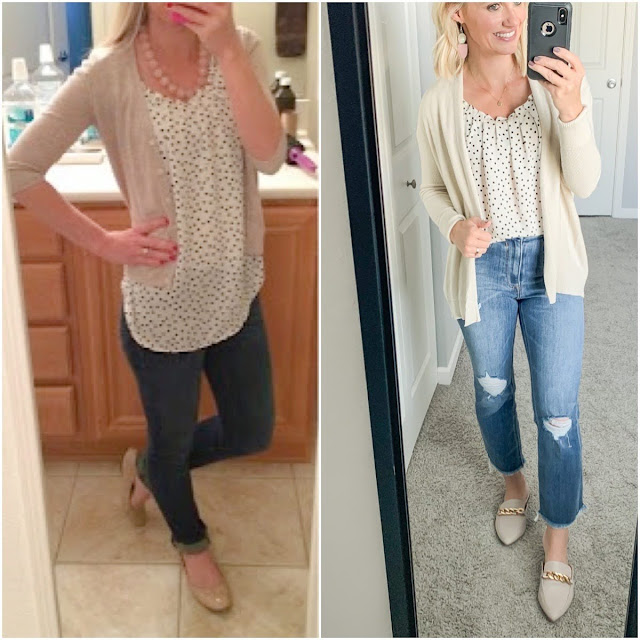 I hope you liked this post. It was so fun for me to recreate these outfits and bring them up to date. I love that fashion is always changing, but our personal style often stays the same. It's fun to keep up with the trends, but still stay true to yourself. I plan on doing a few more of these posts so look for them in the upcoming months!

Don't forget to pin the post!