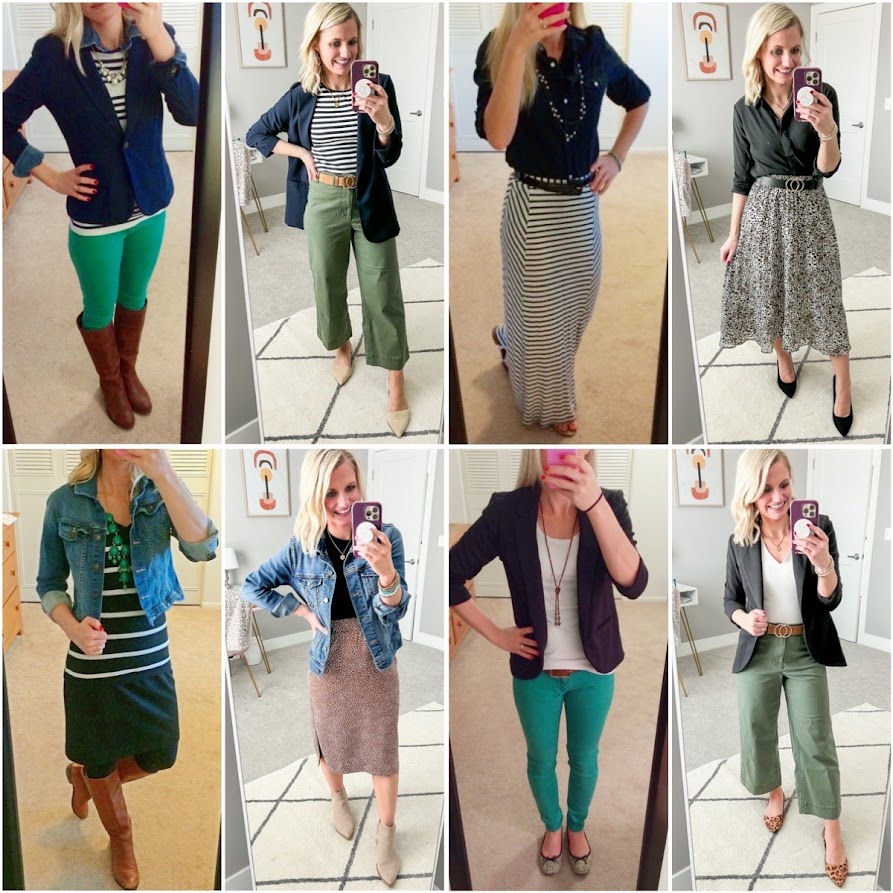 It has been a minute since I last shared a "What I Wore Then vs. What I Wore Now" blog post, but I felt like it was a good time to bring this series back to the blog and also over on Instagram. For this series, I pick out an outfit that I wore and loved from one of my early blog posts and I update it to share how I would wear the look today.
*This post contains affiliate links.
I often come across "updating millennial" style videos on Instagram and TikTok. Some can be helpful and have great ideas, but some can feel overwhelming. I don't want my posts to feel overwhelming or make anyone feel out of style. My goal is to share some simple ways that you can swap out a few pieces to update your favorite outfits to help give them a modern feel.
In case you missed my last posts you can read those HERE and HERE. Today I have pulled a few outfits that I wore in 2014 and early 2015.
What I wore then vs. what I wore now
Outfit 1:
I remember thinking that I was so creative when I wore this outfit. I was so proud of myself for all the layers, the chunky jewelry, and the riding boots over the skinny jeans. To me, this outfit was in style and on point. Looking back on it I see a lot that I would change.
The things I kept the same when I recreated this look are the stripes and the navy blazer combo. To me, this is always classic, however, I have made a few updates to these pieces over the years. Instead of a shorter fitted blazer, I swapped it out for an oversized blazer. I kept the colored pants, but instead of the kelly green skinny jeans, I opted for olive green wide-leg pants.
I also got rid of the extra chambray shirt layered under my t-shirt. At the time I wore this outfit, that was all the rage, but I now feel like I would be completely uncomfortable with all the shirts layered up that way.
Tucking in my shirt makes a big difference with this outfit. The way my shirt hugged my hips in the first look draws too much attention to that area and widens my hips. Tucking the shirt and adding a belt, creates a slimming effect at my waist that adds balance to this outfit.
For my jewelry, I went lighter all around. Instead of a chunky pearl necklace, I am wearing a pendant necklace with some pearl hoop earrings. For shoes, I switch out the riding boots for some simple basic flats.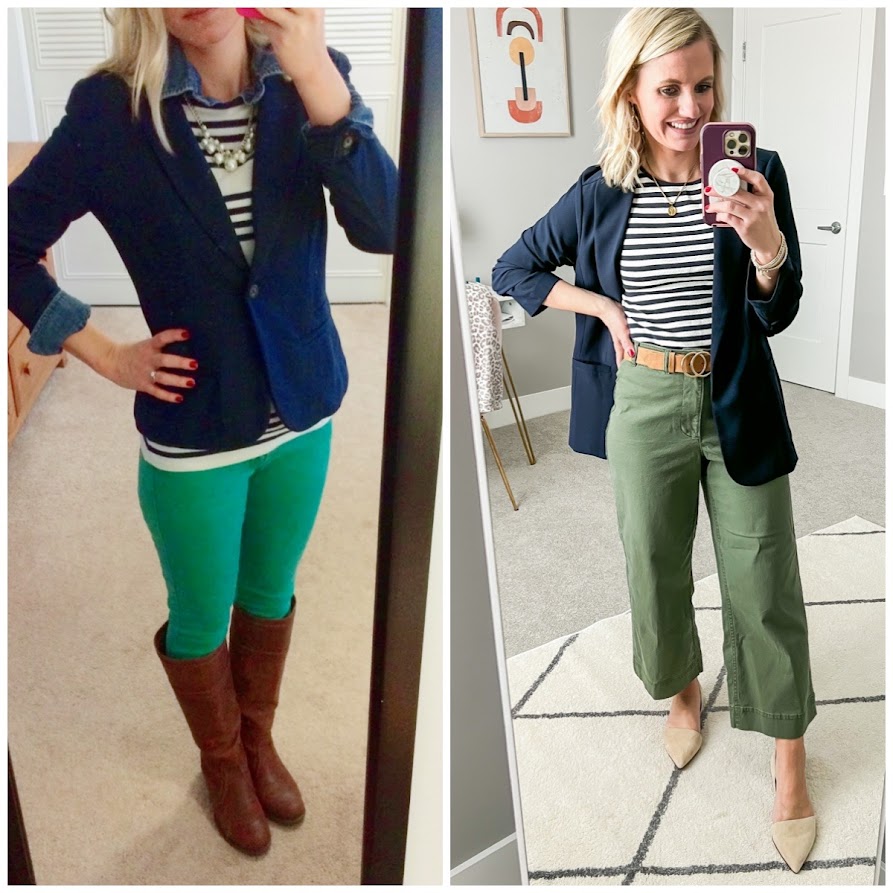 Top || Pants || Blazer (similar) || Shoes || Belt || Earrings (code: KATIE10!) || Necklace || Braclette (similar)
Outfit 2:
I was all about a maxi skirt in 2014! I loved how comfortable they were, but they aren't very flattering, especially when you are shorter. For my updated look I switched out the striped maxi skirt for a leopard pleated skirt. The pleated skirt is much more flattering than the long maxi skirt. Instead of a straight up and down look, the pleated skirt comes in at the waist and gives your body some shape.
I updated my black button-down shirt with a satin black button-down shirt. It's not a huge difference, but the satin shirt does look a lot cleaner without the buttons and pockets. I had sandals on in the first look, but I updated the shoes with a pair of black pumps. They are a little more professional for a work outfit.
I still own the first black belt, but I felt that the circle buckle completed the look. I also toned down my jewelry and opted for a few simple pieces instead of the long necklace.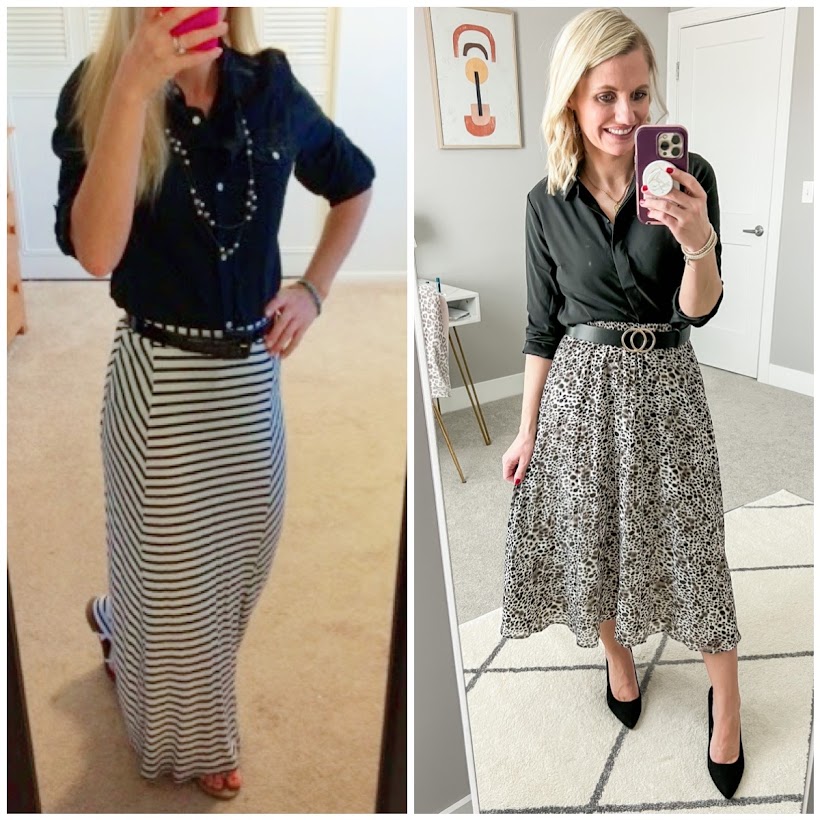 Skirt (similar) || Top || Shoes (similar, similar) || Belt || Necklace || Earrings (code: KATIE10!) || Braclette (similar)
Outfit 3:
Before we move on to this outfit, can we talk about the bubble necklace? This knock-off J. Crew bubble necklace was one of my favorite accessories. Mine was bought at Charming Charlies in the clearance section. I wore that necklace with everything and always felt so cute with it on. I think it's safe to say that these necklaces were a trend and I don't see them coming back anytime soon, but you never know.
For this outfit, the first thing I did was lose the bubble necklace. I did want to keep some of that color in the outfit, so I added a turquoise bracelet. Instead of having the pattern in my top, I switched it to my skirt by adding this printed pencil skirt. I really love how a pattern on the bottom brings a different balance to the outfit.
For my top, I wore a basic black tank top. I kept the denim jacket. I have updated my denim jackets over the years and most of them have a longer, oversized fit to them, rather than the cropped jacket. I will always keep a denim jacket in my wardrobe!
Lastly, instead of the riding boots, I switched them out for some neutral booties. These flat brown riding boots feel dated, but the lighter neutral booties give the outfit a modern style.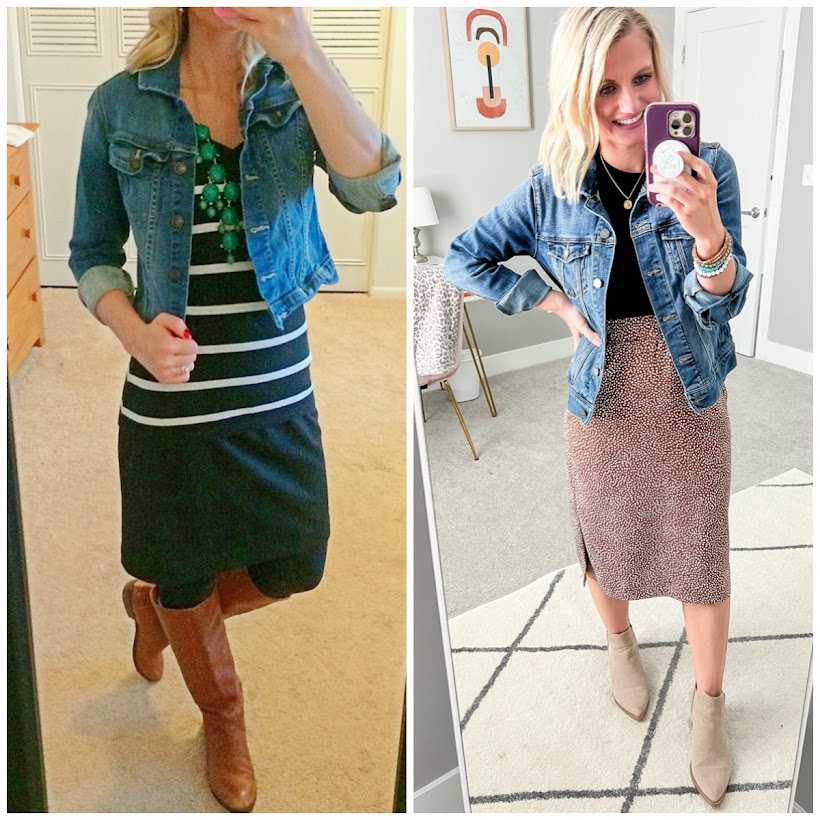 Skirt || Top || Jacket || Booties (similar) || Bracelet (similar) || Necklace
Outfit 4:
This was another Pinterest-inspired look at the time. I had thrifted these green Old Navy skinny jeans at the Salvation Army and I loved wearing them to work. Just like the first outfit, I updated them with a newer pair of green pants from Old Navy. Although I still love skinny jeans, I do feel that colored skinny jeans are an outdated look.
For my top, I switched the t-shirt out for a bodysuit. You could really wear any white t-shirt for this look as long as it's tucked in. I kept the brown belt but went with a newer one. My blazer is almost the exact blazer, but the one I am wearing now is just a little longer. To update the shoes, I swapped out the ballet flats for some pointed-toe leopard flats. I always prefer a pointed toe flat over a round toe.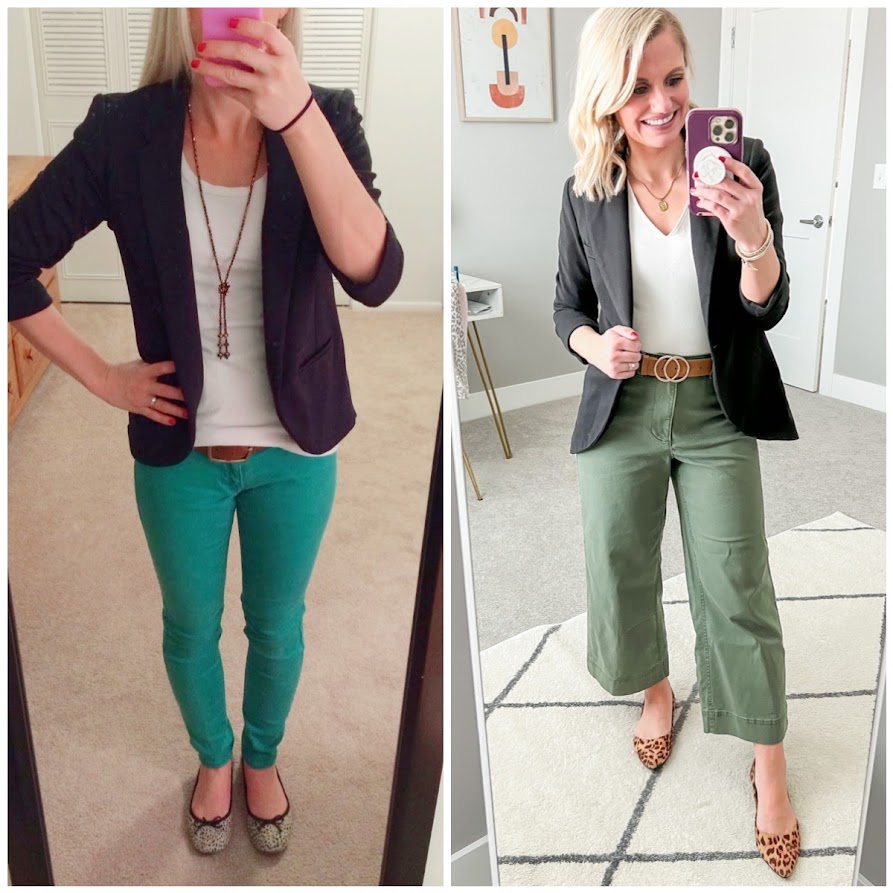 Blazer (similar) || Bodysuit || Pants || Belt || Shoes (similar) || Braclette (similar) || Necklace
If you enjoy seeing these posts, let me know in the comments! Look for more of these posts soon! You can also see them in a video format over on Instagram make sure you are following thriftywifehappylife!