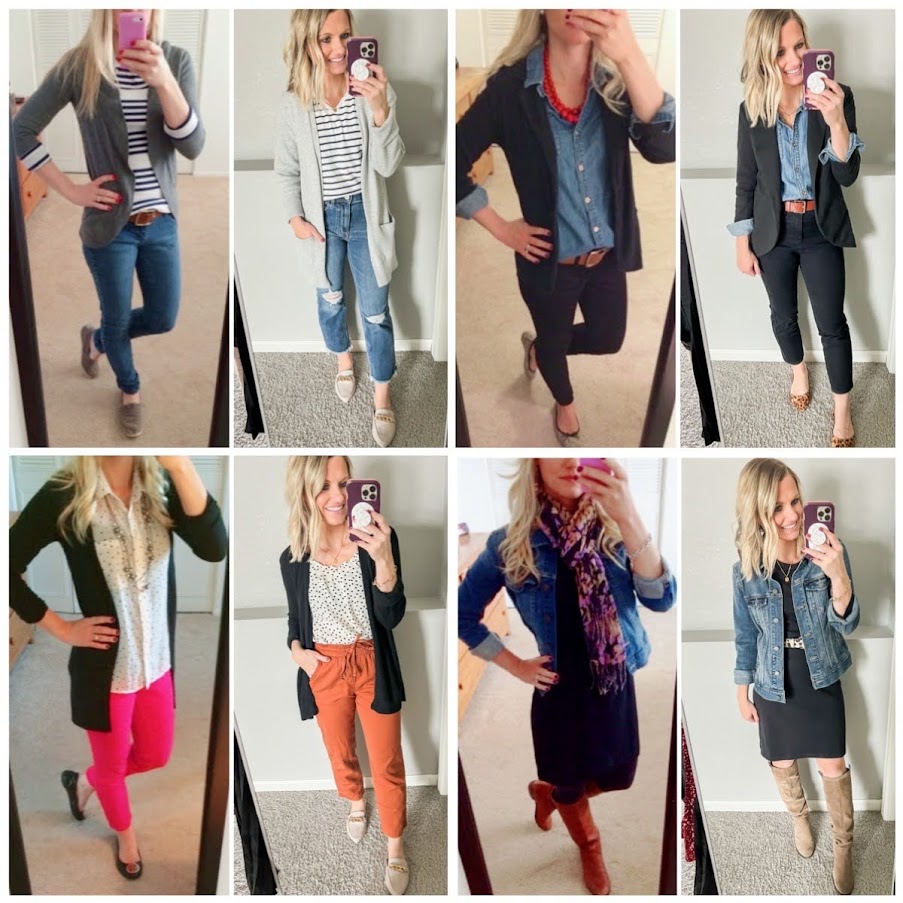 It's time for another What I Wore Then vs. What I Wore Now post!! I absolutely love doing this series. It's a chance for me to share how my style has evolved, but also show how I am still wearing some of the same clothes that I wore 8 years ago. The outfits may change with the times, but the pieces you wear don't need to. You don't need to run out and buy a new wardrobe every year. You can just build upon what you already have and find new ways to wear your clothes.
*This post contains affiliate links.
Not only is it fun for me to see how my style has changed over the years, but it's also fun to see how far I have come as a blogger. I look back to some of these pictures and think "What was I thinking? Was I aware of a little thing called natural lighting?" 😂 I've learned how to stand, how to edit and the advancements in the iPhone have made my outfit selfies much better over the years. Beyond all that, it also reminds me of how far I have come in my style journey.
Outfit #1
I've been wanting to update this outfit ever since I came across it. The idea of the outfit is great. Stripes and a cardigan are always a good look, but the fit and look of this outfit just don't fit into 2022. I don't love the stripe pattern on this shirt. The way the stripes are bunched up together then leaving big breaks of white just don't flow as well as a consistent even stripe pattern. Also, the cardigan is supposed to be a cocoon-style opening, but it looks like it's been stretched out or washed too many times. It's just not laying right.
Changes for 2022
To update this outfit I took a white navy striped v-neck t-shit and layered my gray boyfriend cardigan over it. For the jeans, I pair my high-waisted distressed straight jeans. I replaced my beloved Toms (did anyone else have these shoes?) with a pair of mules. I decided to leave the belt because it didn't fit into the look I was going for, but I do like that my shoes have a little detail with the buckles to pull the look together.


Outfit #2
I actually still really love this outfit. Chambray and a black blazer are a good combination and who doesn't love that combo with some leopard flats? I remember wearing this outfit to work and feeling really confident in it. As I remember, it was one of my favorite work outfits at the time.
Changes for 2022
I still have the chambray shirt so this look was easy to recreate. I traded in the low-rise black jeggings for a pair of high-waisted cropped black jeans from Express. The blazer I wore then was from Forever 21 and it always had a weird fit. That blazer is long gone, so I updated it with a new black blazer that I thrifted at ThredUp. I updated the leopard ballet flats with a pointed toe leopard flat. I decided to keep the brown belt but lose the beaded red necklace. If I wanted to pull some color into this look, I could always add some color in with my earrings or a purse.

Outfit #3
This is another work outfit from my days as an assistant director of a child care center. I was all about the colored skinny jeans trend of the early 2010s! I often wore these red jeans I found on clearance at Kohls for $5. The top is a Jessica Simpson button-down tank I bought on clearance at Meijer while grocery shopping. And the shoes are my Tory Burch dupes that I bought on clearance at DSW. Those were my go-to flats during my early years of blogging. I was obsessed!
Changes for 2022
To update this outfit I replaced the polka-dot blouse with a more timeless polka-dot blouse. I shared this LC Lauren Conrad blouse in my last Then vs. Now post. It still gets a lot of use in my wardrobe. I switched out the red skinny jeans for a pair of draw-string rust orange pants. I still love to add a pop of color to my outfits through my pants. I also replaced my black Target cardigan with an updated Target cardigan. (Target cardigans are always a staple in my wardrobe.) For shoes, I went with my mules. These have a similar feel to the Tory Burch dupe flats. They both have metal on the shoe which gives them some extra details.

Outfit #4
I always thought that you could never go wrong with a black dress and a denim jacket until I saw this outfit and realized that you can go wrong when you add a big floral scarf to it. 😂 I don't have anything against scarves, but back in the early 2010s', we were adding scarves to everything!! Now, I rarely wear a scarf with a layer, unless the layer is a winter coat.
Changes for 2022
The first thing I did to update this outfit was obviously to lose the scarf! The dress I was wearing in the first look was a hand-me-down dress that was very cute on, but was too small for me, so I no longer have that dress. I replaced it with a simple 3/4 length sleeve black dress. A dress like this stays in style forever so it's always nice to have. I updated my denim jacket with a longer denim jacket. Instead of the scarf as my pop of pattern, I used a leopard belt. For shoes, I traded the flat riding boots for a pair of knee-high boots with a heel.

I hope that these outfit updates can help you see how you can take the clothes that you always loved in your wardrobe and give them a 2022 makeover!! Look for more What I Wore Then vs. What I Wore Now posts!! I've been at this blog for 8 years, so I have plenty more outfits to update!!