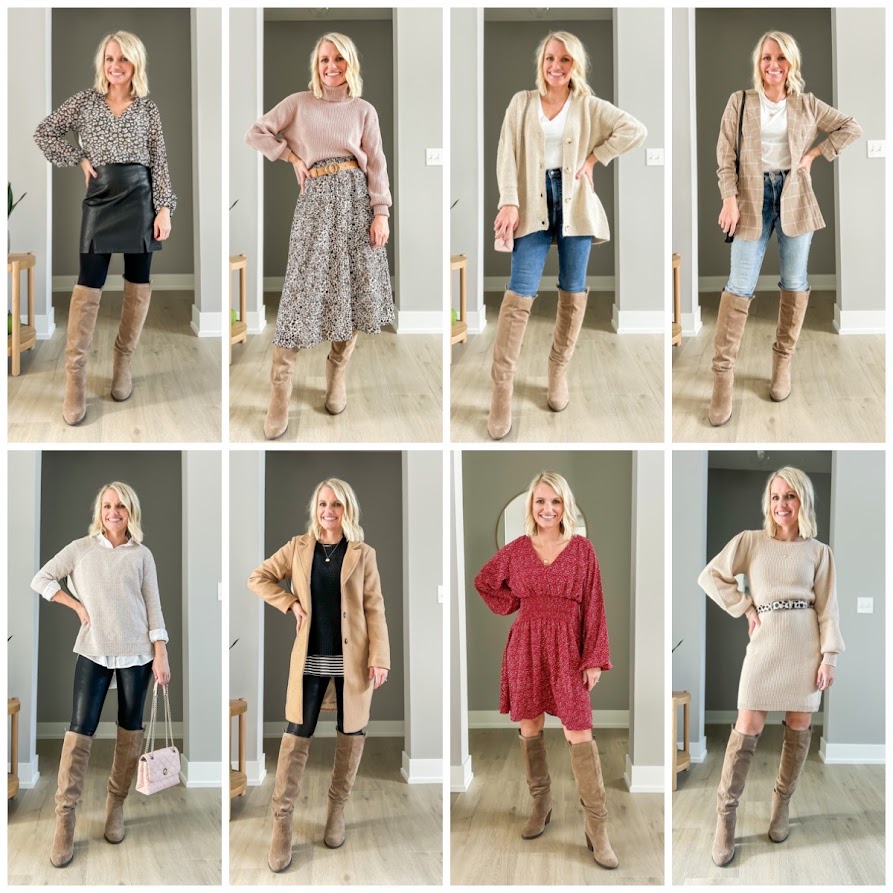 I often get questions from millennial moms like myself about what's in style and what's out of style. I recently got asked on Instagram if tall boots were still in style and my answer was yes. Any piece in your wardrobe that has a practical use to them will always be in style. However, there might be some updated ways to wear them now compared to the ways you wore them in your 20s. That's why today I want to talk about how to wear tall boots this fall in 2022.
*This post contains affiliate links.
In the early 2010's many of us, including myself fell in love with flat-riding boots. Wearing those boots with our skinny jeans and big scarves was the look! I'm not going to tell you to ditch the riding boots, because personally I still love them, but if you want to keep your outfits looking fresh this fall you might want to swap them out for a different pair of tall boots.
I did some research for this post to see how to wear tall boots in 2022. From what I am currently seeing, most of the tall boot outfits are styled with taupe, gray, and black boots. I am still seeing brown boots styled, but they have a little different look to them than the brown riding boots of the 2010s. Most of the boots I see have some kind of heel. Some have a lug sole. The toes are both pointed and rounded. Here are some affordable options to check out.

Last year I decided that I wanted to update my tall boot collection and I found this pair of taupe Vince Camuto boots on Poshmark. (Use code: THRIFTYWIFE for $10 off your first Poshmark order!) I love finding ways to update my outfits, but still stay true to my own personal style (Read my posts on that HERE) that's why these boots are the perfect addition to my wardrobe for fall.
Here's how to wear tall boots this fall!
Skirts
Tall boots always look great with skirts! When I wear a shorter skirt, I typically layer some tights under them to keep my legs covered. I love how these boots look with my faux leather skirt.
I've also been seeing a lot of people style their tall boots under a midi skirt this fall. I like this look because it allows you to get some year-round use out of your mid-length skirts and dresses.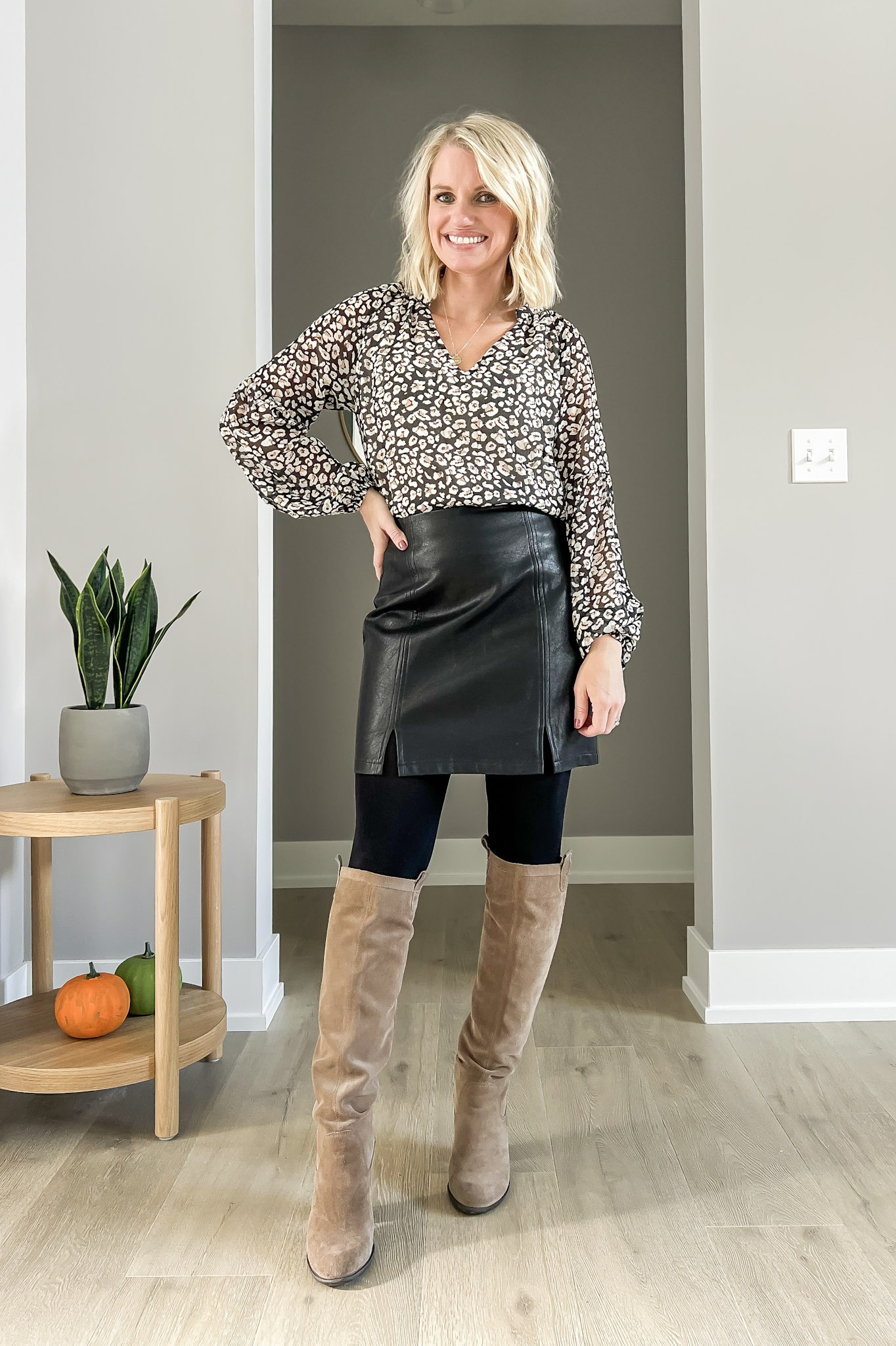 Look 1: Skirt || Blouse || Boots (similar) || Tights
Look 2: Skirt (similar) || Sweater (similar) || Boots (similar) || Belt
Jeans
If you have always loved wearing your tall boots with skinny jeans then keep doing it! If you want to make your looks a little more current you can always pull some more modern pieces into your look. An oversized button-front cardigan is a good piece to have layered with a bodysuit under. Or you could try a plaid blazer.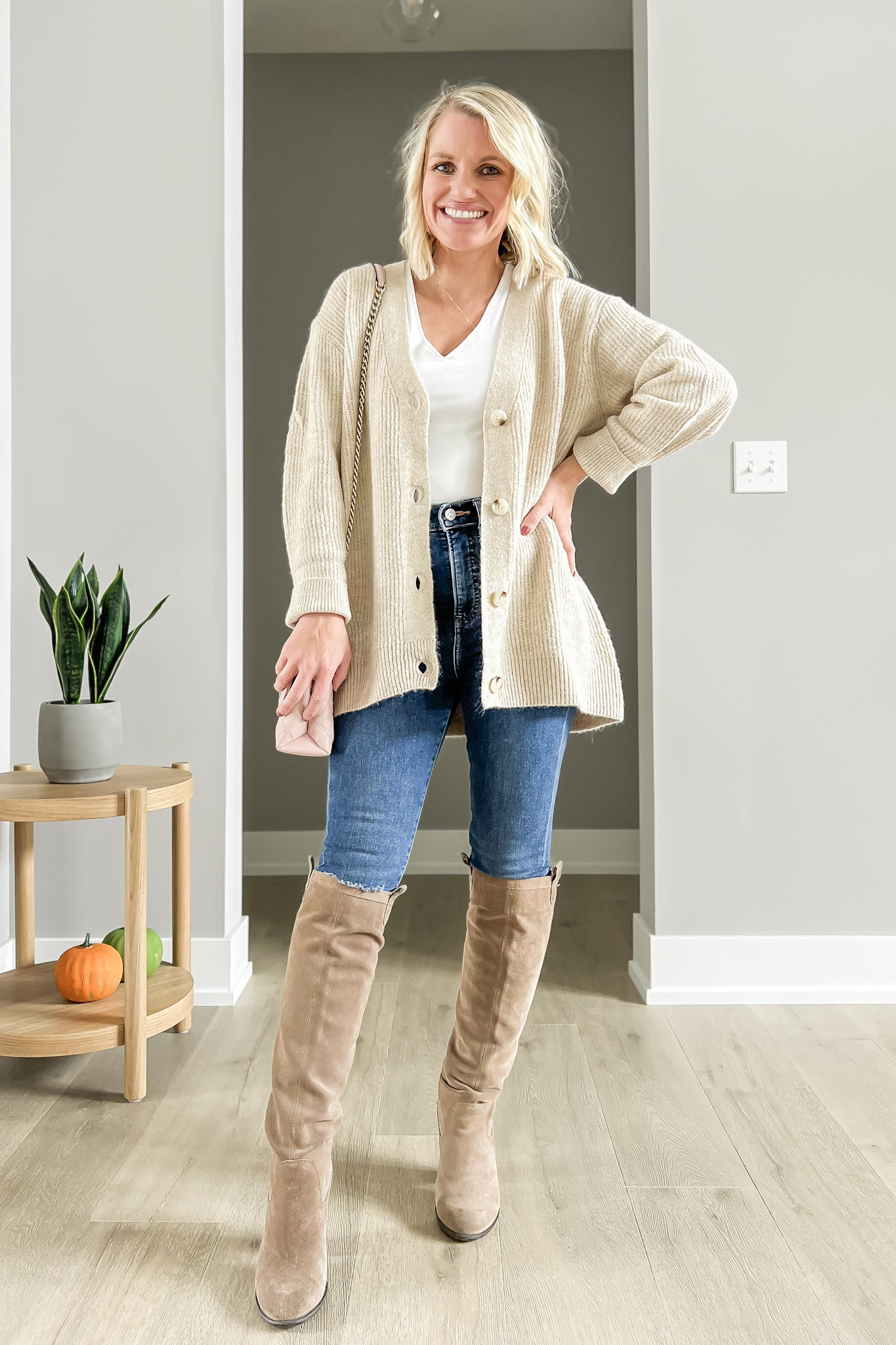 Look 1: Cardigan || Bodysuit || Jeans (similar) || Boots (similar) || Purse
Look 2: Blazer || T-shirt || Jeans || Boots (similar) || Purse (similar)
Leggings
I always love to wear my tall boots with leggings. I usually go for a pair of faux leather leggings because I feel that the shiny finish adds a little extra to the outfit. With leggings, I love to layer. It helps give your tops some extra length and you get some extra warmth in the winter months. Try completing the look with a long wool dad coat.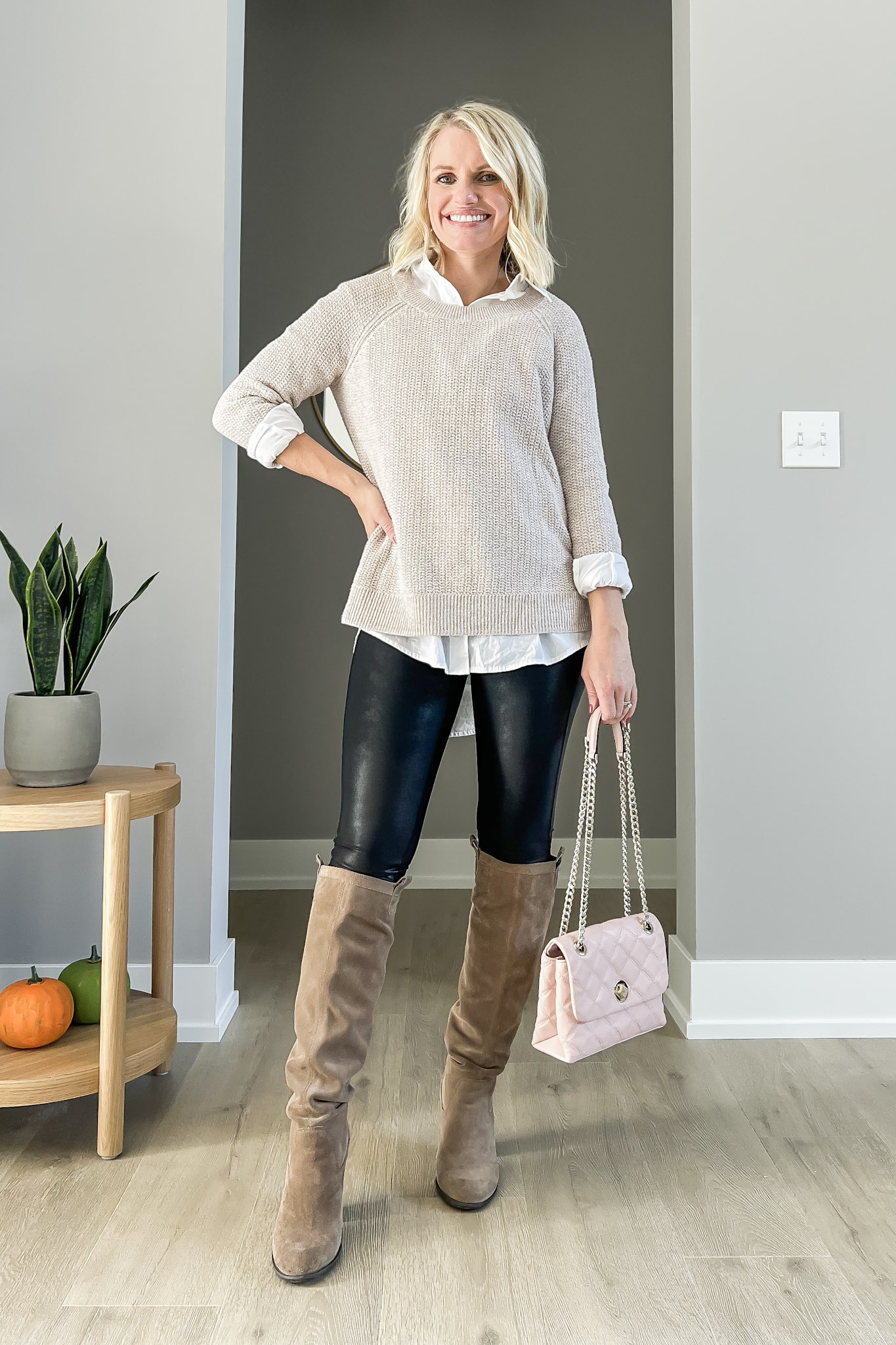 Look 1: Sweater (similar) || Button-down || Leggings (affordable option) || Boots (similar) || Purse
Look 2: Sweater (similar) || Tunic (similar) || Leggings (affordable option) || Coat || Boots (similar)
Dresses
Lastly, you can always style your tall boots with a dress. I like to wear a dress that hits you at the knee. I styled my boots here with a flowy peasant dress and a sweater dress. Both are great dress options to wear in the fall!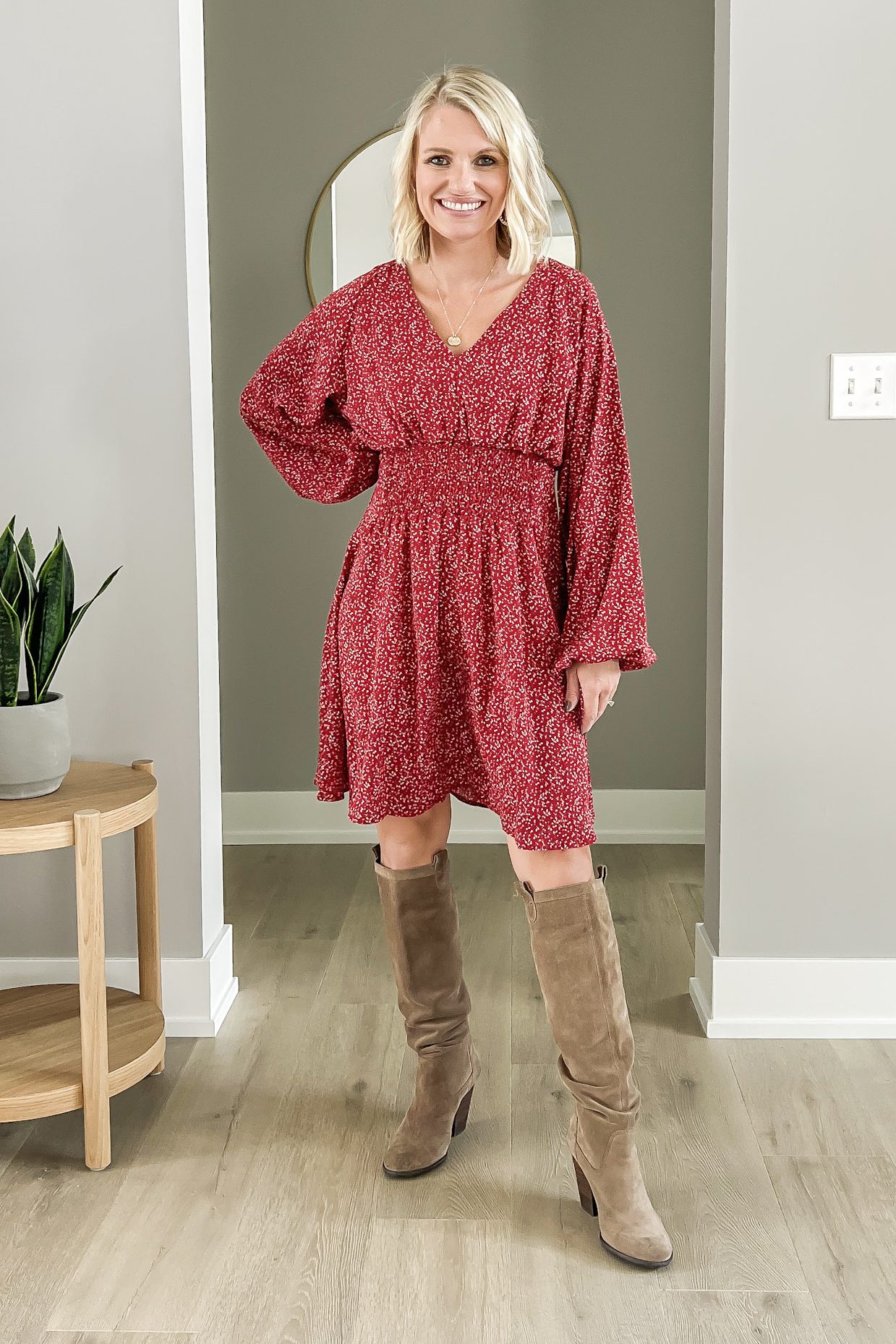 Look 1: Dress (Code: THRIFTY) || Boots (similar)
Look 2: Dress || Belt (similar) || Boots (similar)
Remember that confidence is always in style, so wearing what you love will never be out of style!