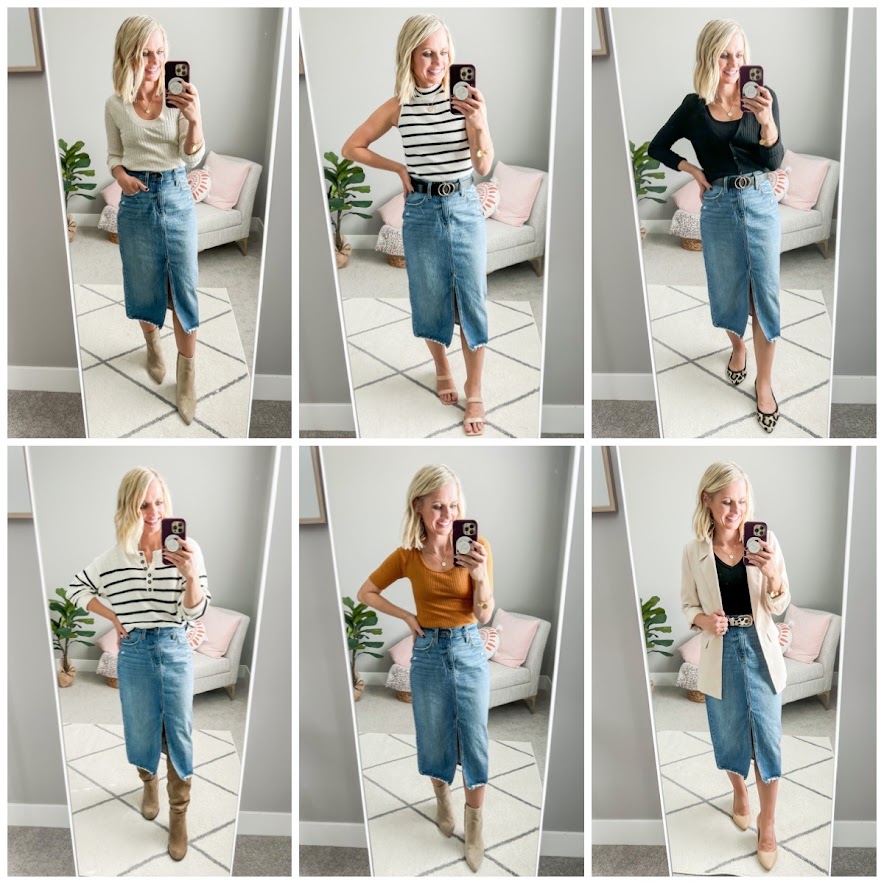 Over the years, my closet has seen its fair share of denim skirts. From the A-line button-front denim skirts or the classic early 2000's Laguna Beach style of Hollister skirts, each one has its special place in my heart. But today I am excited to share with you my latest denim skirt obsession- the denim midi skirt! Today I want to share with you 6 different denim midi skirt outfits that you can wear this fall, along with a few tips on how to style this trend!
*This post contains affiliate links.
As a denim lover, I've always enjoyed all the different ways that you can wear it. A midi denim skirt is perfect because it combines the classic style of a midi-length skirt with the timeless charm of denim. It makes for a great fall staple that can also be styled year-round.
I found my latest midi denim skirt at Target. I have been on the hunt for one all summer. The price point, fit, and quality of this skirt are perfect! So far I'm very happy with it. I will say that I did size down to one size in this skirt. It seemed to run big and I didn't want a skirt that was going to be too big.
*For sizing reference, I am 5'1 and around 115lbs.
Denim Midi Skirt Shopping Options

6 Midi Denim Skirt Outfits for Fall
1.) Lightweight Sweater + Booties
I love this lightweight sweater for fall! It pairs so well with the midi denim skirt. The booties complete the look making it the perfect casual fall outfit for any occasion.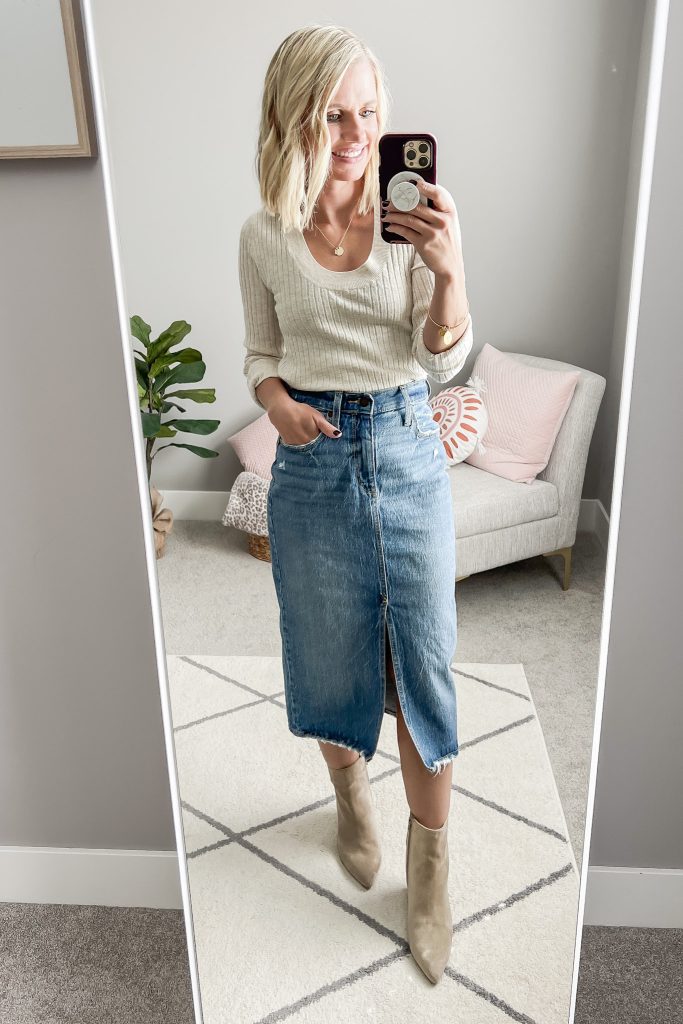 Sweater-small || Skirt- 0 || Booties- TTS || Necklace
2.) Mock Neck Tank Top + Block Heels
This mock neck tank top is perfect if you have warmer fall weather where you live. It's a great way to embrace the fall trends without feeling hot in the warmer weather! Pairing it with a denim midi skirt is the perfect early fall outfit!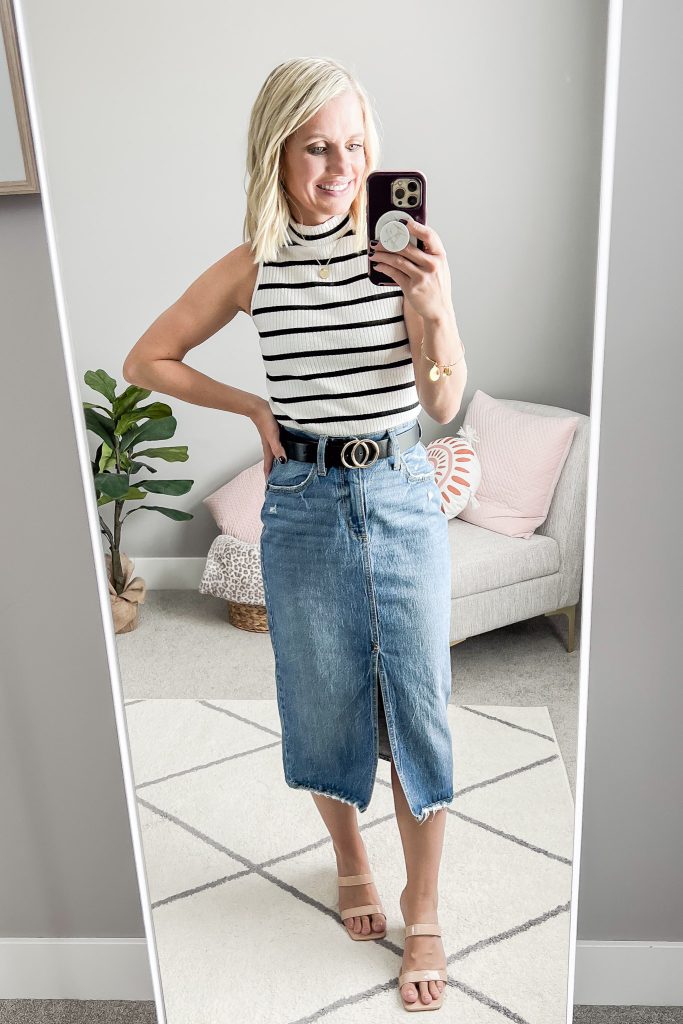 Top-xs || Skirt-0 || Shoes (similar) || Belt-small || Necklace
3.) Black Short Cardigan + Pointed Toe Leopard Flats
This black short cardigan is another great lightweight sweater option. I paired it with my pointed-toe leopard flats. I typically wear heels with my midi skirts, but if I do go with a flat I usually prefer a pointed toe to help elongate my legs.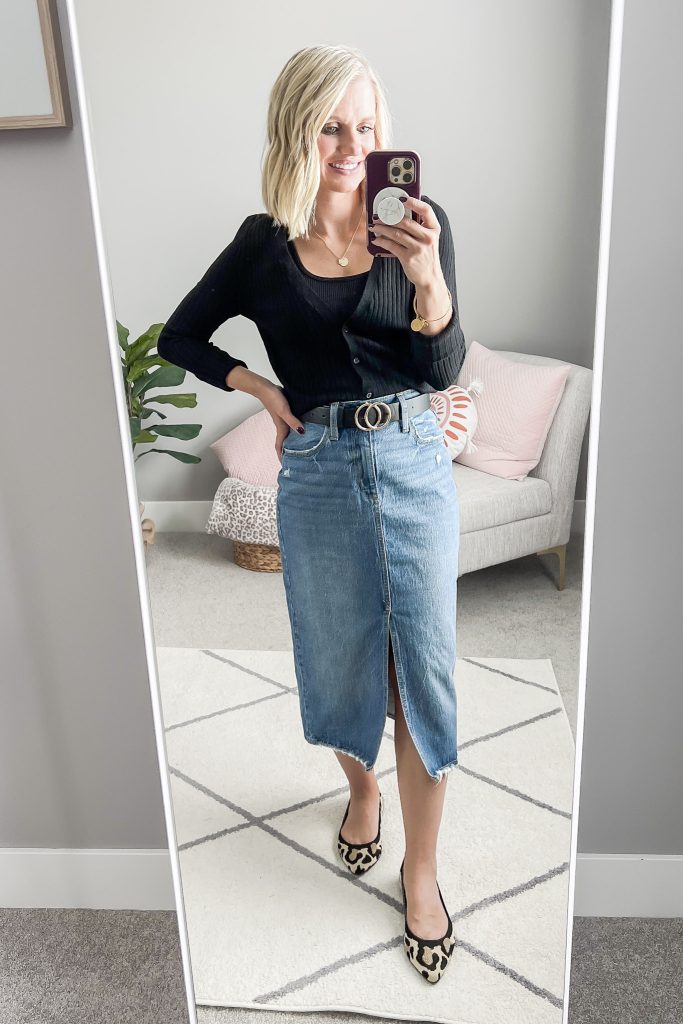 Cardigan-xs || Skirt-0 || Bodysuit || Shoes || Belt || Necklace
4.) Sweater + Tall Boots
A sweater and tall boots it a great way to style a denim midi skirt in the winter. I like to tuck my sweaters in to help define my waist and give the look a polished feel. A cropped sweater works best with this style, making it less bulky when you tuck it into your skirt.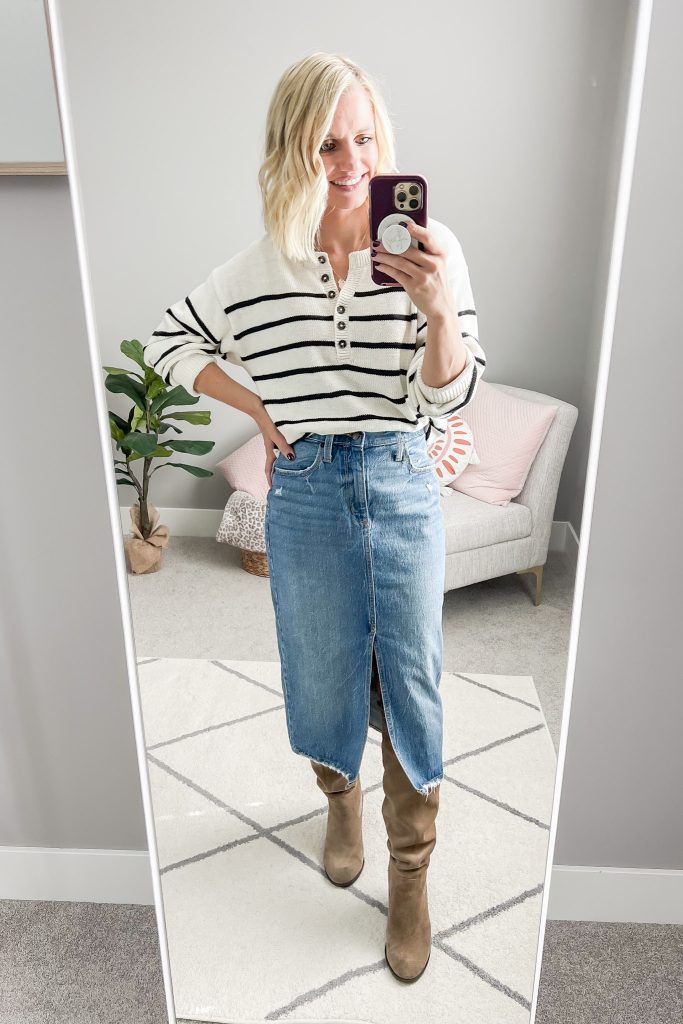 Sweater-small || Skirt-0 || Boots (similar) || Necklace
5.) Fitted Color Top + Booties
Adding a color is always fun with denim! That's why for this look I picked my mustard yellow top that I recently styled in a blog post! With the booties, it makes for the perfect elevated casual fall look!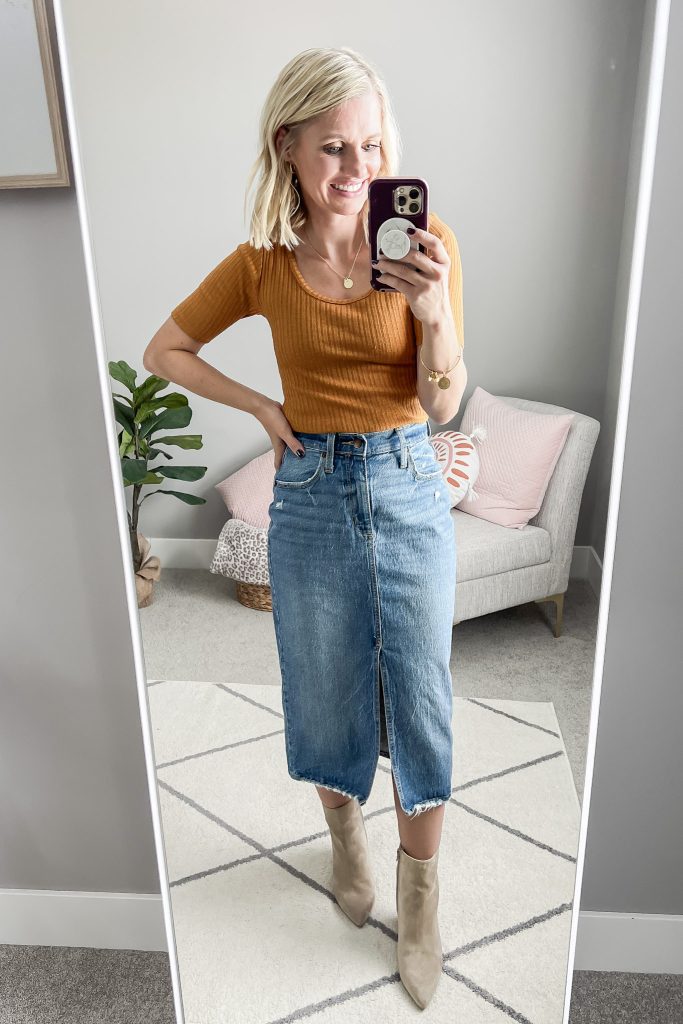 Top-small || Skirt-0 || Booties-TTS || Necklace
6.) Blazer + Pumps
A blazer can make any outfit feel professional and polished. If you are allowed to wear denim to the workplace, then this is a great look for that.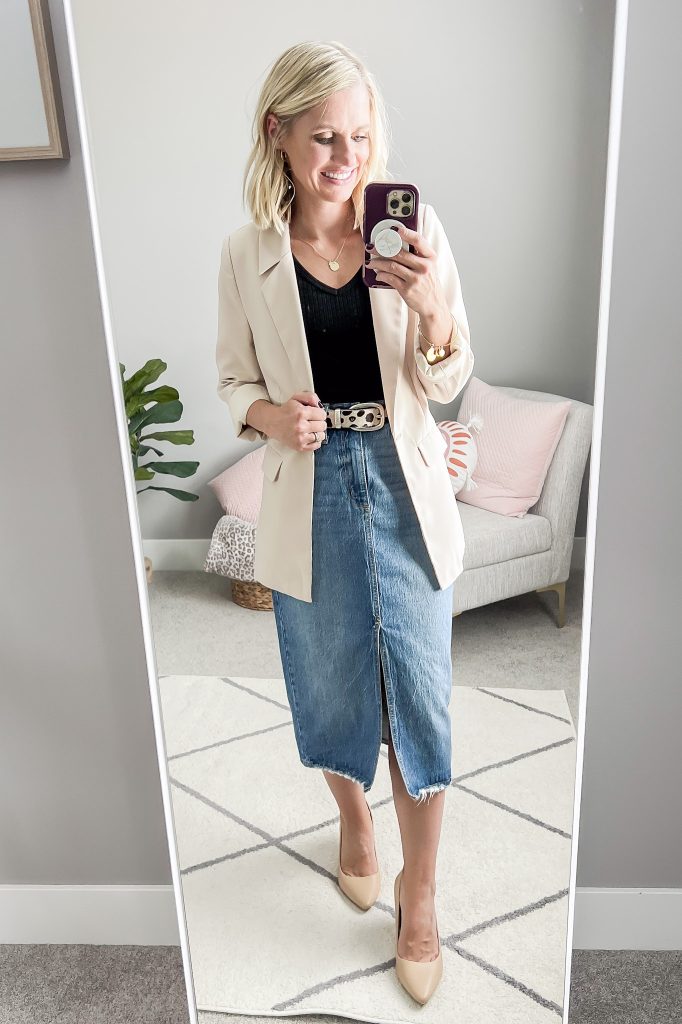 Blazer-xs || Top-small || Skirt-0 || Shoes (similar) || Necklace || Belt (similar)